The Freest Way To Go Full Formal
Text:

Christopher Barnard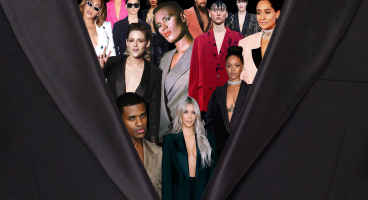 Two years ago Kim Kardashian wore a shirtless suit that has stayed with me in the way some arbitrary images stick and then accrue meaning over time. In the pantheon of her personal fashion archive, it does not register as particularly newsworthy or high stakes, but the relative low-keyness of the look requires a specific execution. A slight break in posture, you might imagine, could break the internet, too.
The look in question was a black Tom Ford tuxedo in a swingy crepe with sleeves that crept up on her fingers like a favorite sweater. Her hair (tin-foil blond at the time) cascaded over the peaking lapels like a black-tie Eve, if Eden were a Gucci-stamped Step and Repeat. I was gripped by how free yet totally airtight the whole ensemble came across: the jacket, not buttoned but rather draped over the body as if lowered from above by a crane and affixed. Breezy where it should be, and stock still where it dare not, the main event unquestionably becomes the middle column of bare chest. This isn't a deep V, but rather a dramatic plunge into a highly orchestrated deshabille.
Variations of this look are everywhere, most recently at the 2020 Golden Globes: Phoebe Waller-Bridge in shawl collar Ralph & Russo (buttoned, but plunged) or Kerry Washington in Altuzarra (unfastened, bejeweled and skirted). Another steadfast proponent is Tracee Ellis Ross, usually with a purposeful bralette beneath cascading JW Anderson or Dries. I could watch Solange preening in a deconstructed black duchesse satin Maison Margiela suit for hours.
Predecessors emerge from the 70s, a moment when sensuality collided with the directness and daring of female liberation: Grace Jones' Nightclubbing album cover or Bianca Jagger's Yves Saint Laurent tuxedo jacket for her Saint Tropez wedding to Mick Jagger. "Style is knowing what suits you," Bianca famously said, and she would know from suits. Jones' shirtless suit on the other hand was courtesy of Giorgio Armani, immortalized by her collaborator and partner Jean-Paul Goude for the cover of her 1981 album. The painted photograph features Jones with a dangling cigarette that is less come hither and more "I dare you."
The sexual politics of the shirtless suit lose steam when you notice that men are attempting it too, though with less body tape and aplomb. Jeremy Pope in logo'd Gucci, Jason Momoa in dusty rose velvet Fendi at the Vanity Fair Oscar Party, or afropop golden boy Rema on the cover of The Fader sporting unhitched Dior. For Fall 2020, it is open season (literally) with shirts and closed suits scarce, while bare chests from muscled to milkfed abound. The effect is not so much the titillation of exposing the male chest, but rather the languor of wearing a garment and letting it just hang there, unbothered. There is, of course, also a lack of nip-slip fear—that Sword of Damocles that hangs over women. You don't have to be a celebrity stylist or red carpet regular to be familiar with Kim's latest project, SKIMS, which offers "pasties" (nipple stickers) and basic ACE-style bandages for building your own brassiere. Who in the world would know more about the stick and pull of all that goes into shaping the female form for display from any angle and platform in the 21st century? Areola-assured, these men march breezily into the new decade.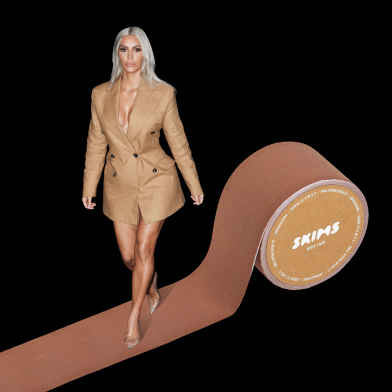 Within this phenomenon too, but on a higher, celestial plane, is the expert suit shapeshifter, Kristen Stewart, backed by the unmatched tailoring prowess of Chanel. There is a sense, especially since Virginie Viard took the helm, that they are designed not with Stewart simply tacked onto a moodboard for reference, but from within her own fashion superego. The psychedelic prints from the latest collection and the shirtless-styled boucle jackets, often fastened in a reverse-plunge, clasped at the top and fanned-out at the waist are a version of what KS has been wearing for years. In a shawl-collared jacket-slash-minidress for a 2018 resort show, Stewart's chronically bemused smile is as much on display as her unclad sternum.
What is the suit but watered down armor, engineered through centuries to what we flip through on the racks today? Enhanced shoulders add dominance, lapels swath a vulnerable chest, a nipped waist offers extra agility. The suit has been deconstructed, rounded down, taken in and let all the way out, and there is little to be done to it that would feel new. Except, perhaps, to remove everything around it.
To see a suit now on the red carpet with a traditional shirt or covered layer underneath it would feel overdone. A stylist I know joked that the look be called "The Lapel Show," but the real show, like much of fashion and high stakes dressing, is the ingenuity that lies beneath. The trend pendulum will surely swing another direction soon, but for now, taking the air is an exhilarating refresh. Buttons be damned, roll tape.
Christopher Barnard is a writer in East Village, New York.
Text:

Christopher Barnard

Date:

February 3, 2020