Rei Kawakubo's New Dispatch
New Icons: The Persistent Ambiguity of Comme des Garçons
Text:

Benjamin Barlow

Photography:

Kenta Cobayashi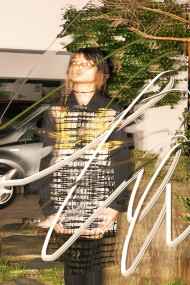 New Icons celebrates the stories behind particularly notable pieces from this season.
This year's Met Gala celebrated Rei Kawakubo's enigmatic contribution to fashion. Since her first Paris show in 1981, her brand Comme des Garçons has disrupted the weary establishment, introducing the "new" season after season. Her designs appear to have emerged from an idiosyncratic void, so novel that they awaken the obsessive desire to understand while simultaneously arresting it. But how is it that her collections possess a kind of newness totally unlike the rest of fashion's trajectory?
The reality that very few celebrities actually wore Comme des Garçons to the gala is itself a clue to the type of newness the brand expresses. The Met's red carpet is the ground zero of the fashion illuminati. It's where celebrities stand in the spotlight of photographic bursts and are endlessly critiqued for the clothes on their back. Behind the cameras are millions of Instagram followers who scan their idols for "new" looks. Here, enigma is the enemy, and radical newness can easily—instantly—be read as a faux pas.
Comme des Garçons' persistent ambiguity is dyed in the wool of Kawakubo's relationship with fashion critics and insiders, too. She is a monolith of obscurity. She hardly takes interviews. Refuses to talk about her creative process. At the runway show for Comme des Garçons Homme Plus Spring 2017, however, she seemed to break with that opaque tradition. In a rare dispatch, the show notes read: "In the world of today information is so easily obtained—there is perhaps too much information."
Kawakubo's designs are not merely new. Her vinyl coat offers a way into the brand's specific—alien—newness. While the back looks finished, the transparent front suggests there is more to come. The grid pattern overlaying the polyvinyl makes it seem like it has come off the mannequin too soon. Tarrying in-between a beginning and an end, it occupies an ambiguous place that, since it can't be pinned down, creates an aura of novelty. For Kawakubo, the "new" is an effect of the garment, not a result to be assigned to it. In a show 15 years ago, Kawakubo spoke plainly, saying, "When clothes are in the middle of construction, then there's always the question of what comes next."
Text:

Benjamin Barlow

Photography:

Kenta Cobayashi