Reebok Performance, Vetements Attitude
Gary Warnett Charts the Ancestry of Reebok's Pump Supreme
Text:

Gary Warnett

Photography:

Rebecca Storm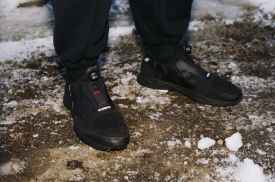 Given the head-to-toe cohesion of Vetements' output, a foray into sports footwear was inevitable. The athletic shoe of choice for a tribe typically kitted out in aggressive silhouettes and brutal sloganeering is an appropriate pick. Reebok's presence in both fashion and some significantly less glamorous terrain has long afforded it a depth that rivals lacked, and in a dismantled Eastern Bloc, it played a significant role.
While the collective's head and public face Demna Gvasalia and his brother Guram (Vetements' CEO) were Georgia-born, other members of this creative cartel are in the shadows with their nationalities unknown. Demna's conversations with publications like Fantastic Man indicate that an upbringing in such uncompromising surroundings and economic conditions proved integral in defining his label's worldview.
After the dissolution of the Soviet Union in 1991 and Georgia's subsequent independence, the Gvasalias ultimately settled in Russia. Even during the USSR era, what was on sale in Moscow rarely reached Georgia. Western sportswear took on a covetable dimension in the black market, representing a whole new world.
The once British, American-owned Reebok was the first of these brands to dive into the unknown territory of a new Russian economy. Locked in its own industry war with arch-rivals Nike and upstart lines like LA Gear, the company was always looking to make its mark in a developing economy, regardless of potential risk.
The first Russian Reebok store opened in Moscow in 1992, focusing on mid-range footwear and apparel, with plans to expand to St. Petersburg and Odessa. Coinciding with the launch of their new sports performance logo, the brand signed a four-year deal with the Russian Olympic team at the start of 1993 that included the construction of a sand court complex for volleyball training. Aware that few Russians had the funds for state-of-the-art shoes, the deal was a speculative one, gambling on a market growth. During the time of Reebok's Russian excursion, one of their most progressive designs would drop. Released in 1994, Reebok's exoskeletal InstaPump Fury was warmly received despite its colossal price tag. Transforming a technology that seemed like tactile gimmickry in its late 80s introduction into something more functional via its inflatable fitting framework and carbon fibre midfoot; it was obvious that the shoe would find favour with forward-thinking audiences in Japan and Hong Kong. Bold enough to ask for blister-packed peripherals like an external pump device, the Fury was destined to get some coverage in the fashion glossies.
Deadstock and expensive imported reissues became fashion statements, regularly seen on the ever-progressive Bjork's feet around 1995, and almost de rigueur with celebrities during a period when technical sports footwear, baggy Maharishi pants, and Helmut Lang were mandatory for lurching out of a London private member's club. In 2003, official Chanel variations were created for catwalk shows, complete with tasteful use of the interlocked C logo.
Decades on, the Fury's spirit is still being put to work, refreshed by new technologies like DMX. The Pump Supreme follows the Fury genealogy, but brings a defiant normality to an aesthetic that's still strange. Premiered via Vetements, their interpretation is an efficient execution that pares down all the curious aspects of the original shoe.
For the label's Spring/Summer 2017 show in July, 18 brand collaborations were on the catwalk. One Instagram shot showed paperwork with a mass of logos that resembled a NASCAR podium with its splattering of sponsors. Everyday brands were dramatically reshaped, and Reebok tracksuits were paired with wader-high cowboy boots from the age-old Lucchese Boot Company.
The stark lines of Vetements' take on the Pump Supreme are devoid of bombast and excessive eccentricities, stripped down in contrast to the original Fury's exaggerations. Left and right are clearly signposted, with a matter-of-fact look and feel. Despite its distinct design bloodline, it's not retro. In fact, it's decidedly unsentimental.
There's a bonus, too. If the nihilism and death metal typography of so much contemporary fashion gets too much for you, the Pump Supreme was made to run in, so feel free to take that total fucking darkness to the treadmill.
Text:

Gary Warnett

Photography:

Rebecca Storm