The Ethos of Martine Rose
Interview:

Edward Paginton

Photography:

Alexandra Gordienko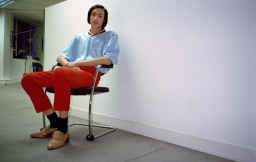 Filmmaker and pyschogeographer Patrick Keiller notes in his 1994 film London that, "the true identity of London is in its absence—in this sense it is truly modern." In the age of absolute exposure, with social networks paying lip-service to dying subcultures, anonymity is under threat—though as designer Martine Rose tells me, "nothing is impossible." Recognized for re-appropriating the loose fitting silhouettes synonymous with rave culture, Rose goes beyond the realm of nostalgia. For her Autumn/Winter 2014 collection—in an attempt to preserve forms of analogue communication—Rose created screen print patches of club-night flyers that served as a sartorial topology of 90s UK music culture. Exploring familiar motifs, arranging them in new contexts, Rose's designs are a journey of subversion that questions the everyday. Photographer Alexandra Gordienko shoots Martine's friends Moni and Tien Lebon, while Edward Paginton chats with the designer about clubbing and its aesthetic legacy.
Edward Paginton
Martine Rose
Autumn/Winter 2014 still stands out to me as a definitive moment for you in terms of your trajectory. The silhouettes and patches you created then are instantly recognizable now.
Definitely. I think that that collection was a big shift for me—I learned a lot about myself as a designer. I'd finally accepted and felt comfortable with what I wanted to explore. Up until then, I had explored big silhouettes using strange fabrics, but I didn't have the confidence that I found with Autumn/Winter 2014. I've subsequently realized that this is what I'm interested in—volume, proportion, tension in fabrics, and colors.
It seems you put a lot of yourself into that collection, mapping your clubbing memory.
Exactly—it was hugely personal.
And you still remember these early clubbing experiences?
It's just the fabric of who I am. It's in everything. I'm the youngest of a huge extended family and at an extremely young age I had access to this music culture that normally someone wouldn't be exposed to until their teenage years. My sister was really into reggae music and knew all the massive artists in Jamaica, so when they used to come to England, she would take me to their recording studios—I was only about eight or nine.
Another cousin of mine was really into raving. He went to Raindance and stuff—he's 10 years older than me. On Sundays, when they used to come back from raving off their faces, they would then go to Clapham Common and carry on partying. All the cars would pull up, open up and play music. And they just carried on dancing into Sunday night. It turned into this unofficial rave in the park, and because it was a park, I could go. Then I started clubbing myself when I was very young, like 13 or 14.
I remember having my 14th birthday in an illegal club—it's unbelievable really—called Strawberry Sundays in Vauxhall, under the arches, started by this homeless guy, Conan. Eventually, it got a license because it was so popular and moved around to the front, but at that stage it was totally illegal.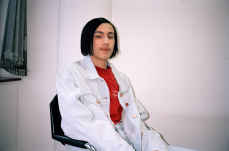 Especially in the rave scene at Clapham Common, there'd be like Rudeboys and Crusties. I knew they were from different tribes but it was this music that unified them.
How much do you think growing up was about an amalgamation of these shared experiences?
I had a real sense of that from a very young age. I remember being very aware of different types of people coming together. It's difficult to describe because it was so much more of a feeling or a sense of something, which is actually how I design. But I remember being very broadly aware, racially, of a huge mix of people. Especially in the rave scene at Clapham Common, there'd be like Rudeboys and Crusties. I knew they were from different tribes but it was this music that unified them. It was very much about that then.
You've talked previously about how you used to wear your smiley face t-shirt and how your mum tried to stop you from wearing it because of the connotations to drug use.
That was my favorite t-shirt!
Jeremy Deller's t-shirt label, Suburban Genius, comes to mind here and his notorious tabloid-inspired "My Drug Hell" t-shirt. It was this unique attitude that characterised the 90s, a sort of up-start social commentary. Did this influence you?
It's just very punk. Punk is also very Jamaican and I come from a Jamaican family, so there has always been sort of a feeling of make-do—do it yourself, make it happen, cobble it together. The punk movement, as well as English and Jamaican culture, has been a massive influence on me. It continues to be.
In your Autumn/Winter 2014 homage to club culture, the flyer patches are very ephemeral in nature. Much like club-night flyers themselves, designed for one night only.
It's sort of a cultural signifier isn't it? It's really relevant for a particular time and then it takes on a different type of meaning. It feels really new and then it turns into something nostalgic and becomes a sign of the times, literally.
You play with ideas of different cultural uniforms taking motifs or styles and placing them in new contexts. Would you say you present distorted personas?
That's interesting, I would say that is quite an accurate description. I like to really push and expand what these characters and people are or what they can be. To really turn it on its head, taking something really familiar and seemingly mundane, to then push it in terms of fabrication or proportion, or the type of person you imagine it on. It's playing with those boundaries and blurring them.
Gender is quite undefinable too, sometimes androgynous—cropped blazers, wigs masking the face. How do you work in this territory?
It's interesting to work in menswear, to really push what men can wear. It's definitely menswear that I do. It's just that, I don't define it as a unisex collection ever but women have always worn it. They sort of dictate what it is to me. And when I'm playing it the other way, thinking, "Men will never wear this," they do! Because I guess it's fun and there's no reason men can't have fun, playing with traditional pieces.
What seems poignant about 90s fashion was that it was functional—designed to meet the needs of people dancing. Did this stand out for you?
It was very tribal. Like I said, my cousin was really into dance music so it was all really about Joe Bloggs and Boy London and all that sort of stuff—very motif-y, very print heavy, very baggy. My sister was obsessed with Jean-Paul Gaultier and Pam Hogg. She wore Katharine Hamnett too, she was way ahead of her time in terms of fashion and really brave with what she wore.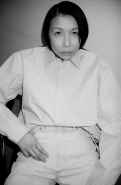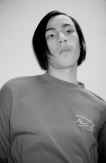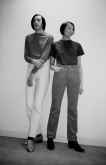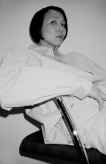 Every tribe has their own social signifiers. The width of your Joe Bloggs for example. There's a kind of anonymity that belonging to a tribe provides. What was the attraction to this anonymity in fashion?
It is arguable whether subcultures really exist anymore, whether they can exist. At the time, they really did exist and it seems to have been flipped on its head. Then it was about absolutely not belonging, embracing your differences, only belonging within your tribe, but not belonging in the wider context. Whereas now it seems much more about being accepted by the mainstream and being liked
Adam Curtis writes about the dangers of individualism in our modern age. Previously subcultures were about collective self-expression, surrendering themselves to the cause. Now it is the opposite—everybody's so self-focused.
100%, I think that's what it was—when I was really young, like nine or 10—watching people on Clapham Common. It was like a muscle, you know. I remember being very plugged-in to that, even at a young age. There weren't really individuals in that thing, it was like a big beating heart or something. Everyone was dancing. My own experiences with clubbing too, it was very much like that. It wasn't about anything else. It wasn't about taking pictures for someone on the outside.
Being in a tribe also has a stealth mentality—like when football hooligans or "casuals" began wearing Italian sportswear brands to subvert their identity and evade police attention. There's elements of this subversion in your Spring Summer 2017 collection. What role did the inclusion of football shirts play for you in the collection?
It was taking something so extremely recognizable in a UK context and then removing it from that context. The whole premise of SS17 was borrowed clothing or re-worn clothing. Taking something as heavily-loaded as a football strip, either with the colors or the fabrics and taking it out of context, it just becomes nothing more than a color or a fabric—it's worn in a different way, you change the proportion, it's no longer really a football strip.
It is arguable whether subcultures really exist anymore, whether they can exist.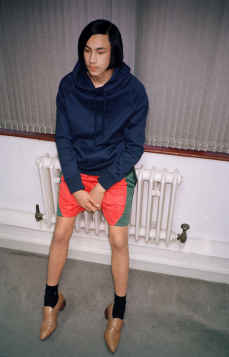 If we think about anonymous beings, removed from their context, I still remember the expression "Joe Bloggs" used by teachers at school as this anonymous name for a math equation or something. It has abstract meaning nowadays.
Was it the fact that style represented attitudes so closely related to music then for it to embed in culture in such a way today?
Totally, but isn't that like so many of those brands particular of that time? It represented your tribe in a way, who you affiliated with. I remember my cousins being obsessed with Versace jeans, like totally obsessed, and Moschino and all of that. The style doesn't matter; the fit doesn't matter. All of that shit doesn't matter, so much as the fact that you are displaying your affinity.
You were also influenced by the music of Mark E. Smith. He's like this elusive, quasi-mythical figure himself.
No one really knows who the real Mark E. Smith is?
Well an arsehole apparently, for all intents and purposes.
...now it seems much more about being accepted by the mainstream and being liked.
What did you take from his music or the figure himself?
There's a lot actually. How he physically sort of embodies this awkward, edgy, brilliant, slightly dangerous person. He embodied all of what I wanted to say in the Autumn/Winter 2016 collection. There was a particular song actually, from The Fall, "Hip Priest." It is uncomfortable and has this rolling beat in the background with him sort of singing—well you can't really call it singing. It's just a great song, it's a great, great song. And how he looked when he was younger, it was much more of an aesthetic I guess. Now, as he's gotten older, this belligerence has come through. It's just cool.
He's always just been an old head on young shoulders.
Totally, you know this sort of awkward leather jacket, this nothingness. He looks like he might punch you in the face, which is great.
The Fall have always been very emblematic of this idea of a tribe, with cult-like gravitas. There's been over 50 members of The Fall but their true identity is in their ability to be amorphic, changeable. In terms of the typical "Martine" man, how unstable is the idea of identity—is its ability to change quite important?
I think so yes. I think ability to adapt and also find interest wherever you are is essential for survival really. As a label, and as an individual, you have to adapt. Things that don't adapt die.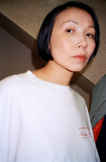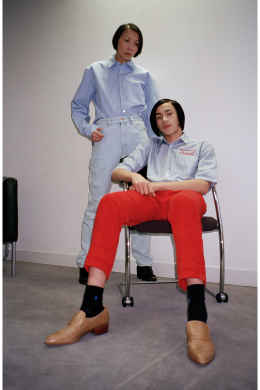 Interview:

Edward Paginton

Photography:

Alexandra Gordienko

Styling:

Tamara Rothstein