The Skull and Crossbones is an Enduring Motif
Text:

Ben Perdue

Photography:

Rebecca Storm
From its first recorded sighting in 1700 by a British Captain skirmishing with French pirates off the Cape Verde islands, the "cross bones" and "death's head" of the Jolly Roger flag have signified rebellion. Its message was simple: surrender or die. But it was also a fraternal banner for those who lived fast, died young, and gave no quarter: pirates, described by 032c as the "early-modern punks of the high seas." Though no longer attached to violence and mortality in such a literal way, the skull and crossbones remain powerful totems, adopted by contemporary culture as symbols for freedom and defiance.
As the flag's meaning has evolved, so has the popular image of piracy. Sacking and plunder have taken a backseat to less brutal challenges to authority and crimes with less obvious victims. The German Pirates party, a political group aligned with Europe's anti-austerity movement fighting for internet freedom and the rights of digital natives, invokes the pirate spirit. So does notorious BitTorrent site The Pirate Bay, its logo professing its anti-copyright stance with a galleon flying a Jolly Roger cassette tape.
Metal, punk, and hip hop have all rallied under the skull and crossbones in the name of musical sedition, but fashion is where pirates and their iconic flag have been most visibly appropriated. From 1981's debut Pirate collection by Vivienne Westwood and Malcolm McLaren featuring unisex buccaneers, through Powell Peralta's Bones Brigade skatewear, to Alexander McQueen's signature skulls, seafaring defiance is tempered with mischief and romance.
Given the 24/7 surveillance and over-regulation of everyday living, symbols that rail against bureaucracy appeal more than ever. The Jolly Roger still holds the power to get your blood pumping, lashed to a mast or not.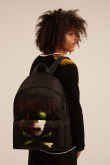 The skull and crossbones have long been a fixture in rock iconography. Givenchy's backpack recalls the look of Eddie, the Iron Maiden mascot that appears in all of their artwork. The reference extends into an angular font mirroring the British metal band's graphic language. Classic 80s metal styling leaves its long-haired rebel past behind to give luxury sports bags an insubordinate edge.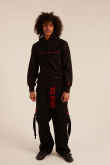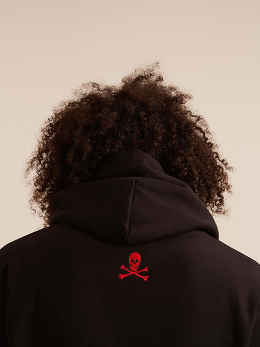 032c
Black Pyrate Society Hoodie
"The beatings will continue until morale improves." Often attributed to the HMS Bounty's infamous Captain Bligh, it reads like a sarcastic call to arms for today's anti-austerity movement. 032c's recent collection was inspired by a trip to the British Virgin Islands, a pirate haven in the 1700s that now harbours tax exiles, continuing a morally-questionable tradition of revolt against the state.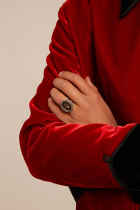 Alexander McQueen
Silver Skull & Cross Bone Ring
With its skull and crossbones set against a black background, surrounded by Swarovski crystals, and framed by floral flourishes set into the sides, this ring references both pirate symbolism and historical costume. It functions as a luxurious reminder of our own mortality.
Palm Angels
Off White & Black Skull Cape
Living in brutal, isolating conditions aboard naval and merchant ships often drove men to turn pirate, the potential of a better, freer life worth the consequences of getting caught. It also brought them into contact with different ways of life, a concept explored in this hooded Palm Angels poncho, its dreadlocked skull a reminder that the pirate spirit crossed cultures as well as bodies of water.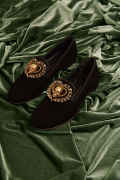 Giuseppe Zanotti
Black Suede Skull Heart Loafers
The reality of life as a pirate was violent and hard, but through film and fiction it has taken on an air of romanticism that influenced designers from Vivienne Westwood to Alexander McQueen. Here it emerges in a dress slipper by Giuseppe Zanotti that mixes costume grandeur with death's head symbolism.
Text:

Ben Perdue

Photography:

Rebecca Storm