Off-Balance, On Purpose: Fashion's Sacred Geometry
Exploring the Asymmetrical Silhouette and Our Modern Obsession with Dressing Askew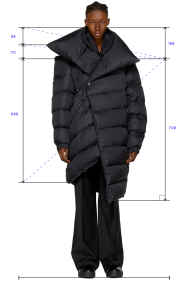 Last summer, adidas Originals reinterpreted Leonardo da Vinci's Vitruvian Man via their "Original Is Never Finished" campaign. The influential pose was adopted by Kendall Jenner dressed in rope fastening as pitchforks plummeted from the sky around her, James Harden in an ice bath wearing nothing but basketball shorts, and Young Thug, upside down, cloaked in a kimono made of trash bags.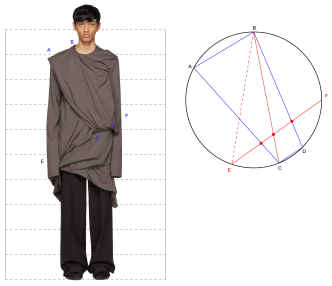 When drawing his iconic depiction of the human body—spread-eagled, of alpha male variety, simultaneously amid a circle and square—was da Vinci fashion forecasting? His early 1400s illustration symbolizes our perplexing ability to fill the mold of our surroundings. What does that mean in an era of despotism and fake news? Rendered precisely symmetrical to exemplify nature's "perfection," da Vinci's man stood stark naked. But when we find ourselves incompatible with the world around us, we fall off-kilter, and the way we define our bodies through clothing becomes our return fire. A reflexive method of portraying our dissatisfaction with the state of society.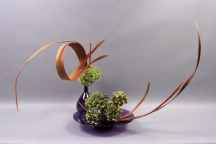 Today, more than ever, our world feels askew, and designers are working in response mode. Beyond emerging trends, a common coping mechanism has transpired: the asymmetrical silhouette. Shirts with missing sleeves, skirts with jagged hems, and sweaters with lopsided buttons are a byproduct of lifestyles condemned to chaos. As we lean towards what feel like doomed times, we're forced to create new centers of gravity to function within. To find beauty in being off-balance, on purpose. The scope of asymmetrical dressing can vary from subtly angled heels to excessively infantilized limbs.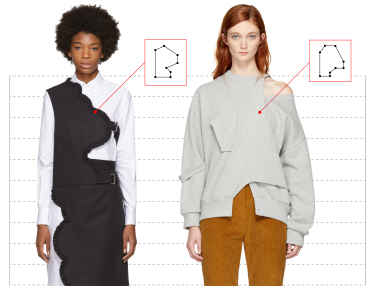 Consider the Japanese art of flower arrangement, ikebana, as an example of practice. Traditionally, disproportionate compositions are constructed and governed by rules of nature as an exploration of its relationship to humanity—a dichotomy between worlds comparable to that of culture and fashion. As ikebana seeks to reveal uncharted territories of thought and beauty, designers aspire to uncover evolving human fantasies—think Shogo Kariyazaki's Ker Plunk-resembling arrangements and Rei Kawakubo's body-morphing silhouettes. It's no coincidence that a new wave of these obscure blossoming clusters has become the centerpiece of our Instagram feeds. "Ikebana is not just about sticking a flower into a vase: it is about the love and the need for the artist to create beautiful forms," said ikebana fixture Sōfu Teshigahara. Similarly, in 2017, dressing is not just about draping clothes on our bodies. It is about the need to clap back to the crises of our times.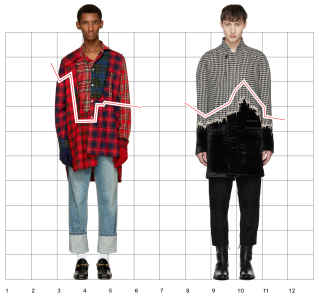 We can also examine the asymmetrical silhouette through the lens of modern architecture. As with our clothing, it transcends its fundamental purpose to provide us with shelter. Just as we want to feel good in a space, we want to feel liberated in the way we dress. In the works of the late Zaha Hadid, also known as "The Abstractionist," and "Queen of the Curve," her developments in architectural geometry defied gravity and gave form to other-worldly shapes. "I have always appreciated those who dare to experiment with materials and proportions," she once said. As the first woman and Muslim to receive the Pritzker Architecture Prize, her works are radical statements of imagination and emotional power. In an age where fear is instilled and basic rights are revoked, Hadid's buildings set the precedent: to embody resistance in any way we can, be it with deconstructed patterns or offset appliques.

Cockeyed blazers, blouses tied to one side, and trousers with legs of opposing colors—in their Fall/Winter 2017 show, Marques Almeida sent their models down the runway (to a well-fitting soundtrack of Nina Simone) in an almost entirely asymmetrical collection, and it forced us to look twice. What at first glance—but only for a moment—appears wrong, requires us to reconsider our ideals of perfection. Perhaps that's why we're so compelled to asymmetry today. While there are no superficial fixes for the world we're living in, in shifting our gaze and really paying attention, we expand our understanding of how to navigate it.