From Supreme and Carhartt WIP Alumni, the Milan and Paris-Based Brand OAMC Is Focused on Setting a New Standard
Interview:

Gloria Cardona

Photography:

Angelo Baque
Founded in 2014, the Parisian-Milanese brand OAMC quickly gained notoriety for its imaginative menswear, which filters hip-hop-meets-military aesthetics through a global lens, guided by the standards of old school craftsmanship. Working alongside designer Luke Meier is his business partner Arnaud Faeh. Both founders come from established backgrounds—Meier was the head designer at Supreme, while Faeh previously worked as creative director at Carhartt WIP. However, in spite of this foundation, Meier worries about his new chapter being categorized as "luxury streetwear." "I know we live in a clique culture, but I feel wary when people try to put us in a box," he says.
Gloria Cardona sat Meier down to set the record straight on what it is that OAMC represents and the importance of listening to your inner circle.

OAMC is still relatively new, but it has received a lot of buzz for its innovative approach to menswear. How would you explain the brand to a new customer?
OAMC is a pretty personal project for me, and I consider the customer to be a lot like myself in some ways. Prior to starting the brand, Arnaud and I realized that there was this gap between full-on streetwear and established luxury, and it hadn't really been filled. There was nothing in between that I was psyched on from a stylistic or an aesthetic point of view, and I just wanted something well-made that spoke to me.
Do you have a specific muse that you keep in mind during the design process?
Sort of. The brand is very autobiographical, with Arnaud and I talking extensively about what we like to wear and what we are into. Therefore, the designs always return to a very personal place. I admire a lot of my friends for their style or taste, and oftentimes I'll think about whether or not they'd be into a specific design. I never look to a hypothetical person or a celebrity, though.


Can you recall any specific examples of how a personal experience was reflected in the designs?
The brand is basically a vehicle for me to express what I think is interesting. Whether it's wondering about the drive that it must take for someone to climb an 8000-meter peak, or remembering that the Maasai use British tartan to alert lions, these are both concepts I've incorporated into the brand at one time or another.


Prior to starting OAMC you were the creative director at Supreme. What is the biggest lesson you've taken away from that experience?
A lot of people ask me about Supreme and how it worked. The main thing I learned there was to do what you think is cool and not to give a shit about trends or anything the market tries to dictate. When you're working on something that you actually like, you convey a sort of authenticity that's impossible to replicate. When I worked there, we only cared about the opinions of an immediate group of people. We never thought, "Oh, maybe this will be cool in Tokyo or Paris, so let's do it." We never strayed from our inner circle.
OAMC is based in Paris as well as Milan. What were the reasons for selecting two cities?
Paris is where we work on design, whereas Milan is where we focus on developing and manufacturing. Probably 90 percent of what we make is produced in Italy.
You've decided to show in Paris, though. Why is that?
Paris offers a bigger contrast between OAMC and the more established houses, especially when we have the opportunity to put our work out there on the same day as some of these bigger brands. Of course, Milan has its own historic and powerful brands, but I always dreamed of showing in Paris.
When you're working on something that you actually like, you convey a sort of authenticity that's impossible to replicate.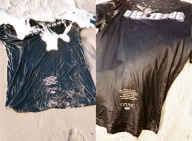 You produce each design in the same manufacturing centers as Valentino and Tom Ford, and you've mentioned how you feel the brand is really closing a gap between streetwear and established houses.
We don't cut any corners. Everything we do is on par with any of the brands mentioned. From an aesthetic point of view, I am hesitant to label our brand as streetwear because that has become such a loaded word these days. People like to throw around the phrase "luxury streetwear" with us, and I think it's a bit dismissive. Maybe if you go back to streetwear's beginnings, with someone like Shawn Stussy, then I would get it. He is probably more cultured and cleverer than any high end brand's creative director, and his taste level is right up there. I hope people look at us as doing something new. We aren't releasing straight graphics or nylon jackets, but at the same time we aren't creating something that's too stuffy.
You've expressed a desire to open up your own store one day. Which city would be the first to see its very own OAMC shop?
You have to build from your core, so Paris would probably be first. The closer to our whole set-up, the better, so it is essential that we do well at home before proceeding anywhere else.

What would the store add to the brand in terms of customer experience?
People like to throw around these words like "zeitgeist," but I think you can only really be part of the conversation in a legitimate way if you are able to show your whole universe. It is important that people are able to feel the whole vibe of the entire collection, because there are so many layers that outsiders are still unable to see. Not everyone needs to go super deep into understanding it, but I want to give our customers the option. If random strangers could come up and visit our showroom, I think they'd be surprised.

Interview:

Gloria Cardona

Photography:

Angelo Baque

Model:

Kevin Baque