New Icons: Miu Miu's Plush Power
New Icons: Sliding Toward an Uncertain Future
Text:

Zoma Crum-Tesfa

Photography:

Kenta Cobayashi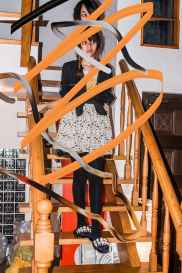 New Icons celebrates the stories behind particularly notable pieces from this season.
Miu Miu's Fall 2017 presentation in Paris was a river of bright colors and pastels. Satin purses with fur-trim jackets, silk knits, sparkle dresses—and lots of fluffy fur. It stood in contrast to the woke energy that had been fomenting over six months in fashion—from Dior's "We Should All Be Feminists" t-shirt to the lyrics of David Bowie's "This Is Not America" ringing over Raf Simons' premiere at Calvin Klein. But don't confuse Miu Miu's plushness for softness. Within this melange of (faux) fur puffs lies the Miu Miu protest girl, a revamp of the 1968 attitude that works sans combat boots. As Miuccia Prada herself said about the collection: "It's about the madness of glamour in front of an uncertain future."
In the spirit of this madness, Miu Miu's navy faux fur rendition on the slider poses a winding play of contrasts. Its three stripes of crystal-nippled pearls wink at the classic adidas shower slide, while stripping the sportswear item of its utility: it is by no means water-safe and does not have anything resembling a massage sole. Barely suitable for use on concrete, Miu Miu's sandals are footwear for a bedroom radical—the pro-sex feminist who is more apt to quote Madonna than Betty Friedan (God bless her), the Twitter warrior or young trapper who may grow into an important voice on this pagan explosion of pop culture. They are spa session meets Dr. Seuss—and by the way, aren't we all somewhere inside? Such is the wisdom of glamour.
Although it takes undue hubris for any writer to define "glamour," one might say that it is the audacity to pair the opulent with the unapologetic. Its ability to seduce lies in luscious materials and a fidelity to archaic rituals, such as perpetually wearing face-paints that calm the chaotic dramas in our minds. In today's kabuki theater of social discourse—one with a scourge of (libido crushing) political correctness, the proliferation of right-wing power, and deplorable inaction on the part of so-called centrists—we need fuzzy, blurred lines. We need surfaces that can embrace nonsense and satire. These zones are agents of change when our language and "causes" have become increasingly militarized. So while it may be decadent to have diamonds on the soles of our shoes, may we at least have pearls on the faces of our slides.
Text:

Zoma Crum-Tesfa

Photography:

Kenta Cobayashi