New Icons: Medusa Versus Nostalgia
New Icons: The Label Updates the Hip Pouch for Turbulent Times
Text:

Zoma Crum-Tesfa

Photography:

Haw-lin Services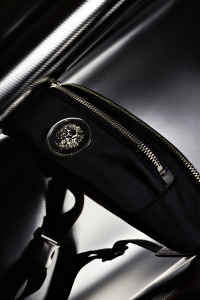 New Icons celebrates the stories behind particularly notable pieces from this season.
We will never forget.
The early 1990s will be remembered forever as a sort of Graceland in fashion. There was an economic boom. People were shopping. Models—not actresses—occupied prominent roles in advertising and pop culture. There was no Internet. Instead, clear lines of dissemination. When a runway show happened, it happened once. However, as you choke on your bong-water remembering the 90s, do not forget: It was also the time of the Rodney King riots, the Columbine massacre, the genocide in Rwanda, and the 1991 Bangladesh cyclone. Inequality grew in cities and post-grunge angst lay waiting in the suburbs. Think Melissa Joan Hart, post '96.
Temper your nostalgia.
After the assassination of the genius Gianni Versace in 1997, things got dark. The dot-com bubble burst, and the zeitgeist-defining accessory of the era, the fanny pack, disappeared from public consumption. The fanny pack was for men and women of all backgrounds, ages, shapes, and sizes. It was never cool. It was attainable. Today, the fanny pack has reemerged with a new name. It isn't made in dopey materials, with plastic zippers and zebra prints (as if). Focusing on what is practical about the design, the now "hip bag" no longer comes in kitschy prints and instead blends seamlessly with one's ensemble. It has a new, more hardcore identity that matches our own. At a time when currencies around the world are being devalued, strict social systems have to emerge. If your money is worthless, your reputation is everything. This is why, as opposed to succumbing to monogram fatigue, symbols of legacy (like the Versace Medusa) have fallen into an unexpected wave of popularity. Versus' hip bag has been made for a global consumer culture that has been imbued with the language of warfare—where bomber jackets and fake police uniforms have become fashion, where club kids are also freelancers, where people wear Asics indiscriminate of the occasion as if they were Jerry Seinfeld.
Today, you must be your own leather daddy.
Text:

Zoma Crum-Tesfa

Photography:

Haw-lin Services