Marie Yat Talks Pole Dancing, Pearl Divers, and the Female Body
Text:

Rosie Higham-Stainton

Photography:

Nicolas Coulomb & Florence Tétier

Casting:

Leila Azizi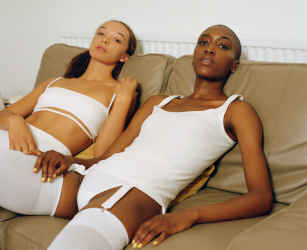 For her third MARIEYAT presentation, Marie Yat turned her Shoreditch studio into a quasi-diving tank, complete with depth measurements and diving cylinders.
A diverse cast of models wore high-waisted briefs with eyelet reveals, twisted bra-strap tops, and streamlined swimwear—imparting shades of pool-tile white, ocean blue, and burnt orange. It was a modern riff on the Japanese Ama divers. Drawing inspiration from the skilled and strong female pearl divers, Yat calls on her own circle of women to achieve the collections—from PR, to casting, to music. An indifference to the concept of perfection feeds the overall aesthetic."Not everything has to be in place. It doesn't have to be symmetrical," explains Yat. "That reflects my approach to the body."
It's the week after the presentation, and back at HQ, the quiet debris is still visible. Hong Kong-born, London-based, Yat is feeling the post-show psychological comedown, both relieved and low. The designer's trajectory has been slow and steady—from cutting her teeth with the likes of Yang Li, to owning an underwear brand favored by Solange Knowles and Kylie Jenner. Her ethos is one of simplicity and comfort, which doesn't sacrifice aesthetic—unique in an industry where, "Until quite recently, people's options were either sexy, fetishistic, or really plain granny style." She adds, "I felt like creating something for people who don't feel like any of those categories fit."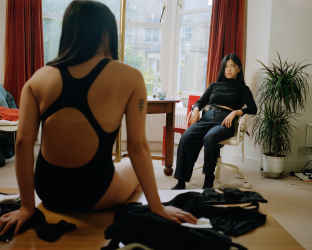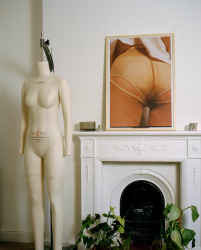 Rosie Higham-Stainton
Marie Yat
It was really nice to see a nearly all female crew of friends working on the presentation.
Yes, a majority of the team members were women. It was intentional.
That reflects the Ama divers quite nicely—female solidarity, and having a profession where you can work together.
True. I think it's a very natural thing for the brand to work with women. And as women, we deserve to have those chances and create them for each other. It's important to have that.
The Japanese Ama divers used to free dive for pearls and hunt for seafood, and they were all women. It caught my eye because it was such a strong female community. I looked at these images that were taken in the 1950s by an Italian photographer, Fosco Maraini. They didn't wear an oxygen cylinder, they were topless in a loin cloth, just with a rope tied around their waist for safety. I was really intrigued by these strong women who are so passionate about diving. Obviously, it's for making a living but it's so much beyond that. It stopped in the 1950s like this, because a company capitalized on it and the women were given wetsuits and equipment. It started to seem taboo for women to do this kind of thing, and topless, in the more Western society that was forming.
How did you take that point of reference—the Ama divers—and then modernize it?
I was imagining what Ama divers would wear as underwear now. If you watch videos of them, they would always tighten their rope as they jump from the boat, thirty meters deep. So I really wanted to have that tightening action in the details. That's why we've got briefs that have a circular drawstring.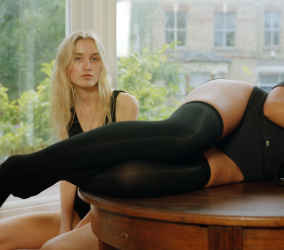 How does the idea of comfort sit alongside sexuality? In the underwear industry, they're often seen as mutually exclusive.
I think it is possible to put them together and that's what I'm trying to do. It's not oversexualized, but to enjoy that sexuality with comfort in mind is really important. And for women to acknowledge that they want that, rather than having a man saying, "This is really sexy, you should buy it." People often find our imagery provocative, but we don't do it in an aggressive way. It has to be an interesting point of view. That's also why we work with female photographers, like Ronan McKenzie.
Can you enjoy your sexuality without being sexualized?
For me, it's more about making something for women that they're comfortable to look at and comfortable to wear. Women can wear whatever they want, but we really need to think about what's behind it to avoid that objectification.
I was thinking about those divers who enjoyed their bodies and nakedness without it being a spectacle.
Yeah, if you look at the YouTube videos, it's not like they were posing in front of the camera. They were just doing their job.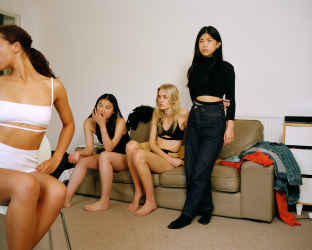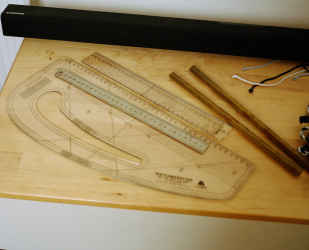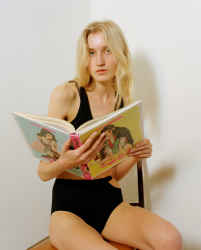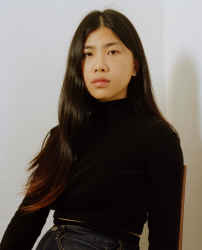 Although, Ama divers did get depicted in erotic imagery in the 1800s, probably created by men.
Women have been depicted in front of the camera, or in a painter's eye, for centuries. But by now, we can really tell if a woman is being seen from that perspective in a picture, and whether she is playing up her sexuality.
The sexualization of young women through social media and popular culture is so present, and from such a young age. Do you think that what you're doing is counteracting this in some way? Look at something like Victoria's Secret, it's become so mainstream.
I do feel a responsibility to show that there is an alternative for the girls who don't feel like that, or don't like wearing a push-up bra. There are a lot of underwear brands that are beginning to explore that. Most of our customers are between 24 and 34 years old, but we do have teenage girls who are interested in the product. So I want to provide them with another option. With the casting of the models, I really want people to see it and be like, "This is something I can relate to," instead of wishing to be someone else.
Is that a bit of your feminist sensibility?
Yes, but I don't want to use feminism as a marketing tool, or sell pants that say "feminist" on them. It should be seen in the detail of the work.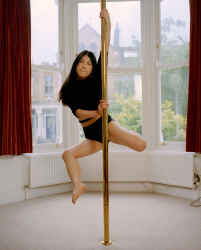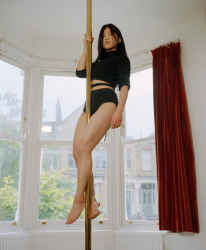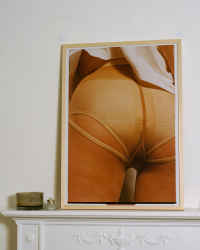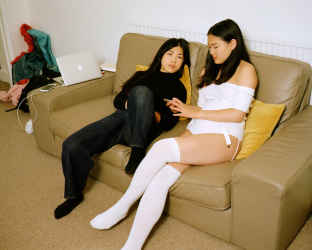 In your old place, you had a pole for pole dancing.
I don't agree with men feeling like they have power to pay to see someone's vagina. I started doing pole dancing as a sport. I've always been quite shy about my body so for me to really learn and understand how my body works and what it is capable of, has been really important. To be in a dance studio and look at myself in the mirror, and actually not to judge myself. The girls who do it—they're really strong, not like supermodels, so that was inspiring. There's so much pain in it, because your skin is against a metal pole so you don't actually feel sexy. But you concentrate on making a really good shape with your body.
That approach to pole dancing is definitely a reflection of what you do with the brand: making it about women, for women. Do you ever feel restricted by working with underwear?
I think because it's restrictive, I find freedom in it. It's challenging because it's such a small piece of material to represent your ideas, and you can't compromise comfort in the process. I really enjoy the freedom and it feels very close to the heart. I'm trying to create a good example for women, or to make them feel good. If I was doing womenswear, that feeling wouldn't be as strong.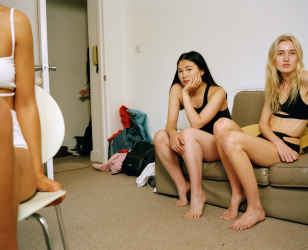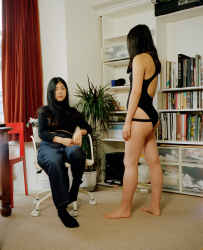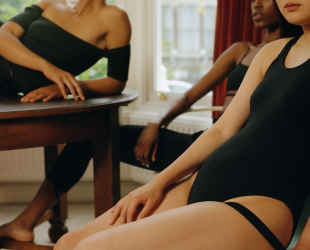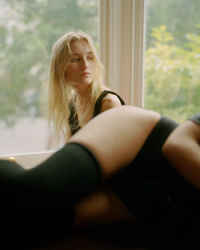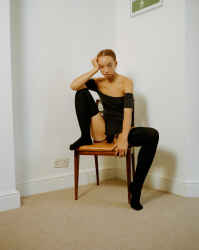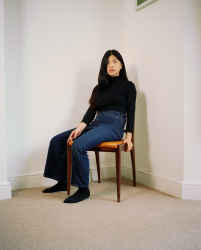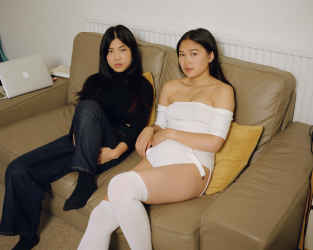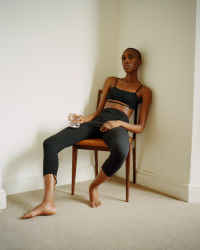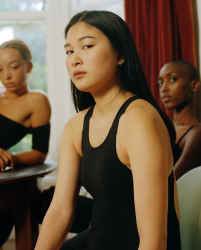 Text:

Rosie Higham-Stainton

Photography:

Nicolas Coulomb & Florence Tétier

Models:

Jess, Yvonne / MiLK Model Management, Alice / MiLK Model Management, Leili / Nevs Models

Casting:

Leila Azizi