Margiela's See-Through Future
The Label's Transparent Sneaker Looks Backward to Move Forward
Text:

Ben Perdue

Photography:

Haw-lin Service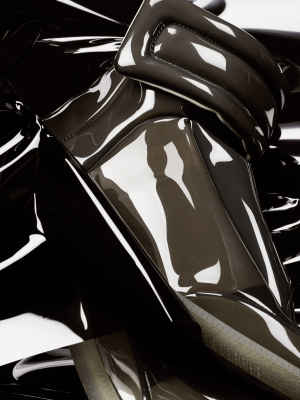 How do you know you're not a replicant? Memories? They could be as false as a photoshopped Instagram feed, implanted rather than witnessed. Manipulating social media to fabricate a life history is today's real alternative to those borrowed family photos used to dupe replicants—bioengineered androids without memories of their own—in 1982's Blade Runner. One famous scene from the film sees Harrison Ford's Deckard scan a phony 4x6 to track down Zhora, a fugitive replicant working as a stripper with a fake snake act. Her "retirement" scene is memorable not just for its slo-mo crash of glass and artificial snow but for the clear plastic coat she wears. On Zhora, it becomes a metaphor for packaging, showing off the man-made goods beneath. For us non-replicants, that same vinyl fabric satisfies our desire for a synthetic second skin.
Maison Margiela understands the tactile importance of materials. Artificial and organic combine like PVC on flesh to create unexpected textural contrasts. Wool, cracked coatings, and metallic foil sit alongside more traditional buffed leather and suede. The grey transparent high-top featured here, with its simple panels and stripped-back branding, comes in a shade called 'fume' that fits the smog-shrouded Los Angeles of Ridley Scott's film perfectly. It also evokes a retro warmth brought to life by its luxurious finish, a high sheen that is liquid-like in its glossiness. Using the best of old and new craft, Margiela produced a sneaker that lives up to the name 'Future.'
Plastic has a synthetic toughness synonymous with protection, not just in our eternal war on dirt and germs but as an impermeable barrier or shield. Its functional appeal is emphasized by the visible construction of each shoe, clear uppers revealing the leather workings within. Sealed in plastic, you feel safe, clean, protected, and padded lace coverings only add to this sense of security. A sneaker that will never biodegrade—a new definition of timeless style. It's too bad you won't outlive them.
Text:

Ben Perdue

Photography:

Haw-lin Service