Kwaidan Editions: Horror with Heart
The New Label Building Its Business on Cooperative Conflict
Text:

Rosie Prata

Photography:

Étienne Saint-Denis

Styling:

Romany Williams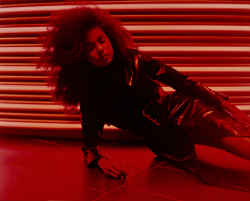 In the insomniac audiences for midnight movies, those with a palate for gore, camp, and horror find their fellow freaks. For Hung La and Léa Dickely, the fashion designers and married couple behind London-based label Kwaidan Editions, watching cult films inspired both true love and professional success. On their first date, around 13 years ago, Dickely suggested they watch Stanley Kubrick's The Shining. Many midnights later, they watched the 1965 Japanese horror film Kwaidan, after which their label is named. This year, they launched their first collection.
The word kwaidan translates to strange stories, or ghost stories. "We think a lot about the spirit, and about embracing our own ghosts," La explains. He credits his Buddhist beliefs for his ability to acknowledge the necessity of violence in the creation of beauty. "Conflict is a part of Kwaidan," he continues, "but I know we want the same thing in the end."
Like any good horror film, the duo's designs are most spectacular when they embrace transgression. They distort the familiar through unexpected fabric choices, oversized pockets and belts, and elongated silhouettes that evoke encroaching shadows.
"The way Léa designs and creates her world is very cinematic," La says. Dickely adds that when she designs she feels that she's writing a story, creating a set for the woman who wears their clothes to move through. She envisions the décor of these imagined movie sets: "Is there wood in the room? Are there fake plants? Is there a painting on the wall? What does it look like?"
Until La and Dickley came together, while both first-year fashion design students at the Royal Academy of Fine Arts in Antwerp, the worlds that they moved through looked drastically dissimilar.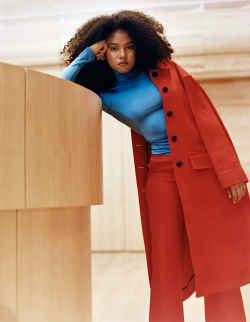 La grew up in suburban Maryland, a first-generation Vietnamese-American club kid who was always surrounded by cousins. Soft-spoken and husky-voiced, he used his clothing to communicate, and his first memories of fashion are of strutting down his school hallways in his best raver looks. At 19 he left for London, where he studied computer engineering and advanced to dancing through clubs in Jil Sander trousers and Gucci shirts. "I'd blow my whole paycheck the first week I got it, then live on ramen noodles," he laughs.
At 21 he decided to channel his energies into something more creative, and studied fashion at Istituto Marangoni in Italy before moving back to the States to attend Parsons in New York, followed by four years in Antwerp.
Dickely, on the other hand, grew up an only child, and was her own company most of the time. Her hometown is in the Alsace region of France, which she describes as the kind of place where floral polyester curtains twitch in windows as you walk past them. She always knew that she wanted to work in fashion. Around the age of 12, she became obsessed with clothing designs she found in magazines, and would spend hours painstakingly copying pictures into her sketchbooks. Her favourite looks were the high-voltage 90s fantasies conjured by Versace and Thierry Mugler.
She went on to study fine art at École Supérieure d'Art et de Design de Reims, where the origins of what would eventually become Kwaidan formed in her mind. From there, she headed to Antwerp.
"Conflict is a part of Kwaidan."

The Royal Academy is notorious for its rigour. There is no handholding from instructors, and students are pushed to produce groundbreaking designs capable of disrupting the fashion industry (see: the Antwerp Six, the school's most famous alumni). Many can't stay the course. From La and Dickely's first-year class of 60 aspiring designers, only 15 made it through to the final year.
Over the demanding and sometimes punishing four-year program, the couple worked as each other's emotional supports, helping to problem-solve design challenges during long nights where they often got only four or five hours of sleep. Self-professed opposites, their working relationship is akin to that of guy-wires— tensioned cables that work as counterparts in supporting towering structures by pulling in opposite directions.
"She's more macro, and I'm more micro," says La. Dickely rounds out the thought: "In terms of personalities, he's more outgoing and social, and I'm more private. We work best when we are looking in the same direction. Working together that way manifested when we took our first road trip."
A year into their relationship, they decided to take a three-week-long drive through the United States. It was Dickely's first time outside of Europe. They started in La's suburban Maryland hometown of Rockville, just outside of Washington, D.C., and drove all the way to Los Angeles and back.
Hurtling through desolate desert scrublands, stopping at seedy motels whose signs buzzed with shocking pink and electric blue, and passing through suburban towns that become uncanny in their sameness and repetition, they felt mutually inspired and entranced. It was to be the first of many journeys together.
After graduating from Antwerp, they moved to Paris, where La and Dickely each completed internships at Balenciaga. The busy office environment provided contrasting experiences. "I thrive in social environments," says La. He stayed on for four years, working with both Nicolas Ghesquière and Alexander Wang, before moving to Céline to work in leather and fur. He credits Phoebe Philo with teaching him "the strength of what a woman chooses to wear. She had a lexicon that created the Céline woman—ease, inner strength, that feeling of being right in your clothes."
"Our brand is essentially a culmination of our life together."
Dickely's career trajectory after Balenciaga saw her working at a Parisian embroidery atelier, putting the finishing touches on couture or ready-to-wear showpieces, then on to designing prints at Balmain, and finally to working with Rick Owens as a consultant, which she recalls as a challenging but especially rewarding job. After two-and-a-half years with Owens, the couple moved to London, where Dickely was hired as a print designer at Alexander McQueen.
"I was never very good in a corporate environment," Dickely admits. "I felt trapped, with too many rules and too many people—I didn't know how to be. It felt better being my own boss. And Hung," she adds, "is very good at making things happen."
With their combined years of experience, and a natural division of interests and skillsets developed between them—La is enthralled by the power of a specific line or detail, while Dickely becomes absorbed in colour, surface and texture—the couple felt it was the right time to devise a business plan for a project of their own.
"We're thorough in everything we do," Dickely says. "I don't like to make mistakes." La reveals that they have the next five years almost entirely mapped out and strategized. They know exactly where they are going.
Their aims are ambitious yet modest, true to their working spirit of finding commonality in the apparently contradictory. Their considered take combines the business acumen of corporate fashion houses with the extraordinary focus of the independent luxury atelier.
Each of Kwaidan's collections will consist of distinctive, unpredictable garments that create individual statements, but also converse with each other as seasons go by. In their first collection, there's a midi-length floral-print dress made from viscose, a fabric more commonly used as a shell when lining a garment's interior. The material's delicate and unassuming nature is acknowledged in its construction, with binding seams made visible in decisive strokes of black satin, and raw edges left exposed. The dress's pattern was hand-painted by Dickely, and inspired by the kitschy-cozy 1970s décor of her grandparents' house in France.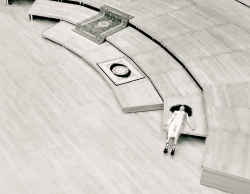 As part of their outerwear offering, they've made two long, shiny, black jackets: one an oversized workwear coat, with a row of buttons down its front, and the other a trench, with a wide belt to cinch around the middle. Dickely explains that though the coats look like they're made of leather, they're actually crafted from rubberized cotton. Here, the designers are gently alluding to latex, rubber and vinyl fetish wear, though they're inspired less by the kink factor and more by the confidence exuded by the people who wear the gear.
And their materials come from the same sources as those used by some of the very first fetish-wear groups, whose members deconstructed ordinary raincoats to create custom squeaky-swishy rubber corsets and body stockings. "We work with this mill in England that specializes in technical fabrics," Dickely says. "We try to be authentic in the choices we make."
All of Kwaidan's fabrics are sourced with quality, provenance, and wearability at front of mind. La and Dickely are especially enthusiastic about the immaculate construction of each piece, practically turning their items inside out while describing every considered stitch. "Our clothes are all made in Paris at a small atelier. The fabrics mostly come from Italy and England, from old, established mills that come with a history," says Dickely.
"History is essential," La adds. "It's so hard to find someone you can trust, but there is trust between us, and that's because of our history. Our brand is essentially a culmination of our life together."
"I always felt very attracted to Léa's world," he says, "and her ability to create an atmosphere that is in-depth, whole and complete." That world exists in a private space between the designers and may only be visible to the customer in fragments—as if glimpsed behind a twitching curtain. "The customer may never see the whole thing," La says, "but hopefully they'll connect to the feeling."
"In fashion," he continues, "there are two main components: the product and the image. How can you create that added value so that someone is willing to invest in the product? Our job as designers is to infuse as much spirit as possible. What people are coming for is something that is beyond the physical."
Rosie Prata is a writer and editor based in London. She is currently associate editor at Monocle, and her writing has also appeared in Canadian Art, The Globe and Mail, and more.
Text:

Rosie Prata

Photography:

Étienne Saint-Denis

Photography Assistant:

Melissa Gamache

Styling:

Romany Williams

Hair and Makeup:

Ashley Diablo / Teamm Management

Model:

Serguelen

Production:

Jezebel Leblanc-Thouin

Production Assistant:

Erika Robichaud-Martel