The New York-based Photographer Studies Light and Color to Create Original Portraits for SSENSE
Interview:

Durga Chew-Bose

Photography:

John Edmonds
New York-based photographer John Edmonds is describing a series of portraits to me over the phone from his apartment in Crown Heights. A photographic study of seven women in his life. Alyse. Amalia. Becky. Farah. Hasabie. Hlumela. Jessica.
To listen to John speak about his work is to grow quickly accustomed to his scattered speech patterns; his penchant for tangents and how prone he is to elaborating on the composition of his work, not just technically, but emotionally. He doesn't merely speak about the light in a room, but seems to quote it. The shape and vibrancy of clothes, how they fold and chisel the profile of a person, spark something poetic in John. He muses, falls silent, contradicts himself. His process is involving, and as I learn, once the photographs are done, they're never quite done. John unpacks and discovers in each portrait a new story, a new regality.
"Seven is the number of creation," he later writes to me over email. "These are all women who are continually creating and recreating themselves, while shaping the world around them in beautiful, meaningful and insightful ways. They carry themselves with grace and strength. I thought I wanted to consider them my 'Madonnas' but they are more than an idealized image of beauty to be possessed. They possess themselves. My role as an image maker is to respond to sensitivity and vulnerability, but also be vulnerable. To be open, and to see myself in another, despite any difference."
Here, John reflects on the process of portraying some of the women in his life.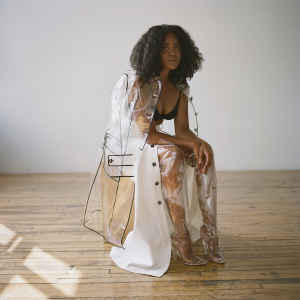 Alyse
It was actually Alyse's birthday. She was like, "I think birthday portraits are going to have to be my new tradition every year." She was so excited. I feel like there's something really special about someone who wants to make themselves available for your work but also on the occasion of the day when one looks back on their life, and also, thinking forward. It was a really special moment for both of us working together. I really think about fashion and style as a sort of transitional element that really says something about the nature of our own mutability and our own sense of how we desire to be seen by other people.
I expressed to every model that I didn't want them to think about modeling at all because when people think about modeling they think about having to fulfill some type of beauty standard for the person that they are being photographed by. I just wanted all the attention to be on them. I was thinking about the word "Madonna," because it's always attached, specifically, to the mother of Christ or maternity. I wanted to think about the etymology of the word: "My Lady."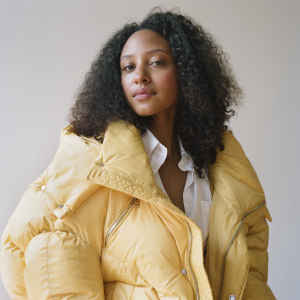 Amalia
She also goes by Mali. One of my female comrades who I've known since I was 19 or 20. I've been photographing her for years. She's a stylist. She has a twin sister. The first time I ever photographed them, I was 19 maybe—an undergrad. We're all from the same D.C. metropolitan area. She's someone who's always been connected to the people that I know and has become an important person in my photographic practice.
Yellow I find always a very difficult color to use and I say that because it's always associated with exuberance. But this photograph has such an incredible sensuality and understated confidence. There's also a presidential quality to this photo. Esteeming. In most of my photographs, the models often look away, but here, her eyes meet us. There's a directness about this picture that says something about gained trust from the time Mali and I have worked together. This is one of the first times I've photographed her without her sister. It's definitely a singular image. She's very, very close to her sister. And what I see always with women who have strong relationships with other women, they have strong relationships with themselves. And I feel like this picture absolutely communicates that.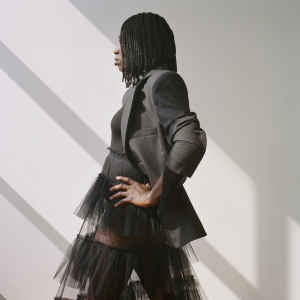 Becky
Becky was the first one I photographed that day. She got that early morning, really graphic light. Becky is one of the women I know the least – there's something very strong and commanding about her presence whenever I see her.
I love the light shining down on her and all the textures. Becky has this strong, athletic physique. I wanted to take a picture that took her strength and power into account. Her profile is striking. I love the braids. All the shapes and textures meet harmoniously in one image.
We rarely see images of women of color, of black women looking strong in this way that's also graceful. This one is quite regal as well. It's regal in this Venetian, profile portrait way. Like earlier, Renaissance Italian paintings, regal in that sense.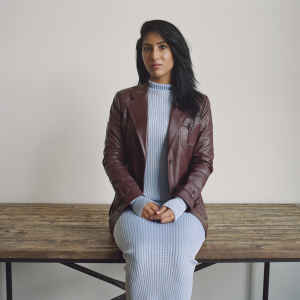 Farah
You know how when you meet someone and you just know you're going to be friends? That was Farah and I. She is who I know, on an intimate level, the most. Me and Farah overlapped one year at Yale. She's from the U.A.E. She's a photographer and also a performance artist. What I love about this picture and what I love about Farah specifically, is that she has this kind of eternal, teenage angsty-ness to her. An interesting and challenging thing about photographing artists or performers is they're so aware of how they look, and even more so when there's fashion involved. Like, if there's a look or attitude that the person thinks might need to be conveyed. But I feel mostly this photo shows her sensitivity. Her hands placed in her lap.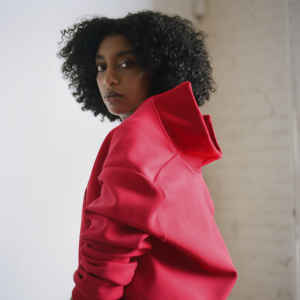 Hasabie
I first met Hasabie in 2011 in Paris. She's a painter, born in Ethiopia. She is one of my dearest, dearest friends. She is always a beautiful ball of energy and of light.
I was studying abroad in Paris during my undergrad. At the time, she was a UNC student taking classes at the Sorbonne, which was right down the street from where I was living in St-Germain. I was staying in Paris over the summer. I met her through my friend and I went to theirs, and they had a view of the Eiffel Tower. That's how I first met Hasabie, in Paris, looking at the Eiffel Tower lit up at night. A few years later, while she was working at Mickalene Thomas' studio, she applied to Yale and got in. Like Farah, she's a year under me at Yale. In the painting and printmaking department. In this picture, she looks like a fairy glancing over her shoulder. The jacket looks like wings. I've been thinking a lot about angels, and what it means to be someone's angel. Hasabie looks real and mythical at the same time.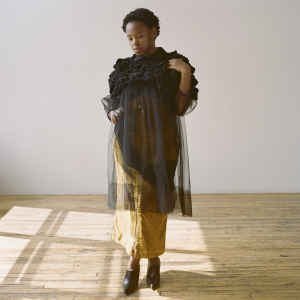 Hlumela
Pronounced Sh-umela. I've known Hlumela under a year. She's a filmmaking student. She's a mother. She's from South Africa. Everything about her is very graceful and elegant. She's quite petite; 5'1" or 5'2". But I've been thinking about the aesthetics of elevation. For me, there's something very powerful about how her body picks up the frame. The hand on the hip; there's this long history of contrapposto and the relaxed body. But when I think of the hand on the hip, I think of growing up. I think of my sisters and my mom. Family photos, you know. Where the women are posing with their hands on their hips. From contrapposto, to more edgy fashion, to people just in their neighborhoods, posing the way they want to pose—the hand on the hip, there's a confidence. It's charming.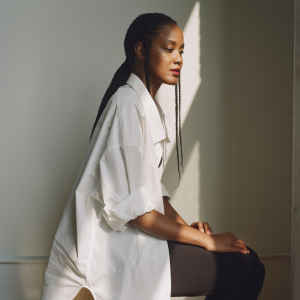 Jessica
She was the most sensitive—openly sensitive—to photograph. There was a kind of vulnerability to Jessica. She's primarily a writer. I first met her in 2016 while she was working on a project called the Black Art Incubator with Kimberly Drew, Taylor Renee Aldridge, and Jessica Bell Brown. It was a platform for black artists to come and speak about their work.
What I felt when I was photographing Jessica was closer to when you stop someone on the street and photograph them. That moment of vulnerability. I love the motion of this Rembrandt light coming down on her. It's painterly. How her face is emerging from the shadow into the light. And the braids! The cornrows, kind of like when Alicia Keys first came out. Maybe just based on the spaces that I occupy now—white art spaces—I don't see cornrows that much. The two braids hanging down—there's something about the photo that feels weightless.
John Edmonds is an artist working in Photography who lives & works in Brooklyn, New York
Interview:

Durga Chew-Bose

Photography:

John Edmonds

Styling:

Eugenie Dalland

Hair and Makeup:

Miriam Robstad

Models:

Alyse, Amalia, Becky, Farah, Hasabie, Hlumela, Jessica