Exploring the Label that has Created an All-Encompassing Lifestyle System and a Guide to the Near Future
Text:

Isaac Penn

Photography:

Benjamin Alexander Huseby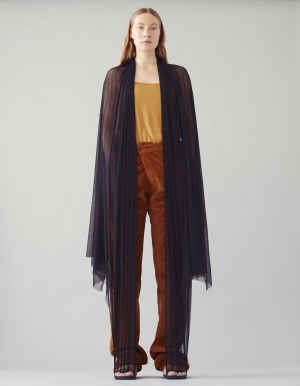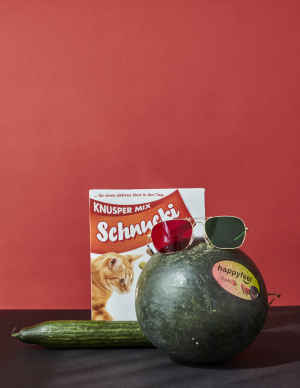 Bless is not an average fashion label. One could argue it is not a fashion label at all, rather an interdisciplinary studio resting between product design, decorative art, and service delivery that happens to make clothing. The 21-year old company founded by Desiree Heiss and Ines Kaag seeks to generate a cohesive relationship between lifestyle and objects. Born of its founders' realization that neither were suited for traditional fashion jobs, they have sidestepped the industry's strictures by staying small and pursuing passion over profit. While Bless typically releases on a twice-yearly schedule, there is no guarantee that their collections—continuously numbered and now counting over 50—will include garments at all. In this sense, Bless' process has more in common with that of a traditional design shop. They proceed from a challenge or set of conditions and offer material solutions that are practical, delightful, and frequently a little oblique.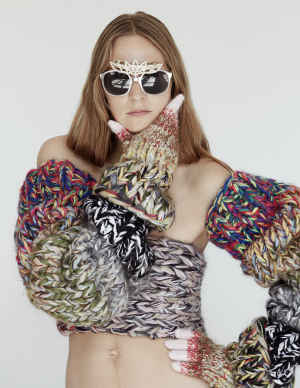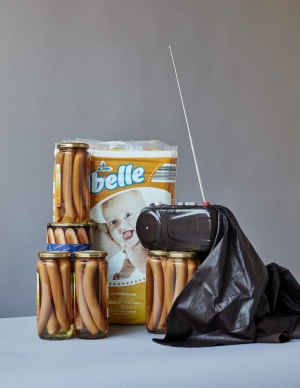 From clothing, to furniture, to accessories as varied as hair brushes and car covers, Bless' repertoire exists within a curatorial system.
After completing their studies the duo could not afford to take a holiday so they decided instead to collaborate on their first run of products. "We bought some leftover materials together and made the first product at home," says Kaag. "Desiree at that time was living in Vienna, and I had just moved to Berlin. We were looking for a name for this 'child.' And that's how it all got started. Then Desiree moved to Paris. We never worked or lived in the same city, actually."
Since then, Desiree and Ines have taken a bird's eye view of design, developing a range of objects that inform and build on one another. From clothing, to furniture, to accessories as varied as hair brushes and car covers, Bless' repertoire exists within a curatorial system. Today, the concept of a lifestyle brand is well understood. Hip neighborhoods worldwide are dotted by boutiques offering one-stop shopping for like-minded aesthetes—sneakers, backpacks, alarm clocks, stationery, moisturizer, and a proper cortado, all available under one roof. Bless anticipated this cultural trend, introducing the concept of seamlessly offering products related by essence rather than function in the late 1990s. Whether their influence was direct or not, Desiree and Ines' anything-goes attitude towards product ideation echoes in companies like Supreme, who supplement their clothing with idiosyncratic branded objects—a pint glass one season, a brick another—or Monocle, whose boutiques sell both copies of its magazine and bottles of its fragrances.
Using knit as a foundational technique, Ines and Desiree have designed products at various scales and from various materials to serve unrelated purposes. The Bless N°01 Bootsocks are footwear made with medium weight yarn that fit like socks—a proposal. The Fat Knit Hammock from Bless N°28 is a stuffed, hand-knit furniture piece. Bless N°26 Cable Jewellery are decorations for cords, extensions, adapters, plugs, and mobile phone chargers, quotidian objects "appreciated as glamorous," made into a "decorative tangle of connection."
Bless counts pragmatism among its essential characteristics. "We don't lose ourselves in daydreams or wishful thinking, but aim always to create at least a first and real prototype of the vision we have in mind for daily usage", the duo says. This focus on practicality partly explains Bless' non-traditional structure. While most labels produce distinct collections every season, each made available for purchase once then retired, Bless' products fit into a larger library where old is synthesized with new. Many of their objects are available perpetually upon request, though subject to change at the label's whims. It may seem like a strange set of operating principles, but for Bless, it's the easiest way to maintain freedom and flexibility.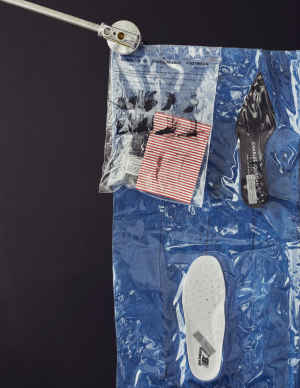 Bless is limited neither by medium nor technique and is always motivated to move into new and unexpected directions, often through collaborations. In fact, Desiree and Ines credit an early collaboration with Maison Margielafor giving the company the early momentum it needed to take off—Bless N°00 Furwigs were used in Margiela's Fall/Winter 1997-98 collection. "The more collaboration we do, the bigger our audience becomes and the more channels our work are transmitted through. What is very important to us is that we always try to make our community benefit from these collaborations, and that we can also distribute whatever we sell to be gained through our various channels, in parallel to what the company maybe is looking for," the duo says.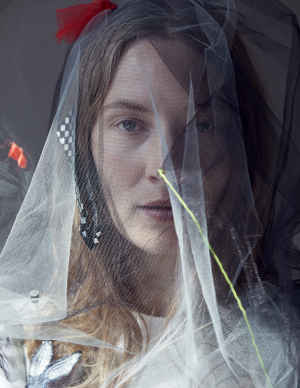 ---
We developed a manifesto at the very beginning, in 1996, when we started to work together as a way to check-up and track down common denominators:
She is an outspoken female—more woman than girl.
She's not a chosen beauty, but doesn't go unnoticed.
Without a definite age she could be more between her mid 20s and 40s.
She hangs around with a special style of man.
She has no nationality and thinks that sport is quite nice.
She's always attracted by temptations and loves change.
She lives right now and her surroundings are charged by her presence.
She tends to be future orientated.
Bless is found in magazines and can be contacted personally by phone.
Everything except sex is available by request.
Bless is interactive—those that dare can take part in the permanent renewal of the Bless world.
Bless allows you to recognize needs at an early state.
Bless works against mass individuality and it´s hidden dangers i.e. fashion overkill.
Bless is a project that presents ideal and artistic values by products to the public.
Bless is a visionary substitute to make the near future worth living for.
---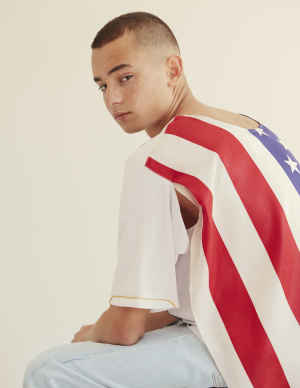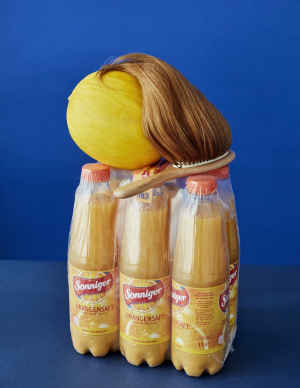 This openness to collaboration is just one expression of Bless' communitarian company culture. Some of their products demand hands-on interaction from users, born of a desire to encourage an active relationship with their work. In 1998, Bless produced a vacuum-sealed pack containing all the elements needed to make a shoe—Bless N°06 Customizable Footwear. The aim was to give the consumer a level of freedom and customization in a world where products are spoon-fed to them. "Some of the products are quite unusual and therefore require a certain self-confidence from the customer, who can't rest on comparable experiences. Other products look classic and unspectacular, but also needs a certain confidence from the consumer. The ultimate goal is a comfortable and good quality garment in an understated and timeless style, that touches on the consumer's personality delicately but won´t attract attention by itself."
We don´t lose ourselves in daydreams or wishful thinking, but aim always to create at least a first and real prototype of the vision we have in mind for daily usage.
At the Bless studios, employees relate to one another more like family than coworkers. In Berlin, all interns and employees are expected to cook lunch once a week. It is an inclusive way of bringing the team together, saving money and sharing recipes. In Paris, the studio is smaller and there are many cafes around, so this ritual is not necessary. However, they have installed exercise bars on the studio walls to give the employees a break time activity that doesn't involve smoking.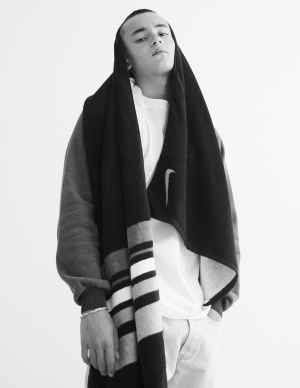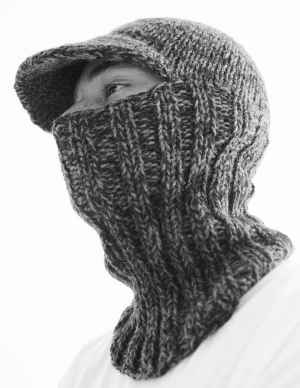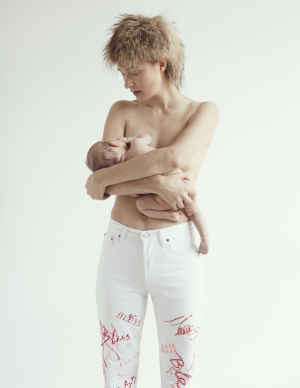 Bless is always in between: Desiree-Ines, Paris-Berlin, practical-bizarre, craft-design, retail-exhibition. The duality of the company allows its founders and employees to evolve as people. It is a companion, a parent and child that sometimes teaches them and sometimes needs to be lead. Bless is an extension of its founders' distinct characters, and its contradictory elements are as important as the complementary. The duo explains, "Alone, we do well, but nothing more. Together, we are everything."
Text:

Isaac Penn

Photography:

Benjamin Alexander Huseby

Styling:

Serhat Isik

Hair and Makeup:

Manu Kopp / Nina Klein

Model:

Erika Wall / Nisch Management, Marlon