Photographer Nick Knight and Alyx Take Us On a High-Speed Night Ride Across London
Interview:

Reva Ochuba

Video:

Nick Knight & Matthew Williams
For Alyx's dual Spring collections "New Happiness" and "Love Chaos," SSENSE commissioned a collaboration with photographer Nick Knight. Illuminated by the headlights of passersby, a woman rides on a motorcycle through the streets of London in the dead of night wearing riding gear completely wrapped in reflective material. Conceived even before the clothes were designed, this video melds the kinetic force between fashion and technology.
Collaboration is an essential part of the Alyx machine. Beyond his longstanding partnership with Nick Knight, the label's designer Matthew Williams has also served as Art Director for Kanye West and Lady Gaga. While his designs have been described as "luxury streetwear," Williams' interpretation of luxury is grounded in engineering and endurance. He has temporarily relocated his offices from New York to Ferrara, Italy to tap into the region's rich tradition of manufacturing.
Williams spoke with Reva Ochuba about designing the world he wants to live in and preparing for the future, today.
Reva Ochuba
Matthew Williams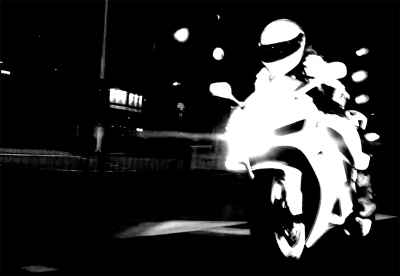 So I want to know why you waited to start Alyx.
Before I started working with musicians, I did work within the fashion system and with brands. I'd always wanted to do clothing. The most difficult thing as a designer is finding imagery to help tell the story of each collection. It became really important to me that I was able to communicate what I wanted to potential collaborators. From that standpoint I had a lot to learn and I basically waited to get to a point where I felt confident enough to see something from start to finish.
Tying that into Alyx's brand philosophy, do you feel like you fit within the intersection connecting streetwear and luxury?
I wish that there was another word to describe clothing made of the highest quality. If I have ever described my brand as luxury in the past I'm not sure I wanted to because it's such a loaded term that can mean things that I don't necessarily agree with. For me it's just about making garments of quality that last. This is the medium I use to express myself, so I don't get off on just making tons of shit just to make it. I design things for people to like, keep, and enjoy. That allows them to be loved and passed down for each future generation. I don't want to make things that are frivolous that people get rid of the next year or the next season. The most sustainable thing for the environment is to make stuff that people want forever. That's a really big thing to think about.
Do you wear your own designs?
Well, what are we making clothes for? I design from a place of what I would want to see a woman wear, what I would wear, or something that I would want that doesn't exist yet. There should be someone behind the clothing that shares the same views as the person wearing it. Not all clothing companies or designers are like that. It'd be a waste to put all that energy into clothes I wouldn't wear, or didn't believe in enough to wear.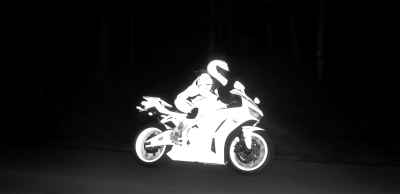 You have been creating visuals with Nick Knight since Alyx's first collection. How did this relationship even manifest?
I was art directing musicians then stopped doing that to work with Knight for a summer. We continued to keep in touch about different projects then eventually became friends. In the end it was quite natural that I wanted to work with someone I was really close to because there weren't any barriers barring me from saying exactly what I thought. We know each other so we could be critical with each other to create something really strong visually. It was more about our friendship and building imagery with someone consistently over a long period of time, and now here we are. This is our fourth campaign together.
How did the concept of the video come together?
This video is a compilation of two collections. The spring collection, "New Happiness" and another spring collection called "Love Chaos." "New Happiness" was created largely in part as a collaboration with Italian motorcycle company, Spidi, that make impeccable performance leather for the Ducati racing team. The video is, essentially, a girl riding through the night on a fully reflective motorcycle suit through the streets of London on a bike that's been completely wrapped in 3M material. The model herself is also wearing fully reflective raincoats we made just for SSENSE. It's absolutely beautiful. Spidi helped put the bike together which, along with the girl, is also fully reflective.
So she's basically a beam of light?
Exactly. Racing leathers for women are a relatively recent innovation. Professional racing suits for female riders were usually custom made because most brands only designed unisex or men's styles. So there's also a sense of female empowerment expressed throughout these amazing scenes of women weaving through the night at top speed. We also shot more in the studio with these John Chamberlain-esque sculptures made of crashed motorcycles. And then there's a shot of a woman's body painted with 3M spray, where she's kind of just glowing out of blackness. Then we had a drone following the vehicle to get some really amazing aerial shots of the motorcycle.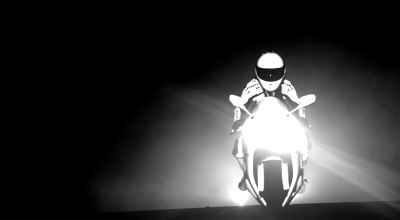 Wait. Are drones necessary now?
They're not the only way, but I'd been wanting to work with one for awhile, so we went out to a special area that has permission to fly them. It's pretty impressive what the guys who control the drone can do. They can fly it quickly through the night down windy roads. We attached a few things to it, too, so it's a drone carrying a heavy camera carrying a massive light.
Are these guys navigating the drone from a control room or..
They came in the follow van with us, but they were super stationery because they had to keep their eyes on the drone the whole time. It's two controllers: one flying the drone around and then a second person operating the camera. Nick and I were in back of a truck and just driving everywhere. It was really fun.
How long did this concept take to come to fruition?
For me, this idea for this video came first and then the clothes were modeled as inspiration to get it done. Overall, it's been about a year and a half. Sometimes you have to hold on to an idea until it's ready to see the light of day. It's definitely been a long time coming.
Interview:

Reva Ochuba

Video:

Nick Knight & Matthew Williams