How Rolex Became Its Own Currency
According to a Rolex ad campaign from the 1960s, if you were flying the Concorde tomorrow, you'd wear a Rolex. If you were speaking at the UN tomorrow, you'd wear a Rolex. If taming fires were your job, you'd wear a Rolex. Today, if you were attending Justin O'Shea's exclusive SSS World Corp Mojave desert FW20 fashion show tomorrow, you'd wear a Rolex. If reading Will Welch's GQ were your job, you'd wear a Rolex. Once deemed the watch of choice for astronauts, deep-sea divers, and world class chefs who need to monitor their simmer to the second, the enduring cachet of the timepiece now goes way, way beyond its time-telling function. How did we get here?
Ian Fleming is sitting at his writing desk, in his bungalow on Oracabessa Bay, Jamaica, typing up his first novel, Casino Royale. It's a warm afternoon, a cool breeze drifts through the jalousie windows into the dark house, and the two hands on his Rolex meet at 12. Time to break for lunch! Fleming is writing about a man named Bond, James Bond, a spy for the British Military. He is intelligent, wealthy, good at killing, and suave beyond all measure. And he will wear a reliable Rolex Explorer 1016, naturally, as Fleming wears the same one, and Fleming, a former naval intelligence officer, is also a little bit writing about himself. In Fleming's fantasy of masculine power and potency, the Rolex stays, and it has since become a metonymy for that Bond-brand cocktail of capability, intention, and sex appeal, an aesthetic updated on menswear idols like suit-and-tattoo Post Malone and Most Stylish Man of the Decade (and Rolex brand ambassador), Roger Federer.
"Buying a Rolex is to be inaugurated into a symbolic club, like a class ring representing the graduation to a new economic tier."
Since Fleming's time, the cultural capital of the Rolex has grown exponentially as a result of iconic cosigns. While it is the preferred timepiece for both Sean Connery and Roger Moore as Bond, it was deemed appropriate for a great many fictional hotshots, like American Psycho's Patrick Bateman, Marlon Brando as Apocalypse Now's Colonel Kurtz, and Ray Liotta as mob-man Henry Hill in Goodfellas. Off-screen, every Kardashian owns at least one. You can picture Victoria and David Beckham giving them back-and-forth in a gifting ouroboros. "Watch" has Travis Scott and Lil Uzi Vert boasting about how big their faces are. Drake collects them. Zion Williamson was drafted in his, while Idris Elba put back his Hot Ones in a gold Day-Date. Cristiano Ronaldo, still the most-followed man on Instagram, also owns the most expensive Rolex ever produced. Ellen Degeneres bought a new, vintage $750,000 gold Paul Newman in October, and John Mayer is now almost more famous for his watch collection than for his music. Among the elite of the entertainment industry, it's not a question of if they own a Rolex, it's how many and how much.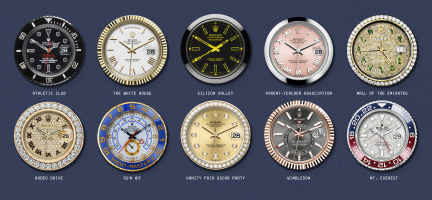 "How can you reprimand a President for having a Rolex? Everyone has a Rolex! If by the age of 50 you don't own a Rolex, you're a total failure!," once said some banker, defending his friend French President Nicolas Sarkozy. Though the comment sparked outrage in France, it's evidently not untrue for a certain strata of the elite (and also, generally, among presidents: Eisenhower wore a Datejust, ditto Lyndon Johnson. Fidel Castro had many models in his sizeable collection—and he liked to wear two at a time. In 1962, Marilyn Monroe gave JFK a Rolex inscribed "Jack, With love as always, from Marilyn"—which was hidden away in a timely manner, to obscure their romance. Obama wore a Rolex Cellini, swapping out his practical Fitbit only once he was out of office). Buying a Rolex is to be inaugurated into a symbolic club, like a class ring representing the graduation to a new economic tier. (Although a watch is not nearly as effeminate as a ring, with its vanity thinly, but crucially, obscured by its practical function.)
Another way Rolex asserts influence is as the king of sponsorships, with one of their hands in every sphere—from golf and equestrian sports to deep sea exploration and auto racing (winners of the Rolex 24 at Daytona race all receive a steel Daytona wristwatch). They are the official timekeeper of Wimbledon, the Australian Open, the US Open, and the French Open, and all four Grand Slams. Since 2017, Rolex has been the official sponsor of the Academy Awards, designing the luxe green room where the most famous people in the western hemisphere momentarily kill time. Rolex also sponsors Paris' Charles De Gaulle International airport, Frankfurt, New York's JFK, LAX, Dubai, Hong Kong, and Shanghai's Pudong Airport—its signature gold crown appearing on the clocks people nervously scan as they scurry to their gates.
On the other side of ubiquity, there is rarity. On the other side of visibility, there are watches hidden away, counting their minutes in safes and vaults. For years, there has been a Watch Collector's Most-Wanted, famous missing watches that collectors have agonized over and lusted after since they seemingly vanished from history. Among them: Pablo Picasso's, Fidel Castro's, and Marlon Brando's GMT-Masters, Paul Newman's "Paul Newman" Daytona. In 2017, Newman's Rolex finally surfaced, and then promptly sold at auction for 17.8$ million, making it the most expensive watch in history, changing the vintage watch market forever, and spurring retired collector William Gibson to call it a "hedge fund Beanie Baby." Following suit, Brando's Colonel Kurtz watch appeared in December and then sold at auction to an anonymous bidder for $1.95 million. The Canadian woman who found a vintage Paul Newman Daytona between the cushions of a 25$ thrifted couch sold hers to Paul Altieri, CEO of Bob's Watches, who filed the watch away in his person collection. Evidently, what drives value in the relatively young market of vintage watch collecting, is a past. You don't buy a watch, you buy its legacy, which is worth more to a buyer for whom new-ness means nothing.
In January, Rolex quietly raised the prices of their timepieces between 3-6%. The brand produces more individual pieces per year than any other Swiss watch manufacturer (800,000+ as of 2016, with more recent numbers hard to confirm, as Rolex is highly secretive—"the Greta Garbo of the watch industry"), but carefully controls the supply of their most popular steel models. As far as wardrobe "investment pieces" go, a Rolex seems to be the most literal iteration, with watch collectors playing their hand in a way that is not dissimilar to the stock market: "In the event of an economic downturn, fine watches may turn out to represent a safe-haven asset, like metals or gems, for investors looking to diversify their portfolios. Or they may just be another of-the-moment asset that 1 percenters, flush with cash, have inflated to unsustainable proportions," wrote Alex Williams for the NYT.
Rolex watches have long been viewed as an alternative form of currency: Tom Cruise pawns one in Rain Man, Nicolas Cage does the same in Leaving Las Vegas. Lakeith Stanfield makes a side hustle selling fakes in Uncut Gems, while Adam Sandler uses them throughout the film to buy time with debt collectors (he also brandishes his own piece on the theatrical poster for the film). Where Rolex is a large part of a hearty above-ground watch market, it also sustains a shadow economy: Rolex is the most counterfeited luxury watch, the bread and butter bedrock for the hawkers of Canal street and beyond—being both small and expensive, a watch is easier to cart around and push, and in the world of counterfeits, allows for the maximum value of goods smuggled in each shipment. A Rolex is also an incredibly popular thing to steal—in 2020 alone there has already been an astonishing amount of Rolex thefts and in January, Paris police issued a warning to Rolex-wearers after 20 were stolen around the city in one weekend. Hustlers, like collectors, "understand the value of this business."
"You don't buy a watch, you buy its legacy, which is worth more to a buyer for whom new-ness means nothing."
"Time is money," Benjamin Franklin said, long before his likeness graced every 100$ note. By now we know how true that is. Time is a luxury, time creates luxury—think about how acutely class dictates the experience of time, the hours of leisure and labor. Time itself is an asset, one that the wealthy and accomplished evidently enjoy brandishing, a Rolex working like a sartorial wink at the overemphasized relationship between success and time management. Think of how products sky-rocket in price once history is baked into their otherwise one-dimensional value—it takes 20 years to become "vintage," at least 100 to be "antique." Time is precious, priceless, finite—something that Rolex seems to understand, when you observe its many humanitarian-adjacent initiatives. For the 2020 Academy Awards, the Rolex greenroom was designed after an "arctic observatory," representing a "polar exploration" theme "all about preserving and appreciating the beauty and vulnerability of one of the earth's most precious environments." Did Jeff Bezos sip a cocktail among those Styrofoam snow peaks, watching Hollywood's A-listers deliver their annual 45 seconds of political commentary? Time, as Tennessee Williams wrote, is the longest distance between two places.
Text:

Olivia Whittick

Date:

February 20, 2020