Hot Topic! The Flame Shirt
From Guy Fieri to Prada Runway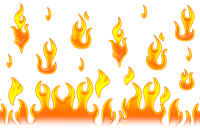 There's a photograph of Guy Fieri—that infamous peroxide chef who seems conceived by a Hot Wheels creative director—that fans reportedly love to send him whenever they write him fan mail. He just can't stand it. The image is burned into my corneas: He appears to be squatting. He is making a finger pistol with one hand while reaching towards the camera with the other, as if threatening to strangle me through my computer screen. His frosted peroxide tips beam towards the sky; his wispy goatee bisects a pencil-thin chinstrap. And hanging off his broad shoulders is a bowling shirt engulfed in cartoon flames.
"I don't know where we got the shirt or what happened," the Food Network host told Dan Pashman, of food podcast The Sporkful, in October 2017. "Goddamn, I hate that shirt."
Poor Fieri, doomed to live forever in the prison of this image. As the flame shirt's most prominent cultural envoy, Fieri has made this item of clothing an emblem of unchecked braggadocio, a relic of an era when America listened to Smash Mouth in earnest. Through this image alone, wearing a flame shirt became an act of sartorial terrorism.
"I think people want to love the shirt," Fieri told Pashman that day. "Because I hate the shirt."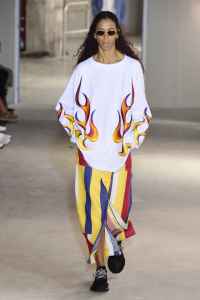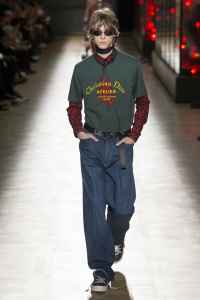 In January of this year, Vogue declared that Fieri had unknowingly influenced Fall menswear lines with his look. The flames took many forms: For Kolor, they enveloped the word UNEVEN. They sat in the middle of Dior Homme t-shirts. They devoured skulls on a seafoam blue button-down from SSS World Corp. They covered one half of a Prada button down, a revival recalling Prada's own now-iconic Spring/Summer 2012 collection that was flushed with hot rod flames. Just six years ago, black and baby blue flames crept up Prada's pale dresses and pleated skirts. They appeared on a pair of sandals, fire whipping like wings. Most recently, they have overtaken the Supreme x Nike sneaker collaboration.

The flame is a visual marker that conjures rebellion—authentic or imagined, tasteful or tacky. This spirit is the flame's chief appeal. When I see flames, I think of Hell's Angels and a horde of American rebels riding motorcycles to nowhere, guided by the engine of dissent and disobedience, raising a middle finger to decorum. A flame implies destruction; wearing it signals to the world that you are capable of wielding and exacting devastation, making you impervious to challenge or critique. Seeing a flame is a warning, a caution sign: Do not touch me. I will destroy you.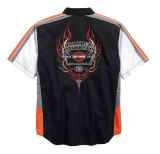 In the mid-90s Harley Davidson Motorclothes, the apparel-focused arm of the motorcycle brand, grew so large that it began selling a catalog; the next year, the Council of Fashion Designers recognized the motorcycle apparel brand for its contributions to fashion. In that same decade, the flame shirt begins weaseling its way from the bodies of skaters in Southern California into Lip Service and Hot Topic, two clothing brands who were all but exploding across America in the mid-90s. Thrasher Magazine, founded in 1981, reportedly did not begin using its flame-ensconced logo until 2002.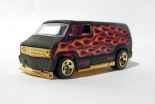 Fieri possesses a genius that is "accidental," according to a July 2016 article on the New Yorker web, and "unrecognizable," per an Esquire piece from September 2016. There is a growing tendency for writers to self-examine and diagnose the perverse pleasure they derive from watching Fieri, as if the very act is rooted in shame because of what he represents, largely by condition of his loutish appearance. It is born of the same impulse that guides the slant towards elevated writing about fast food in recent years, giving others permission to access pleasure to their vices by gift-wrapping it with the language of prestige, even if it's an endorsement of everything cultural tastemakers have told us is trash. Fieri rejects American notions of tastefulness as dictated by snobbery—whether guzzling Donkey Sauce, that off-white aioli slop he drizzles on Bacon Mac N Cheese burgers, or bulldozing his way into a diner, he is hedonistically boorish, a quality reflected in both his diet, his attitude, and his clothing.

There is nothing particularly novel about the flame print's revival. You don't have to look hard to find the sparks of flame gear resurgence, like Vans' revival of the fiery Old Skools in 2017, that had previously only been sold in America at some indeterminate point in the 1990s, produced briefly in Japan in 2015, but otherwise relegated to the doldrums of eBay with astronomical price points. You can find this print, with flames in either jade or saffron, on Sub-Age's Aloha Flame shirt from SS17. In March 2016, Demna Gvasalia of Vetements resuscitated flames in the form of a boot with a crimson lick. It appears on Priscavera's slip dresses. And of course, Prada.

I have tried to work backwards and understand where Fieri bought his shirt, and I failed. He did not respond to multiple requests for comment asking this question, though he did mention to Pashman that he posed for that picture well before his Food Network debut in 2006, and just after he'd opened "a barbecue restaurant," where the shirt was. That restaurant was Johnny Garlic's, as is clear by the fact that there's a Johnny Garlic's logo on the shirt in that photograph of Fieri. It's a restaurant that Fieri and his former business partner, Steve Gruber, opened together in 1996 in Santa Rosa, California. The two men parted ways in 2016, and Gruber now owns Johnny Garlic's entirely. Gruber did not respond to request for comment regarding where Fieri got this shirt.
What I can say with absolute confidence is this: Fieri isn't the father of the flame shirt, just one of its many children. We ought to listen to Fieri when he says he doesn't want anything to do with the shirt. The desire to reward Fieri for a trend he has actively distanced himself from is—as Thrasher's Jake Phelps himself told DAZED in a March 2012 interview, when asked how he felt now that the skater merch he'd worn for decades was everywhere—"corny as shit!"
Thanks to Reddit user u/jsuhr for your research and insights.
Mayukh Sen is a James Beard Award-winning food and culture writer based in New York.