New Icons: Hedonism Without Laces
New Icons: The Insolent Mythology of Versace's Gold Medusa Slides
Text:

E.P. Licursi

Photography:

Kenta Cobayashi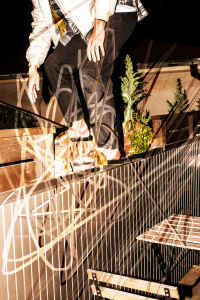 NEW ICONS CELEBRATES THE STORIES BEHIND PARTICULARLY NOTABLE PIECES FROM THIS SEASON.
The Greek historian Strabo wrote of the Sybarites, "by reason of luxury and insolence they had all their happiness taken from them." But what is happiness without a little luxury and insolence? It is these two words that perhaps best define Versace's Medusa Slide Sandals—how else to describe an upmarket rendition of footwear made for the pool or a trip to the corner store than insolent? This attitude is not an affectation, though, but Gianni Versace's birthright.
Versace, who founded his eponymous fashion house in 1978, was born in Reggio Calabria, one of the southernmost cities on the Italian peninsula—not far from where the Sybarites settled in the eighth century B.C. Fertile land and a well-placed port granted the Sybarites the astounding wealth necessary to fund a society known for its emphasis on luxury, pleasure, and excess in all forms. They were called "conspicuous consumers" who liked to "adorn themselves with golden charms." It's been said that they were among the first societies to grant the chef celebrity status, and that they invented intellectual property to protect coveted recipes. They allegedly tried to create a rival Olympics and poached the best athletes from around the Adriatic to do so. Like all good parties, though, the Sybarites' fun came to an end. After a series of sieges and occupations by neighboring—and probably jealous—cities, they were no more. Historians slandered them as blasphemers and blamed their downfall on their prioritizing carnal indulgence and corporeal gratification above all other things.
Versace's fixation on ancient Greek iconography was inextricably linked to his geographical origin. Reggio was one of the many littoral centers that was included in what the Romans termed "Magna Graecia," or Greater Greece. It was from these areas that the Etruscans, and later the Romans, adopted key Hellenic cultural, political, and religious customs—including such symbols as the Medusa and the labyrinthine meander. This decadent imagery, ubiquitous in Versace's designs, is a nod to the opulent sensuousness that the Greeks brought to this region of Italy, along with their philosophy, poetry, and art.
For Gianni Versace, one imagines, these symbols were a matter of regional pride, particularly in the face of the Milanese fashion houses who undoubtedly looked upon their Southern counterpart with haughty skepticism, even outright disdain. What better way for an outsider to compete with these storied labels than by grounding your designs in a tradition that spans millennia? Luxury, after all, is it's own kind of mythology.
Text:

E.P. Licursi

Photography:

Kenta Cobayashi