Finding Tokyo's Rough Gems with Yoon Ambush
The Jewelry Designer Shares Her Favorite Hangouts and Reveals the "Bad Boy" Inspiration of Her Latest Collection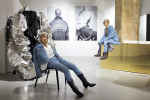 It's hard to believe that superstars like Ambush's Yoon and Verbal would spend day after day in a backyard showroom somewhere on the outskirts of Paris' third arrondissement, personally explaining their latest jewelry and apparel collection. But this is exactly what was happening during Paris Men's Fashion Week. It was all but quiet in the Ambush showroom, as music and fashion royalty came to pay Yoon and Verbal a visit and discover "Halbstarke," the next step in their storytelling.
"I came across this beautiful book by Karlheinz Weinberger," says Yoon, "In this book, Weinberger captures these rebellious kids, and I just fell in love with those photos—with those kids, with their attitude. There was something really untouched about them. Because they were so unaware of how cool they looked."
Halbstarke, a German word that literally translates to "half strong," is a term used to describe a bad boy. "They just wanted to decorate themselves to copy the look of their idols, like Elvis or James Dean," Yoon continues, pointing out that Weinberger, a Swiss artist and photographer, shot the halbstarke scene in Zurich in the late fifties.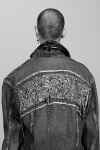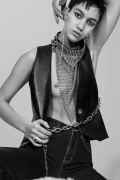 "Obviously these kids were from working class families that didn't have many resources to buy actual items. So they used random found items, like junk material, and made their own accessories and jewelry. I found that really inspiring. And I feel related to them because that's the way I look at jewelry. For me, jewelry is not a status thing. It's an extension of your own identity."
That is also why "Halbstarke" is Ambush's first sterling silver collection. No glitz and no glam. The collection puts a poetic take on barbed wire as necklaces and bracelets, nails as earrings, rings, or arm cuffs, and chains as belts. All made in Japan.
Similar to the Swiss-born kids of Weinberger's photographs, Yoon explains that many Japanese youth continue to worship 1950s Americana icons from afar. "It's fascinating how James Dean and Elvis Presley are still the ultimate idols," she says, "Did you know that the best Americana vintage shops in the world are in Tokyo? The Japanese are hardcore collectors."
But her current hometown of Tokyo is not the only reference. The Korean-born Yoon was raised in America, and is therefore de facto Americana herself. "I look Korean and I am somehow Korean, but I am not from Korea. I was born in 1977 in Seoul, but then we moved. My dad was in the U.S. army, first in Korea, but then he got American citizenship and they moved us all over the place. He was working on the base, never on the front line. We lived in Hawaii, we lived in California, and then we moved permanently to Seattle where my parents still live."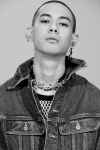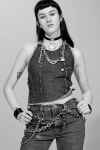 There is something new and pioneering in Ambush's fashion take. What began in 2008 as an experimental and rather DIY jewelry project has since expanded into denim, ready-to-wear, and a host of collaborations with brands such as Sacai.
But how did a girl from Seattle end up getting married to the rap star and music producer Verbal from the mega-group Teriyaki Boyz? And why are they both so excited to sit in a Parisian showroom and promote their brand?
Yoon recalls her fashion epiphany moment: She was still living in Seattle and attending middle school, and used to go to the public library so she could read everything. "Seattle wasn't glamorous back then, so I would get these fashion magazines and think, 'Wow, people are all glitzy on the East Coast,' thinking maybe I should go out there." After graduation, she applied to several schools and got a full scholarship at Boston College to study graphic design. In Boston, she met Verbal, who was studying marketing and philosophy at Boston University.
"We've known each other almost 20 years," says Yoon, "First, we had a long distance relationship. After graduating from college, I was working in Boston as a graphic designer while Verbal had moved back to Tokyo to start his music career. One day, when I was thinking of moving to New York, Verbal asked me to move to Tokyo and I did." That was 13 years ago.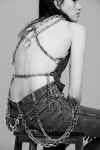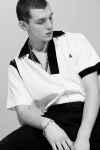 "As a rapper, it was natural for Verbal to have big chains and heavy gold pieces, so we started making them for him ourselves. I would design them, and then we would have a jeweler make them. People who were coming to Tokyo around that time—like Kanye West and Pharrell Williams and Amigo—would come see him and admire his jewels. I remember one of the first hit pieces was a giant pendant made out of gold with a couple hundred carats of diamonds. It was like a museum piece. Verbal loved wearing that," says Yoon, who confesses, "Weird to believe but, although I am a girl, I am really not into the bling. I don't like to wear diamonds. I am more into simple stuff."
A little silhouette check, and she is not lying: All her jewelry is silver and simple. No glitz. However, she is wearing a foxy Céline coat, combined with jeans and shoes by Vetements. She is a very different sight compared to her Instagram account, which is more pop than Andy Warhol could have ever imagined pop to be.
"After the giant diamond pendant was a success, the direction was clear. We wanted to professionalize the business," says Yoon. That was around 2008. As demand grew the random pieces turned into a complete collection. Today, this is Yoon and Verbal's passion, which explains their commitment.
"Halbstarke" is not only the first sterling silver collection, but the first collection to be accompanied by a full apparel line. "I guess we like doing things our own way," says Yoon, "Ambush is becoming a universe on its own, so we decided to start making clothes to complete the collection and the story." Usually it's the other way around: Apparel companies make accessories to complement their collection. Ambush makes clothes to give the jewels a backdrop.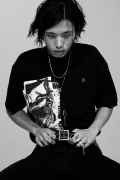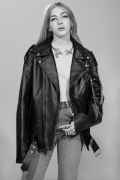 As generous as she is stylish, Yoon gave us a list of her top 10 favorite spots for our next trip to Tokyo:
1) Lion Cafe
2-19-13 Dogenzaka, Shibuya-ku
The first rule of the Lion Cafe is that you are not allowed to talk in the cafe. Although originally built in 1923 in the heart of Dogenzaka (in the middle of the red light district), due to the firebombing of Tokyo in the Second World War it was rebuilt in the 50s. Once you set your foot in, it transports you back in time, with all the seating facing one direction towards a huge wooden speaker system that only plays classical music. So calming, with a church-like air. This shrine of a classical music cafe is definitely an antidote to noisy Shibuya.
Museum of Contemporary Art Tokyo
4-1-1 Miyoshi, Koto-ku
Piano Bar
1-25-10 Shibuya, Shibuya-ku
Chandeliers, loads of kitsch, and random pictures all presented in low red light—this place almost reminds me of a vintage Las Vegas brothel. The owner Matsumura hand-decorated the place with all the things he's been collecting from flea markets. The Trump Room, which has the same owner but is a bigger club just five minutes away, has been the birthplace of the new Japanese youth club scene. A great place worth checking out on the same night.
Hotel Pearl
Nakameguro, Tokyo
Whales of August Bar
28-13 Udagawa-cho, Shibuya-ku
A pub with a traditional wood bar. All cocktails are dedicated to movies and they only play movie soundtracks.
Nakano Broadway
5-52-15 Nakano, Nakano-ku
This is a total geek hangout in an indoor shopping arcade that has multiple floors filled with animation, manga heroes, and rare vintage toys.
JBS Bar
1-17-10 Dogenzaka, Shibuya-ku
A tiny bar/cafe stacked with over eleven thousand records. The owner, Kobayashi, has an extensive knowledge of blues, gospel, R&B, soul, and hip-hop. A place to be when you just want to chill to good music and have a great drink in your hand.
Daikanyama Tsutaya Books
17-5 Sarugakucho, Shibuya-ku
If the world had a perfect bookstore, this would be it.
World Breakfast Allday
3-1-23 Jingūmae, Shibuya-ku
This place cooks up only breakfast from different countries with a different theme each month. What a great place to wake up to without having to travel all over the world. It also helps when you have an irregular schedule and are just in the mood for breakfast at any time of the day.
Satei Hato
1-15-19 Shibuya, Shibuya-ku
I can't live without coffee, and this is the best coffee in town. It takes over 20 minutes to prepare, but it's definitely worth the wait.

Text:

Jina Khayyer

Images/Photos Courtesy Of:

Yoon / Ambush