Behind the Seams with Fashion's Most Famed
and Feared Meme-Makers
Interview:

Erika Houle

Images/Photos Courtesy Of:

@dietprada

@dietprada is the ultimate fashion exposé: bitchy and unstoppable. What began as a shared Pinterest board documenting the calorie-free collections of Miuccia Prada copycats has quickly become an industry authority with a cult following (and even its own merch). Despite keeping semi-private identities—blogger fame was not their point of conception—the creators of @dietprada have built a "vessel for other people's narratives." Here, imitation is no form of flattery, appropriation is inexcusable, and misspelled knockoffs are grounds for highly impressive spelling bees. Like Fashion File for the social media era, @dietprada is today's protagonist for fashion industry news, specializing in throwing shade and spilling secrets; their readers are referred to as "Upper East dieters."
Still, the minds behind the account haven't lost sight of why they started. They view themselves as a grassroots movement. "We're doing the very least that we can, whistleblowing and what not, but it all starts there," they say. Because when Naomi Campbell has your back and justice isn't being served, you've got to #callitout—whatever it may be. From Stefano Gabbana to Kim Kardashian, no one is safe. Release your inhibitions and lean into the drama.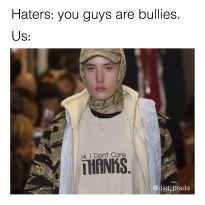 Dialed in on a mysterious three-way call, we asked @dietprada about the practices and rituals of justified trolling, and had them provide a glimpse into their phones and some custom memes for SSENSE.
You started @dietprada as a pastime among colleagues and it's become this major voice within the fashion industry. What has that evolution been like?
D: The audience is so global now. It's like, "Oh, the Australians are waking up, we have to get this post up!" I would like to think we're the same voice. A lot of people think we've become bullies, they feel like they're being attacked but they could laugh at it before. It's serious because there are so many eyes watching and that makes people nervous and uncomfortable. There's definitely more of a sting to every post we do now. There's more diversity, but same purpose.
Have you ever experienced people knocking off your work personally? When did copycat culture became important to you?
P: Copying has always really bummed me out. I went to an art high school and there was a kid that always copied. He was really talented but I was always like, "That's not anything," you know? But yeah, I have a claim to fame. I worked on this item that launched a thousand imitators over the last five years. It's hilarious to me, that little sketch turned into this thing that I've seen just about everywhere that I've been on vacation in the last couple years in like, tourist stalls.
Is it hilarious or insanely frustrating?
P: I think it's hilarious.


Beyond exposing knockoffs, you're drawing attention to larger injustices too. What issues do you find the most pressing in the industry today?
D: The most recent one we were talking about is race, with bloggers of color, how there doesn't seem to be this relationship that exists with larger, billion dollar corporations and sponsorships. It's really interesting what people are saying about algorithms. They're like, "I don't even see bloggers in my suggested page," and apparently it's based on who you already follow, who you like, so that's an interesting conversation. There are a lot of people who will draw attention to a cause and share their opinions and they should be heard, but they are getting their comments deleted by these companies. The first step to changing this is to acknowledge the problem and they are straight up denying it. They could easily decide to use their power to increase visibility for some of these bloggers who are underrepresented. People want to create this echo chamber and I don't know why you would want to live and function in this bubble.
P: Another issue I want to mention are the barriers to entry in the industry, how hard it can be to break in if you're not already in. There are certain levels to which you can get internships, get design jobs, be in the right places for these talented people.
Are there certain sources you pinpoint that to?
P: It's just always the way it's been set up. If you were going to be taken seriously, you had to have interned and lived in New York or whatever major city and worked at a job that probably doesn't even pay you enough to live there. Back when we started they didn't pay you to intern. You'd be like, "I need to buy lunch today," and they'd be like, "Well ask your parents."
It's like, if you weren't born into a trust fund, the system sets you up to fail a bit.
P: Exactly. Now those barriers are definitely getting broken down, but they're not at the same time.
What do you think your role is in working toward change?
D: It's not like we're these magical social justice warriors. There are things we don't know, but part of it is listening to people and realizing this is an important issue that a lot of people want to talk about. Let's try to understand it, and then let's leverage our power. It's not like we're trying to touch on things that are completely unrelated to what we do. We get some messages now that are like, "I didn't follow you for the politics, I don't need your opinion on this," but really it's all intertwined today. You can't separate politics from fashion.
P: People have used it as a really strong message. Also, like one in every five people in the world are employed by the fashion industry, whether they work at a manufacturer or in an office somewhere. It's a huge industry, I think they try to make it frivolous.


Has @dietprada become a full time job? What does a day in the life look like?
D: It's definitely taken over at times where I'm on it from morning to 4:00 AM. We'll wake up and talk about our posts or the topics we need to cover. We have a few different shared photo albums where we put works in progress, ideas, finished material that's ready to post.
P: We almost take shifts. I'm more of a morning and day person, so I'll get up, start going through the messages, and read the news to see if there's any scoop. I check Twitter, go through email newsletters from everybody to see what's happened overnight and whatever got reported on yesterday, and then just roll with the punches throughout the day. We've got other stuff too, like managing a website.
D: It's more time consuming than you would think, trying to check your references and make sure you've got everything before you post.
I was curious about your fact checking process. Do you guys have spies?
D: We have so many followers that send us stuff. It depends on the material. If it's runway, it's usually pretty easy to backtrack something. If it's something vintage or obscure, you have to reverse Google image search and go through Pinterest and try to find something that matches up. A lot of windows open.
P: The Stranger Things video was really an accurate representation of how we do research. Sometimes you get a tip and you're like, "This is amazing," and then you research it for three hours and it turns out it's not factual and you're like, "damnit."
How do you go about exposing someone you're a fan of? Rihanna, for example, do you treat that any differently?
D: No, unless it's Beyonce probably. [Laughs] We're so far removed from celebrities, we don't really care. It's criticism and our opinions, whether or not you choose to be offended by them or how much weight you put on our words, that's on you. We don't really hold back.
P: It's to help you grow, it's not a dig.

You're not trying to be bullies.
P: Copying itself can be a form of bullying, and a lot of what we see are people who flex their privilege over smaller guys. Like, some girl selling pins, she doesn't have a lawyer...
D: I see the voice of @dietprada as this extremely sophisticated, catty 14 year-old girl sometimes. It's our best qualities and sometimes our worst, which is maybe some of the pettiness, but it's a character too. There's obviously something about the tone that resonates and it's all about getting people to be interested enough. Sometimes they're just interested in the drama which is perfectly fine for me.
Do you ever get overwhelmed? Is it stressful to be in ongoing internet beef all the time?
D: We deal with it in different ways. I need to find better ways of checking out when it gets to be the early hours of the morning. I was fighting with someone last night actually at 3:30 AM because she told me Margot Robbie's Golden Globes dress was 30s inspired. I was like "I don't think so." She was like, "I teach at FIT," and I was like, "I worked at a costume institute for two years." I had to stay up an extra 20 minutes. It sounds super immature but I just wanted to show her the references of the silhouette, and that this was something distinctly 40s: the structure, the bodice, the shape of the sleeves.

You've said you have some really exciting projects coming up this year, can you give a better indication of what those may be?
P: We're really hoping to get a platform up that lets our users interact beyond Instagram where we're the filter of everything. I almost want a message board where people can be like, "I think they copied me," and everyone else can jump in. It would be amazing. Like Reddit, you know? We also want to get into more long format stuff because there are some bigger issues that deserve to be dug into more than the paragraph you can put into an Instagram post that most people scroll by really quickly. If they're taking the time to go to a long format article, they're paying attention.
D: I think it's going to be an experimental platform and hopefully it's something we can use to explore other voices that aren't typically heard because I think people are sick of the same writing from people that have advertisers backing them and pushing them. I want this to be a more democratized view of fashion, and most of all, for it to be fun.
P: Somebody said something that stuck with me, they said that by picking copying as your source material, you're never going to run out.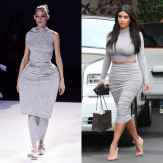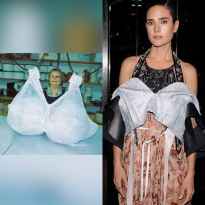 Interview:

Erika Houle

Images/Photos Courtesy Of:

@dietprada