Off-White's Hikers Embody Cross-Climate Cult Hybridity
Text:

Gary Warnett

Photography:

Kenta Cobayashi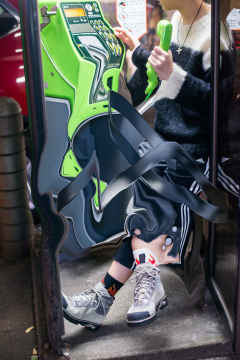 Intent on sidestepping beige predictability, Virgil Abloh's Off-White imprint has rapidly ventured beyond the beaten path over a handful of seasons. Prominent in the January 2015 Mode à Paris presentation, the brand's hiking boot debuted as part of a young collection that aimed impressively high. Created with a motivational "Don't look down" motto in mind, a mountaineering theme recurred, down to the climbing ropes used as fastenings and styled around shoulders. But even stripped from the rest of the collection, the shoe makes its own statements in style and function.
While revisionist, streamlined perceptions of street culture will point to Timberland's iconic yellow boot as the rugged shoe of choice, the reality of the East Coast's (and Abloh's Midwest's) inner city picks was far more varied. Grungers of the early 1990s might have been happy to grab combat boots from surplus stores, but connoisseurs opted for shoes fit for mountain use. While the peaks looming over these consumers were more likely to be man-made than natural phenomena, bitterly cold, windy, and wet weather still necessitated some hardcore protection.
Timberland's own top-of-the-line early 1990s designs like the World Hiker were engineered in Italy and became enduring favorites. Other reappropriated bestsellers from brands like AKU and Vasque were never cheap, handmade in towns like Montebelluna and famed for their craftsmanship. Even soles from purveyors of traction like Vibram and Rubbermac came at a premium.
In recent years, the hiking boot has taken several memorable high-end forms. Raf Simons' De Stijl boot from 2008 reconstructed a staple in primary colours, while Bernard Wilhelm's work with Camper looked like it could help the wearer take a vertical leap to prevent the effort of a hike entirely. Louis Vuitton's Alpinist brought some tech-luxe appeal, while ALYX's distinctive interpretation embodies the late 1990s with Italian manufacturer ROA on board.
Off-White's take brings extra personality to a frequently tested formula. Premium leather, D-rings, and a rubber toe wrap are age-old ingredients, but the inclusion of a fold-out silvertone spur is truly unorthodox. As a dramatic, hinged solution to issues of grip, it evokes an aggressive crampon look for snow and ice. It can also be interpreted as a hybrid of classic boot styles akin to the ultra-niche snow-western movie subgenre that attracts cult levels of fandom (just ask Tarantino).
Exaggeration plays its part elsewhere on this silhouette, too. Wrapping laces is a traditional solution to excess in places where a dangling nylon noose as a trip hazard can send you tumbling to your doom. Here, the laces are so excessively long that they lasso around and around to become a focal feature.
Influential Atlanta rapper Future has been spotted in a pair of these boots, while New York underground upstart Westside Gunn boasts, "Got my troops in Off-White boots," on 'Mr. T,' a lead single from his debut album. Statement enough for those lyrical co-signs but not so high concept that they can't be part of a more subdued wardrobe, this is a solid entry into a territory where high-end translations maintain their footing.
Text:

Gary Warnett

Photography:

Kenta Cobayashi

Model:

Sac

Styling:

Tatsuya Shimada