Get To Know the Shoes That Crept Out of the Music Underground
Photography:

Brent Goldsmith

Styling:

Samuel Fournier
The thick-soled creeper shoes may have been around since the end of the second world war, but it wasn't until the likes of the crisply dressed Teddy Boys of the Fifties and the British punks of the Seventies that the style became forever and inseparably linked with underground music subculture. London punk kingpin Malcolm McLaren sold them from his Kings Road shop, along with one of his other most famous punk styles the bondage trouser. It's these fashion details that separated the London punk look from the US brand of punk, and fans from around the world made their pilgrimage to West London to buy a pair of Creepers to copy it. Legendary skater Steve Caballero once told Vice magazine that going to the Kings Road to buy creepers was the first thing he wanted to do on his debut trip to London in the Eighties. "All the punk bands were wearing them.... They were the perfect shoes for me because they made me look taller," he said.
Fast-forward a couple of decades and the likes of Rihanna are using the double-thick-soled style to elevate their looks. The classic Derby lace-up has, too, infiltrated popular culture, becoming a byword for taste and refinement. The detail that separates a Derby from an Oxford is it's open lacing. Although more informal than an oxford they're the favoured by music stars who like to keep their look polished but not stiff at dressy awards shows.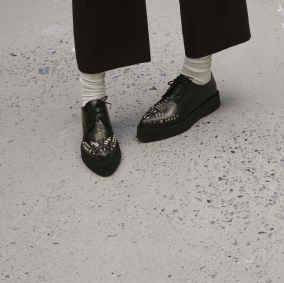 This season, the endlessly versatile black leather lace-up has been tapped into by young and established designers and design houses alike. Some pairs, like Pierre Hardy's simple black Derbys offer an elevated, modern take on the faultless classic by adding a platform sole; Alexander McQueen's studded platform Derbys take on extra punk edge with stud detailing; and others experimenting, present a hybrid that takes on distinguished characteristics from both classic lace-ups and Creepers, such as AMI's classic Derby with thick Creeper-like sole.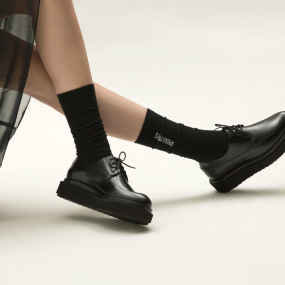 Since way before David Bowie commanded, "Put on your red shoes and dance," music culture – whether the lyrics of the songs or the fashion that went along with the scene – has had a special fixation on the shoes we wear. Beyoncé's blessed us with the feel-good mantra, "Cause I'm walking in new shoes now"; A$AP Rocky proclaimed his hope that the paparazzi catch him in his "good shoes"; and Johnny Cash asked defiantly, "Do anything but don't ask that I hang up my rock and roll shoes," and all Soulja Boy wants to do is "smoke weed and buy shoes." We present the black lace-ups stamping their mark on the season ahead.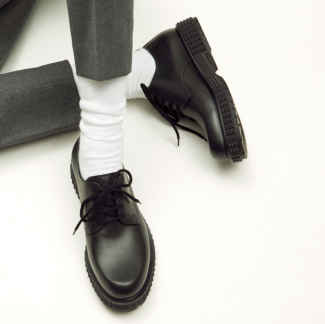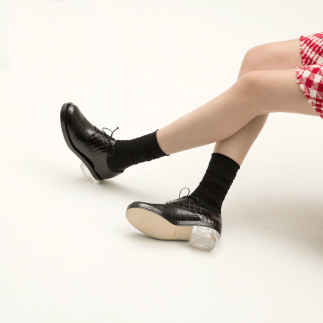 Photography:

Brent Goldsmith

Styling:

Samuel Fournier