A Ten Image Guide to Fiorucci
The Moody, Eternal, and Sexy Legacy of the Milanese Creative Director
Text:

Giangluigi Ricuperati

Elio Fiorucci (1935-2015) was a major figure of a nonexistent movement. Coming out of the transformative years between 1965 and 1970, when High and Low collapsed in a heap of songs, pictures, actions, slogans, collaborations, and ideas, his work could have been described as Pop Fashion in a Postmodern Style. Fiorucci's visual world was heavily inspired by artists such as Andy Warhol, Roy Lichtenstein, and Alex Katz, and designers like Ettore Sottsass. In Fiorucci's work these formal intuitions were condensed into even simpler patterns, mixing the childish with the symbolic, the erotic and the cheesy. He was a genius of inventive marketing, pre-digitally Instagramming his imagination via bold, referential advertisements and stickers, imprinting his aesthetics in the brains of legions of Cold War boys and girls. His first shop opened in Milan in 1967, followed by many branches around the world. The brand spent the 70s as a growing cult, blooming eventually in the early 80s and marking the moodboards of teenagers from at least two generations.
Fiorucci's wild imagination still touches a cord today, likely because of his devoted love for graphic détournements and illustration in general—we live in the age of illustrated fantasy, after all. Fiorucci is also a reminder of an era in which everything was mixing with everything for the first time. The best way to judge Elio's legacy is browsing through the Fiorucci stickers, produced in collaboration with Italian sticker album publisher Panini and now one of the label's lasting calling cards. If we accept Hugo von Hoffmansthal's motto, "Depth is hidden on the surface," then we should consider Fiorucci a micro-portraitist of our social skin's abysses.
The first, last, and only time I met with Elio Fiorucci was in Milan on a foggy November day in 2011, on the stage of a small theater close to the Duomo. He was gentle, shy, and focused, because he was there to tell the story of Ettore Sottsass, his lifetime hero. Before starting his speech, he overwhelmed me with hundreds of those stickers—a generous reminder of what once was "the Milan factory of ideas and forms."
1
The build-up years were the 70s, even if his name is forever associated with the 80s. One of the icons of the 80s, Princess Diana, was a fervent Fiorucci follower and would even contact the label to request specific items. Said Elio in an interview years later, "It was a great satisfaction to think that without those pants a princess was not happy."

2
If our dreams needed a postal system, Fiorucci's stickers are gorgeous, flashy suggestions of what its stamps might look like. Panini, a Modena-based publisher of sticker albums, shaped the imaginations of generations of Italian pre-teens with its micro-museums of paper and glue. While best-known for stickers of soccer players, Italy's luscious 80s were the right time for Panini to branch out into fashion—this was the era of Armani and Ferré, after all. Elio Fiorucci, with his pop art chops, was the inevitable choice for the project. The stickers are now a precious collectible among passionate fans and a cultural relic for us all, a reminder of how colorful and inventive Fiorucci's imagination was.

3
The stickers were released in 1984 and originally comprised 200 items, sold in newstands, divided into six inspirational branches: Fiorucci Story, Electron, Pin-Up, Romance, Dance, and Swim. Each sticker is a miniature masterpiece, so full of hidden and evident references that each could be easily used as an educational tool. In a single image one could spot pin-up culture, Alex Katz, and,obviously, Roy Lichtenstein.
4
This campaign, which represents a shift of public perception towards exposed skin, comes straight from another era—and earned Mr. Fiorucci a call from the Italian Advertising Authority, because it supposedly provoked "violence against women."

5
One of Fiorucci's closest collaborators for a time was Oliviero Toscani, an innovator of public imagery in all senses. Toscani was the first ad man to use dramatic and journalistic images to serve the purpose of brand expansion. He was behind a controversial Benetton campaign that used a famous photo of AIDS activist David Kirby, then near-death. Toscani's Jesus Jeans campaigns of the 70s shocked Italy by contrasting Biblical text with high-cut denim hot pants.
In this wonderful shot, Toscani and Fiorucci create an association between graffiti culture—then illicit, underground, still globally emergent—and skinny denim.

6
Elio Fiorucci was a participant in Canale 150, an event celebrating 150 years of Italian unity with important Italian thinkers lecturing on their idols. Fiorucci combined his hero with a beloved format, bringing a large-scale sticker of the late Ettorre Sottsass. The Sottsass speech began with these words: ''I had the extreme luck to know him early in my career, that is, when I opened the shop in San Babila. Because Ettore represented Milan in the field of culture and design he was one of the most important characters in Italian cultural history, one of the best known and also one of the most loved. I immediately had the good fortune to have something to do with him, because I had a passion for design and architecture and I had already thought of selling clothes but also design objects. So he invited me at his studio, and our small friendship began.''

7
Mendini, Alchimia, Memphis and Fiorucci were an ideal match. After all, the early 80s represented the apex of the postmodern oblique attitude, and Fiorucci was himself a light philosopher—as well as one of Mendini's best clients.
8
Fiorucci was never the nostalgic type and his Warhol obsession transferred easily to one of the true heirs of the Pop School, the great Keith Haring, who was at once inspiring and inspired by the imagery of Fiorucci.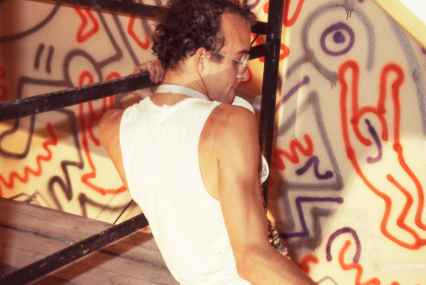 9
In 1983, Madonna, having just released her first, self-titled album, made her first major public appearance at Studio 54 in New York. The occasion? A Fiorucci party, celebrating the brand's 15th anniversary. The singer, dressed in blue, performed on stage after spewing out of a huge, pink-blue cake.

10
In Elio Fiorucci's world, there was Warhol even when there was no Warhol. Exploding Plastic Inevitable would have been a perfect name for Fiorucci's own alternative rock band, if it hadn't already been taken by the big maestro. The innocence of that age can be somehow exemplified by the fact that one could still patchwork Andy without seeming lame. But, yes—everything was still there. The 20th century was still there, with some late übermensch of both sexes—and Elio loved to hang out with demigods.
Text:

Giangluigi Ricuperati