Journey Into the Heart of Content with Rembert Browne
Text:

Rembert Browne

Photography:

Hannah Sider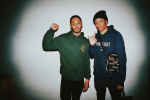 There it was, directly to my right, as I waited for the ATM to dispense three 20s: the bait. An abandoned joint, a shot of blue FourLoko, and a half-empty $15 light beer, all sitting on a marble countertop. It was day two of the second annual ComplexCon, sponsored by new media behemoth Complex and billed as "an unprecedented festival and exhibition conceived to bring together pop culture, art, food, style, sports, music, and more." Chaired by Pharrell, Takashi Murakami, Virgil Abloh, and Colette's Sarah Andelman, it was set up as a weekend-long brand orgy—a hypebeast World's Fair.
But here's the thing. I wasn't in Long Beach, California to report on fashion, celebrity sightings, or to review the weekend's musical performances. I also wasn't there to enjoy myself. This was more cultural anthropology, with a dash of Planet Earth. I was here to figure out who came to a weekend like this, and why. And because I have a track record of staying at these kinds of events until they break me, the IRL #SponCon still life of alcohol and weed was the moment that my assigning editor was paying for, praying for.
The two-day spectacle was divided into three main sections. Panels and conversations. Musical performances. And the marketplace: a massive expo of booths and installations, from major brands like Nike and adidas, to the impressively still-hyped Undefeateds and The Hundreds of the world, to smaller labels like Raised and Wish ATL. The first thing you noticed in the marketplace were the lines. They were many, and they were long. The energy sapped by this stasis made the space feel like an aspiring cool kid job fair. The maze of a room was packed with those who were just browsing and those who were very much shopping. While some held onto their purchases, many others celebrated their new goods, and then walked them directly to a prominently positioned eBay booth and began the process of flipping them online. The room certainly exhibited the "Con" part of ComplexCon—it was a feast for the obsessives. But for a room focused on fashion, there was a near-paralyzing lack of style and swagger present. It was the closest thing I'd experienced to being on the main floor of a casino, but filled with people that had only gambled online.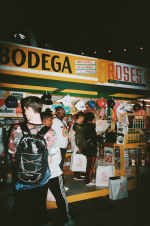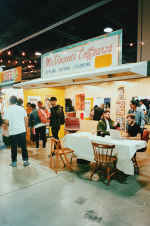 It's a cultural shift—the desire to do and create things that become cool has been overtaken by the desire to simply be cool.

The way the convention center was situated, it felt as if the adults were upstairs, talking about "the culture," while the kids were downstairs, attempting to embody it with their purchases. For as long as I can remember, "the culture"—that vague, oft-problematic umbrella term—was synonymous with both creativity and authenticity. Synonymous, too, with hip hop, and the youth, and the black and brown kids who are typically at the forefront of trends. The meaningful-yet-overused phrase "doing it for the culture" essentially boiled down to two things: telling your story, both in arenas where it was expected and in spaces where it had never before emerged; and living the life that your work claimed to describe. Performing these two functions ultimately—and often incidentally—led to a highly desired result: cultural capital.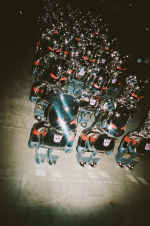 But in the marketplace, positioned as the pulse of the culture, something was off. It was a room dripping with desired capital, buzzing with commerce, but few traces of what I'd long considered to be culture. It felt wrong, and it felt bad, until I realized maybe I was the one who'd lost track of what mattered in 2017, or if the dizzying word "culture" even still had meaning.
As a company, Complex is representative of this media era, in which brief moments of relevance, and ideally virality, are more attractive than long-term sustainability. That's not necessarily a bad thing, but it's important to call it what it is, and ComplexCon was an embodiment of that ethos. It was Complex, the business, doing exactly what it should be doing: turning their highly-capable homegrown talent into stars, giving platforms to once-relevant stars of yesteryear who will say anything if filmed, and aggregating all things that might be considered as cool—even some things that just in no ways are—and aiming it at those who aspire to be cool. It's all very democratic, kind of—the low barrier to entry and the underlying belief that if you can fake it here, you can fake it anywhere. The hyperactive nature of this media ecosystem takes people from obscurity to ubiquity in what feels like a heartbeat, often due more to a quirk of fate (or algorithm) than any really distinctive talent. It's a system that seems like it can be gamed, which leads to people spending more time trying to be good at social media than on the organic grind necessary to hone their chosen craft. It's a cultural shift—the desire to do and create things that become cool has been overtaken by the desire to simply be cool. The Supreme box logo-branded cart has been placed before the horse. ComplexCon was like watching both sides of the social media-fueled internet come to life—this was a weekend for the final product of content creation. It may have physically been in Long Beach, but it really existed online. Depending on which way you turned, which aisle you walked down, you were confronted with one of two sides of the culture: the hustlers, or the scammers. And for two days in Long Beach, as a hustler in my own right, I felt and saw and overheard the shift. The scammers were here, and they were thriving.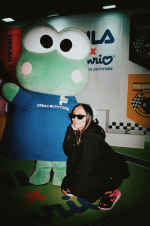 When I arrived on Sunday, there was chatter about how terrible the previous night's N.E.R.D. set was. Yes, there was some misinformation. What was advertized as an N.E.R.D. reunion set was actually a listening session performance for their new album, but it was a stunning performance nonetheless—the dance sequence in Coming To America meets "Rhythm Nation" meets The Lion King on Broadway meets the movie Rize. It was a phenomenally loud, choreographed party with new N.E.R.D. music, featuring songs with Kendrick Lamar, Andre 3000, Future, and Rihanna. But yet, somehow, it was universally panned by anyone I spoke with the following day.
It was unclear what the people ever wanted this weekend. That was, until Khaled said he was going to hand out shoes—and then the crowd lost it.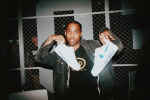 There was a DJ Khaled performance that began with him running through his many, many hits. People were into it, especially when—for five seconds—Khaled began salsa dancing. Readying myself to leave and have dinner, alone, across the street at California Pizza Kitchen, he suddenly left center stage and started DJing. He barked with positivity that he was going to turn this party up like it was New Year's Eve. He dipped into old and new, from DMX, to Jay-Z, to Cardi B. Most of the people around me were fixated on the sign language interpreter signing the hell out of "Bodak Yellow."
While fun for me, there was an odd drop off when the vibe went from a greatest hits concert to a party. It was unclear if this was what the people wanted. It was unclear what the people ever wanted this weekend. That was, until Khaled said he was going to hand out shoes—and then the crowd lost it. It had been a weekend of music being of tertiary importance, seemingly to everyone. There were musicians, but they were at their highest demand when they weren't doing music.
And then there was the midday Migos set. I stood, excited to watch the Holy Trinity perform, in a part of the convention center darkened to create a nighttime environment, and watched a guy light a joint and smoke it while his friend took video. He rapped along, missing many of the lyrics to "Bad and Boujee" in the process, before posting the video to his Instagram. Then they switched up—joint for phone—repeated the process, and walked away.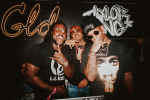 I have no hesitation in saying that this was one of the lamest things I've ever seen. I was embarrassed. But it also didn't matter, because to the outside world, they were killing it—smoking at the exclusive Migos set.
Watching this, it felt important to be there. I got to witness two days of people perfecting the image that they put out into the world. That act of showing your best side is relatable, but to watch it be the foundation of an entire cultural moment—it was overwhelming. And in the weeks following ComplexCon, watching the things written about and posted from that convention center, it's almost as if the first rule of ComplexCon was, "Don't talk about what actually happened at ComplexCon." Because when you see the way the sausage is made, you're confronted with the illusion that is this cultural moment. Fake it until you make it has truly become fake it so you can make it, and then keep faking it for as long as you can fake it.
The Sunday lineup was Young Thug, M.I.A. and Gucci Mane. I did not want to stay—I had enough for this story and the hotel room back in L.A. was really nice—but I couldn't look certain people in the face over Thanksgiving in Atlanta if I told them I skipped a free Healthy Gucci show. Walking through the marketplace for the final time, most of the booths were breaking down. The few that remained open, however, had handfuls of men still standing in line, waiting for something. A security guard pleaded with them to leave and go see the concert in the other room, but no one moved.
Rembert Browne is a freelance writer, contributing pieces this year to The Fader, The Ringer, Bon Appetit and Bleacher Report. Formerly, he was a staff writer at Grantland and New York Magazine.
Text:

Rembert Browne

Photography:

Hannah Sider