User Experience:
the Las Vegas Strip
A Week of Luxury Retail, Blue-Chip Art, and Giant Margaritas
Text:

Adam Wray

Images/Photos Courtesy Of:

Adam Wray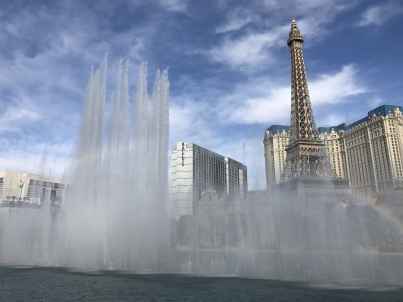 In his 1984 cyberpunk opus Neuromancer, William Gibson imagined an orbiting space resort called Freeside. "It's just a big tube and they pour things through it," one of his characters said. "Tourists, hustlers, anything. And there's fine mesh money screens working every minute, make sure the money stays here when the people fall back down the well."
Freeside was clearly inspired by the Las Vegas Strip. And though the Strip is earthbound in a Mojave basin, it already feels a bit like a space station: remote, artificial, magnetic in its glittering improbability.
The Strip is the city's electrically-stimulated heart, as iconic now as the world wonders recreated along its central boulevard. It is as absurd a concentration of capital as exists on the planet: a five-mile stripe of garish, multibillion dollar hotel-slash-casino-slash-nightclub-slash-restaurant megacomplexes, located in one of the driest spots in the country, sustained by the largest water reservoir in America and its own self-perpetuating mythology. It is one of the most popular tourist destinations on the planet, drawing almost 43 million visitors in 2017 despite offering nothing that couldn't be recreated elsewhere except the promise that what happens there, stays there.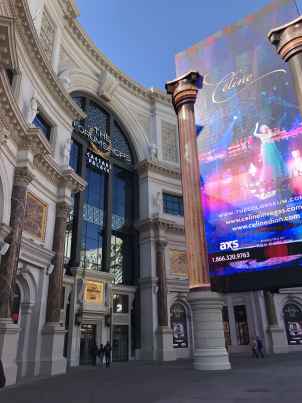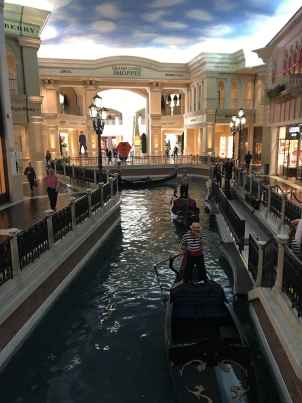 I am here on a family vacation, and we spend our first night roaming the Strip sipping giant, plastic flutes of frozen margaritas, exploring hotels and casinos designed to keep you inside and disoriented, which makes the whole stretch feels like one giant organism with transitional zones rather than firm boundaries. Many of the complexes are themed, rendered in charmingly literal fashion. What would a Venice-themed hotel look like? Well, it would have gondolas, of course, piloted by singing gondoliers who'll row you down white-walled canals lined by luxury boutiques under the unchanging cloud formations of a painted sky-ceiling.
And those boutiques are everywhere, like jewels on a tiara. While gambling still brings in billions in yearly revenue, the Strip's post-2008 crash economy has been tilting towards clubbing, eating, and shopping. Most of the upscale complexes seem to default to a similar structure: a sprawling core of gambling, hotel rooms, and restaurants with spokes of high-end shopping shooting off from the center. Later that first night, full of In-N-Out and drunk on boozy sugar-slush, my siblings and I wandered through the Wynn, stopping at a Prada store, where I tried and failed to explain to them the price of a pair of Cloudbust sneakers. As I walked up and down the strip over the next few days, I spot countless practically identical luxury outposts—eight Louis Vuitton stores!—offering similar stock.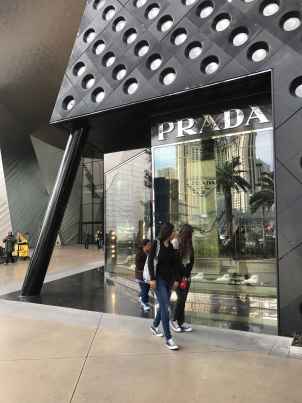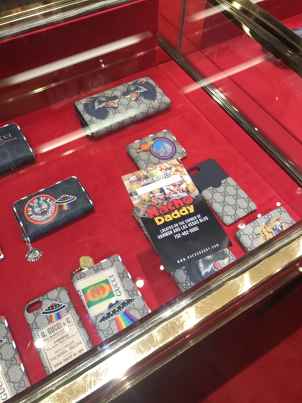 The buzzword animating retail these days is "experiential." Retailers, reacting to the encroaching dominance of e-commerce, are grasping for ways to entice customers into their boutiques, and most of what they've come up with involves a 360-degree epicurean offering of restaurants, cafes, multimedia installations, spa facilities—whatever will get people through the doors and comfortable enough to leave with a hoodie.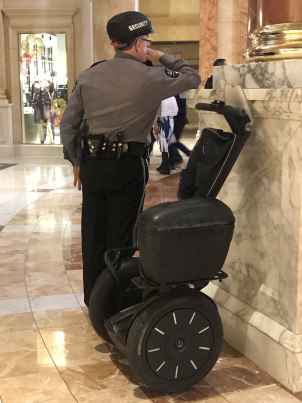 After a couple days in Vegas, I became convinced that what these retailers really want is to recreate the experience of the Strip, where all activities melt into a seamless commercial gesture founded on ritual. The myth of Las Vegas is so outsized that visiting seems like a rite of passage—something to do just to say you've done it, where doing it involves blowing a bunch of cash. On vacation, my grandfather always used to say, "We're not here to nickel and dime it." For better or worse, that maxim's always stuck with me, and nowhere has it felt more applicable than Vegas. In the context of the Strip, gambling, which I'd never had any interest in, felt dumbly heroic. Here, spending frivolously seems almost devotional, like paying tithes. Maybe Hedi Slimane was trying to tell us something when he added giant slot machines to some of Saint Laurent's flagship locations.
"After a couple days in Vegas, I became convinced that what these retailers really want is to recreate the experience of the Strip, where all activities melt into a seamless commercial gesture founded on ritual."
Does the Strip get old? Sure, yes, quickly. Its cumulative effect is stunning—as in, trance-inducing. As in, a blow to head. Like it or not, you become enthralled by its tessellated rhythms. The sound of the slots, the baroquely tiled hotel floors, the endless, undulating column of traffic running down the boulevard, the fountains in front of the Bellagio that repeat a choreographed routine set to Bruno Mars or "America the Beautiful" at 30-minute intervals. In a 1964 dispatch for Esquire, Tom Wolfe wrote: "It is as if there were a communal fear that someone, somewhere in Las Vegas, was going to be left with a totally vacant minute on his hands." After a couple days wandering the Strip, I wondered what, if anything, is the difference between totally vacant and totally full.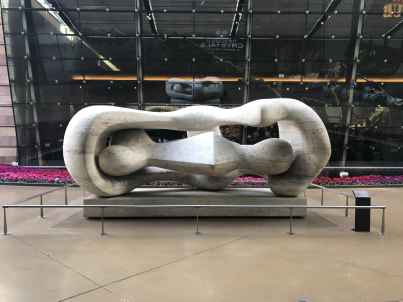 On my last day in Vegas, I found a different sort of excess. In 2009, a complex called CityCenter opened on the Strip's southern tip. An $8.5 billion joint venture between MGM Resorts International and Dubai World (a Government of Dubai-owned investment company), it was intended to usher in a new era of urbane sophistication on the Strip. It was envisioned as community comprising hotels, casinos, luxury retail, and condos, boasting buildings by some of the world's most in-demand architects and a fine art collection then worth about $40 million, all on public display.
CityCenter interfaces with the Strip most directly through a mall designed by Daniel Libeskind, awkwardly named The Shops at Crystals after Libeskind's trademark jagged prism aesthetic. Near its entrance, underneath a massive wooden sculpture containing a restaurant, I picked up a pamphlet mapping out CityCenter's art collection, and began my scavenger hunt.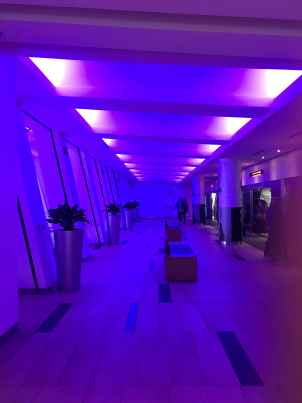 A James Turrell installation entitled Akhob sits atop a Louis Vuitton flagship. It's a free-by-appointment ganzfeld, which his website describes as "a German word to describe the phenomenon of the total loss of depth perception as in the experience of a white-out." It's Turrell's signature technique, uniquely suited to the smartphone era and an especially welcome respite from the Strip's action. For an artwork to really capture attention today, it almost has to physically separate your from your device, which Akhob does—no phones allowed. The effect is transportive, and very difficult to replicate unless you've got your own cavernous studio with a cyclorama and lighting rig at home. For the casual art appreciator, there aren't many pieces in the world more worth traveling for.
Crystals actually has two Turrells, and the second one is visible from almost anywhere in the mall. There is a monorail that connects several MGM properties, and Turrell has lit the mall's station with an installation called Shards of Color, which is exactly what it sounds like. The station is bathed in softly cycling colored lights, visible throughout the mall through cutouts in the walls. It is extremely Instagram-friendly.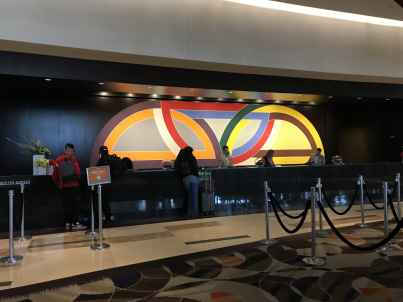 Deeper inside CityCenter, I found a Henry Moore sculpture dumped between unceremoniously Crystals and the Aria's casino. A few hundred yards away, a set of Donald Judd woodcuts are casually mounted on a wall in an atrium leading to a parking garage. The casino features a huge commission by Maya Lin, and the hotel's valet pick-up features a giant Jenny Holzer, her truisms scrolling by on a massive screen.
Crossing over to the Vdara, one of the other hotels in the complex, I sat staring at a Frank Stella mounted behind the check-in desk. I thought to myself: Why is any of this here? Who cares if the check-in's backdrop is a Stella, or framed stock photography, or just a fucking blank wall? What is all of this for?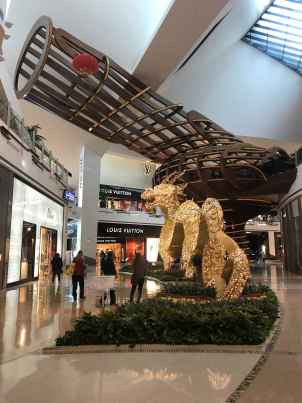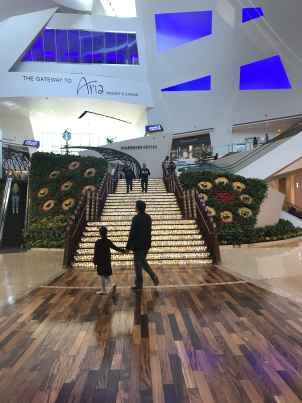 In the center of a roundabout linking the Aria and the Vdara, there is a monumental sculpture by Nancy Rubins. Entitled Big Edge, it's an arrangement of over two hundred canoes, kayaks, and rowboats, spiking unevenly outwards as though they were yanked together all at once by a superdense cylinder of gravity. Big Edge looks out of place; dwarfed despite its size by the surrounding towers; obscured by the procession of car traffic. After staring at the sculpture for a minute or so, I turned to a Vdara valet and asked him what he thought of the piece. He said, smiling, that he liked it, because if there was ever a flood, we could just break it down and use it to float away. I could not have imagined a more satisfying answer.
Adam Wray is a senior editor at SSENSE. His writing has also appeared in Vogue, T: The New York Times Style Magazine, The Fader, and more.
Text:

Adam Wray

Images/Photos Courtesy Of:

Adam Wray