Through the Looking Glass with Stage Designer Es Devlin
The British Visionary Who's Built Magical Worlds for Beyoncé, Louis Vuitton, and Kanye, Debuts Her Newest Miami-Set Solo Installation ROOM 2022
Interview:

Cedar Pasori

Images/Photos Courtesy Of:

Es Devlin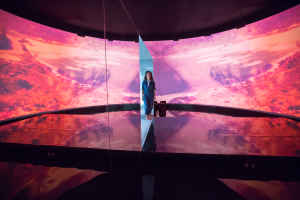 Es Devlin—short for Esmeralda—the award-winning British stage designer, is keenly aware of how imagination can suspend doubt and inspire inquiry. Her high-tech designs have transformed the stages of ballets, operas, and Shakespearean plays since 1995, although, at 46-years-old, she is most known for designing arena stages for contemporary popstars. Her first music-related commission was in 2003 for the English rock band, Wire.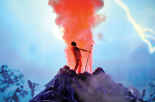 Kanye West saw photographs of the band members playing in four, sheer cubes and immediately asked Devlin to redesign his 2005 "Touch the Sky" tour, just 10 days before the first show. West and Devlin have since collaborated on multiple ambitious tours, and she's subsequently designed stages for Beyoncé, Adele, Lady Gaga, U2, and The Weeknd.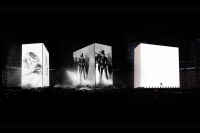 Devlin likens these large-scale commissions — which now include stages for the GRAMMYs, BRITs, and Louis Vuitton runway shows — to "effectivist sculptures," or rather, art with extreme purpose and impact. Only in the last year has Devlin begun to share her own art, in the form of installations in London, Genk, and now during Art Basel Miami Beach at the EDITION hotel with her latest installation, ROOM 2022: a meditation on the imaginative effort it takes to occupy a recycled, borrowed bedroom.
Devlin's overall practice, rooted in a broader love of the arts and literature, was nurtured by writing-inclined parents, who raised her in the quiet English countryside outside of London. They encouraged the 30-minute train rides to London, usually for violin lessons at the Royal Academy and museum visits. "Oddly enough, my practice started in writing," she says, of getting a degree in English Literature at Bristol University before attending art and theater schools. "I always drew, painted, and enjoyed art," she adds. "But whenever I was writing, I wanted to start drawing again."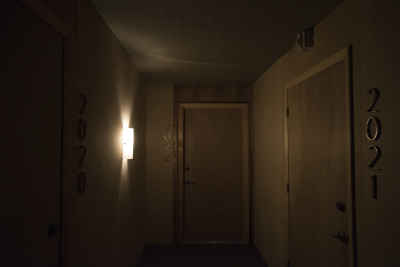 ROOM 2022 contains as much of Devlin's writing as it does her drawing. She authored and recites a poem — choosing her own voice instead of a model's — recorded over an introductory film of sketches, renderings, and spinning gradients, viewable from a buildout based on an EDITION hotel room. "I woke up to a single line of light," she begins, referring to light as a constructive medium used in her stage work to manipulate space and perception, in addition to the kind that seeps through hotel curtains.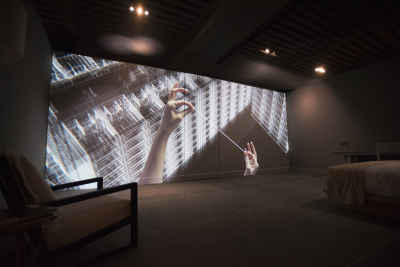 Sitting on a bench at the EDITION, waiting for the fire marshall to do a final inspection, Devlin says that she wrote the unnamed poem two months ago. "I had been thinking about the system that makes hotels work," she says, in between bites of cube-shaped focaccia dipped in olive oil. "It's very similar to theater, in that there's a slight of hand, an illusion. You engage in the illusion that the room is yours. When you leave trash in the room, or don't make your bed, you almost believe that there's an invisible magic tidying the room before you return." The poem also suggests alternative architecture for hotels to harness this fantastical belief in them. "What if you took all of the imagined effort it takes to make a hotel work and applied it to the architecture of what a hotel could be?"
Devlin often achieves illusion through light and mirror applications that also represent the infinite possibilities of space. The line of light is a repeated symbol in her stage work, from the 1998 background of the Four Scenes ballet to the giant, split cube in Beyoncé's 2016 "Formation" tour. It's present in the final scene of the ROOM 2022 film, as sunlight peeking through the curtains, also filmed in an EDITION hotel room, and meant to provide the experience of entering the film. "People often ask me why I don't make films," she says. "I realized that it's because you can't walk through a film. Wouldn't it be great if you could cut a hole in a film and enter it yourself?"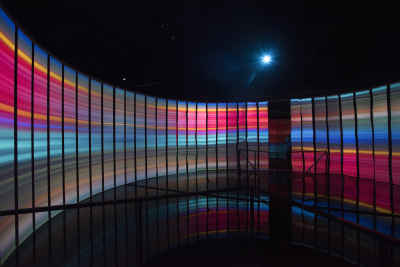 If the film provides the foundational psychology of the hotel experience, the two ensuing mazes are about the systems within a hotel that provide a sense of privacy and order. Inside the first maze are replicas of EDITION hallways, with out-of-order numbers on the hotel room doors. All but one are locked. The unlocked door leads to another mini hallway with doors, which then leads to a third replica of the same experience. "We take these systems for granted, that if we go to this room, it's our room," says Devlin. "We block out the fact that, through a wall, however thick, you can hear someone next door. We choose to draw up these organizational systems," she says, pausing momentarily. "We do it to protect ourselves, like shells, because we have to."
Before the last maze, visitors encounter a rotunda with a zoetrope representing the bottled-up imagination, or "magic," that Devlin suggests pouring down the corridors of hotels in her poem. The zoetrope idea came from a 19th century book of magic that has old stage illusions and captures the "excitement of the Victorians," Devlin says, over simple tricks like floating heads and skeletons popping out of boxes. "The zoetrope is an important part of my jigsaw — piecing together the history of human enchantment with illusion," she says. Images in the ROOM 2022 zoetrope, many of which were filmed on Devlin's iPhone, including at a friend's wedding months before, create the illusion of continuous motion. Scenes of children, lovers, skylines, dancing, fireworks, and a timelapse at the EDITION flash by with spinning bursts of color.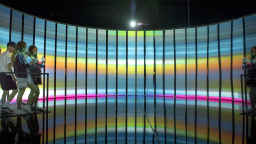 Memory and "the human enchantment with the new" are central to Devlin's work, specifically how the brain processes it short- and long-term, via the hippocampus. "The zoetrope room is the hippocampus of hotels meeting the hippodrome," she says with wry certainty, suggesting that the etymology of the Greek word, hippos (meaning "horse"), unites the hippodrome — the ancient Greek horse-racing stadium — with the human brain's hippocampus. A hippodrome carries the galloping, rotating rhythm of a zoetrope, like memories building in the mind. For Devlin the brain's way of processing serial images echoes the beginnings of filmmaking, too. "Anytime we learn something new, our brains get this little dopamine squirt of reward and sensation," she explains. "Squirt, squirt, squirt," she repeats, pinching the air above her ear. "New, new, new!"
A last door on the side of the zoetrope leads to the final maze with floor-to-ceiling mirrors where visitors witness a manifestation of infinite self and imagination. "I've been using mirror for almost 20 years," she says, "to defy physics and dimension, expanding very small spaces into infinite ones." Devlin first used mirror on a stage for MacBeth in Vienna, in 2003, where she put a mirror down the center of a revolving box. Her latest solo installation, 2016's Mirror Maze, used mirrors to create a journey focusing on the sensation of scent (it was sponsored by Chanel).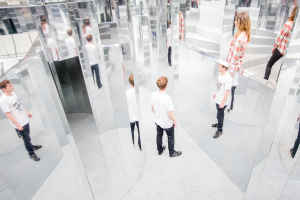 The first people to see Devlin's installation are close friends, who serendipitously arrive when the fire marshall gives his blessing. She breaks from the interview to welcome Louis Vuitton creative director, Nicolas Ghesquière, her collaborator on many of the brand's runway shows. Mid-answering an interview question, Devlin asks for help to read a text message from esteemed curator Hans Ulrich Obrist that said, "Can't find you. Pink bar." Last year, Obrist commissioned Devlin to create two of her first solo installations, Miracle Marathon and Poemportraits, at the Serpentine Gallery in London. She turns to her agent, Angie, and smiles like it's become a fun challenge. "Can you find Hans Ulrich?," she yells. "He's the tall guy in a suit with glasses. Just shout, 'HUOOO!'"
This exuberance conceals any signs of fatigue from Devlin's four days of installation before this interview, or the 12 years of brainstorming that went into the concept of this 7,000-square-foot space. Despite a recent emphasis on these solo installations, she doesn't distinguish between the two strands of work. "In concerts and theater, the audience is as essential to the ritual as the performers," she explains. "It's a matter of calibrating the role of audience as protagonist, and I've always approached stage design and art as simply sculpture, environment, and installation."
"It's a matter of calibrating the role of audience as protagonist…"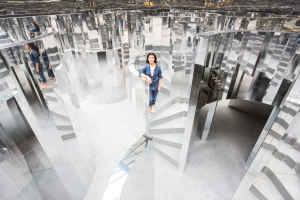 When I insist that she's succeeded in creating a physical impact with ROOM 2022, she replies: "If you can't move anyone, don't bother. You know what I mean?"
She's right.
Cedar Pasori is a U.S.-based arts writer and editor.
Interview:

Cedar Pasori

Images/Photos Courtesy Of:

Es Devlin