The Home Is a Stage: Tina Barney
The Photographer Frames America's Upper Class
Text:

Adam Wray

Images/Photos Courtesy Of:

the Artist and Paul Kasmin Gallery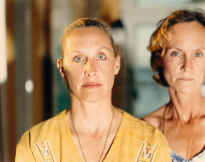 Outside the studio, the photographer is a performance artist. Working in the wild, she is caught in the act of capture by her subjects, by passersby, and, in the smartphone era, by an endless procession of other photographers both amateur and professional. She is always negotiating the balance of seeing and being seen, and the moments she preserves are documents of this push-pull dynamic. In her exploration of this complex artist-subject relationship, American photographer Tina Barney's work captures—or produces—scenes of emotional and social ambiguity.
The Children's Party
Born in New York City in 1945, Barney is known best for her candid, large format photographs of her upper-crust, East Coast family. Size is crucial to her work. Exhibited as huge, chromogenic prints, often four feet by five feet in diameter, her photographs invite close inspection and overwhelm gently with their depth and detail. The Children's Party sprawls like a Renaissance tableau, humming with stilled activity.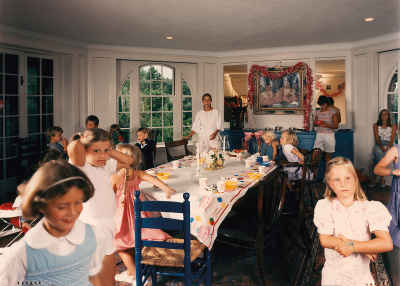 American Flag
When Jonathan Anderson set about rebranding Spanish luxury brand Loewe, he built one of his first campaigns from photographs shot by Steven Meisel over a decade prior—a thoroughly contemporary gesture. It is easy to imagine Lacoste using Barney's American Flag to a similar end. The small green alligator crest on the elderly man's blue polo is not the photograph's focus, but its position in the shot is impossible to ignore, a symbol as weighty as the flag billowing in the distance. The richness of the shadows and the vivacity of the colors in Barney's prints give them a hyperreal aspect—the same way time softens certain memories. It is a wonder that Barney is not tapped for more commercial work.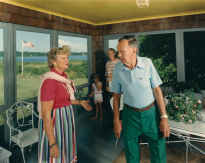 Jill and the TV
The photographer features in all of her photographs, whether concretely or by implication. Barney's sister Jill, one of her favorite subjects, is the focus of this odd composition—arms folded in a kimono, framed by a television tuned to what looks like security camera footage. On the screen behind Jill is a dark, shapeless mass, suggesting the bulk of Barney working beneath the hood of her large format camera. In this way, Barney herself assumes a spectral presence in Jill and the TV that colors the rest of her photographs. Whether this was intentional or not, the result is a beguiling domestic scene rendered in extraordinary richness, recalling painter Alex Colville.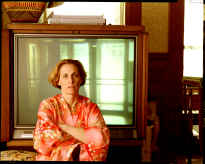 Father and Sons
Barney's second monograph is titled The Europeans and collects work produced over extended stays in Italy and France. In her travels, she remained fixated on familial relations, her focus turning necessarily from her own family towards others'. Barney has taken several photographs titled Father and Sons, and this one has the air of a behind-the-scenes outtake that does not quite match its baroque setting. Barney manufactures tension by catching people in between expressions.
Caddies
Barney's focus broadened over the years, pushing further beyond the domestic. On a 2007 trip to China, she attempted to document a culture changing rapidly, propelled by a booming upper middle class. Here, she captures a quiet moment on a golf course pierced—or perhaps activated—by a woman's gaze meeting her own head on.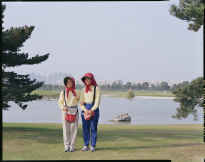 The Boys and Boys on Bikes
Though documenting social mores was not Barney's express intention, a photographer shooting regular people in the midst of their rituals and routines can hardly help it—her work will necessarily serve an anthropological function, too. Beyond its formal grace, Barney's work will also endure in this capacity. Shot nearly 20 years apart, The Boys and Boys on Bikes look almost as though they are from different worlds—and, in some ways, they are.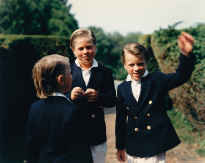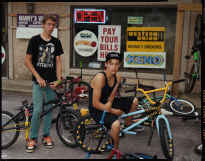 Text:

Adam Wray

Images/Photos Courtesy Of:

the Artist and Paul Kasmin Gallery