Tim Lawrence Chronicles New York City's Downtown Scene of the Early 1980s
Text:

Alex Needham

Images/Photos Courtesy Of:

Duke University Press

Photography:

Mattias Peterson (Tim Lawrence portrait)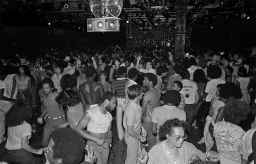 According to legendary house and disco DJ Danny Krivit, in the early 80s around 4,000 licenses were issued for nightclubs in New York City. In 2016, this number had fallen to around 120. The decline of New York club culture is a wearingly familiar refrain, chalked up to gentrification, the club-killing policies of Rudolph Giuliani during his 1994-2001 mayoral tenure, or smartphones replacing dancefloors as the primary focus and obsession of young people's lives. Yet the New York nightclub isn't finished yet, and in these times of political despair could be due a renaissance. Tim Lawrence's new book Life and Death on the New York Dance Floor, 1980-1983 reminds us that nightclubs can be generative spaces of art, community, cross-cultural pollination, experimentation, and pockets of resistance to the oppression of the daytime world.

We want to resocialize our cities, and make them affordable and hatred-free and more open.
Lawrence's book details the incredible upsurge of creativity that hit the city's nightclubs between 1980 and 1983, when disco gave way to post-punk and hip hop. Places like the Mudd Club, the Danceteria and the Paradise Garage became crucibles for collaborations between artists, musicians, and fashion designers, from Keith Haring and Jean-Michel Basquiat to Larry Levan and Malcolm McLaren.
"When we look at the way New York City was represented in the 70s and 80s in the media, it's pretty consistent—it's a city of decay, crime, mugging, murder, the garbage isn't collected, it's dysfunctional and dangerous," says Lawrence in a cafe round the corner from the University of East London, where he teaches. "The funny thing is I've now spoken to maybe 500 different people about what they experienced in that period, and they all say it was a pretty amazing time. There was a lot of freedom, there was a lot of culture, you could hear music in the streets, people engaged with each other. Sure, it was a bit edgy, but New York City wasn't this hellhole."
At a time when people barely had answering machines, let alone the internet, New Yorkers had no choice but to socialize in order to discover what was going on. "There was no Facebook page to go to. You went to the party spaces, not only to enjoy yourself but to find work," says Lawrence. "And people were living their lives in cramped apartments, so they'd go out." Along with playlists of records played at all the major venues, his book carefully details the communities which were fostered in clubs from the Danceteria in midtown, which mixed live bands, DJs and even a video lounge to the Saint on 2nd Avenue, perhaps the platonic ideal of a gay dance club, with its jaw-dropping light show and permissive attitude towards public sex. During his foundational Paradise Garage sets, Larry Levan would play records through a sound system precision-tooled for maximum impact to a crowd of predominantly black and Latino gay men. The result wasn't so much a nightclub as a religious experience—in her recent autobiography I'll Never Write My Memoirs, Grace Jones describes the Garage as a church. Despite their connective potential, online communities can never replicate the physical sensation of dancing all night.
A yearning for oneness and union in an era of isolation and political polarization might explain why depictions of this moment in New York's history strike such a chord. Baz Luhrmann's Netflix show The Get Down is set in the South Bronx during the early days of hip hop, fashion labels Bianca Chandon and Sacai have both designed collections referencing the Paradise Garage, and Hedi Slimane's recent New York diary for V Magazine, a portfolio of portraits of the city's icons, included no-wave hero James Chance and Lydia Lunch.
Then there are the New York parties which maintain the clandestine, multiracial, sexually and musically adventurous spirit of the early 80s, like the semi-legal queer space Spectrum. Other nights like Papi Juice and Ghe20g0th1k—for and by LGBT people of color—have provided a place to dance, cruise, and show off radical fashion to a cutting-edge, avowedly avant-garde soundtrack. There's American Whorer Story, a multimedia mash-up that takes place in a Brooklyn sex club, whose attractions include poetry reading, a dancefloor, video art, and a sexually uninhibited atmosphere, with a crowd that is either naked or dressed to kill. The night I went, on Halloween, Vetements stylist Lotta Volkova turned up dressed as a mid-surgery Genesis P-Orridge.
Lawrence and I talk few days after Trump's inauguration and the attendant wave of protests that followed. Lawrence sees hope in the fact that people are coming together in urban centres again, from protest marches, to reading groups in independent bookstores, to underground parties. "We know that there is a reaction against the neoliberal period we've been through and the uglier side is coming through with Trump, and then the other side is that we want to resocialize our cities, and make them affordable and hatred-free and more open," says Lawrence.
They both believe in the manipulation of found objects, they both believe in mashup, they both have a very DIY ethos that mutates into their various versions of punk.
The current mood of anger and political polarization across much of the Western world fuelled by mutual suspicion and bigotry makes the boundary-shredding of this 80s New York scene seem like a distant dream—though much of it happened during the presidency of Ronald Reagan, who in his attempts to restore 50s-style suburban conservatism to America's radical urban spaces was almost as divisive as Trump.
Despite the political climate, artists were reaching out across genres, neighborhoods, and races. Basquiat made art-punk with his band Gray, Afrika Bambaataa sampled Kraftwerk on the otherworldly "Planet Rock," Jones covered Iggy Pop and Joy Division—all in a spirit of mutual admiration and curiosity. Reading Lawrence's book, it's startling to see how quickly Blondie picked up on hip hop. When they made Rapture, with its shout out to Fab Five Freddie and a rap by Debbie Harry, the genre barely existed, yet this soundclash between the cultures of the South Bronx and downtown Manhattan was emblematic of the times.
"It's one of the great themes of the early 1980s, this remarkable meeting and productive exchange between these two communities who you would think would have a completely separate set of values and they get on like a house on fire," says Lawrence. "The downtown kids are a fun bunch who are largely suburban refugees who are fleeing boredom and going for experimental lives, who go to CBGBs and the Mudd Club. They're white middle class but they're broke—they don't need much money to live on. Then you have the Bronx party people who are overwhelmingly African-American or Latino and working class. They get together and find that their artistic values and aesthetic values are almost identical. They both believe in the manipulation of found objects, they both believe in mashup, they both have a very DIY ethos that mutates into their various versions of punk, so although they're completely separate and have different lineages, their artistic values combine very easily and you have this great collaboration—like Rapture."
While music underpinned this cultural upheaval, few other art forms remained untouched. Lawrence cites Wild Style, the first-ever film about hip hop, which merged movies, music and the art world. "It's white downtown artist and filmmaker Charlie Ahearn collaborating with Fred Braithwaite, an African-American graffiti writer. Pat Astor, one of the downtown stars of the no-wave cinema and a regular in the Mudd Club, gets a role in Wild Style. She opens the first East Village gallery, Fun, and she's showing her white downtown art punks friends, but she's also showing graffiti artists. The two groups meet and it's almost more of a party space than a gallery space." Basquiat, Haring, and David Wojnarovicz were in the vanguard of New York artists who expressed and embodied the traffic between the streets of the city, the clubs, and the galleries.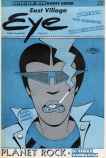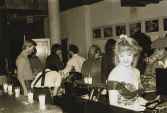 Of course, the last two of these artists were cut down by AIDS; Haring was 41, Wojnarovicz 37. AIDS is the death in Lawrence's book's title, and the crack epidemic that swept New York in 1984 also contributed to the scene's decline. If AIDS had never ravaged the scene, says Lawrence, "There would have been a larger population of people wanting to go out partying which might have found a way to resist some of the changes which came up later, particularly under Giuliani." However, Lawrence says that economics were a bigger factor than AIDS in closing down clubs like the Saint and the Paradise Garage. "The Paradise Garage closed because there was pressure put on the venue by the local neighborhood association. [Owner] Michael Brody announced that it was going to be closed because he was told his lease couldn't be renewed."
There's a familiar villain in the story of New York's gentrification—Lawrence points out that Donald Trump was one of the earliest beneficiaries of the tax breaks for corporations introduced by New York mayor Ed Koch, which eventually made downtown Manhattan unaffordable to the artists who had used it as a playground. And once the artists, musicians and devoted clubbers moved out, they took with them the radical, freethinking creativity which made New York so culturally fertile.

Lawrence himself experienced the transformative power of the New York dance floor when he moved to the city in 1994, partly to study for his doctorate at Columbia University, but also because it meant he could see his hero Little Louie Vega DJ at the Sound Factory Bar. Vega wasn't the only nightlife legend Lawrence encountered, from house divas to voguers. "I'd lost my mind listening to Barbara Tucker records like 'Deep Inside' and 'Beautiful People,' then all of a sudden she's there! Willi Ninja was working the door and he would come inside and dance."
As a passionate clubber who is nonetheless removed from the action, both in time and space, Lawrence is perhaps the ideal chronicler of the scene. Nightclubs are by their nature ephemeral—drink and drugs make memories hazy, and no-one is taking notes on the dance floor. Or, indeed, many pictures. As Lawrence says, "Photography happened in the art punk scene and the hip hop scene, but in the post-disco dance scene there's largely no cameras on the dance floor."
Lawrence relies on old flyers, underground newspapers like the East Village Eye, and above all interviews—some contradictory—with the scene's surviving members, from promoters and DJs to hosts and sound engineers. "There were some interviews where David Mancuso and Steve D'Acquisto, who worked with Arthur Russell, would be having fights in front of me," says Lawrence. "There were tensions about getting stories straight." Yet Lawrence's three books are widely renowned to be as accurate a depiction as we're likely to get of that moment in time.
More importantly, they serve as a call to arms to those of us who still believe that nightclubs are important, a place where you can find your people and open your mind to new possibilities. Dancing at the Paradise Garage, says Lawrence, was, "A transformative sonic and social experience", eternal proof that the party can be political.
Text:

Alex Needham

Images/Photos Courtesy Of:

Duke University Press

Photography:

Mattias Peterson (Tim Lawrence portrait)