An overcoat connotes suspense. The uniform of commonplace evil, every assailant wears one as it follows, never running, in pursuit of you. Something to hide behind, something to hide in, and yes, something to hide from. For the second instalment of Cinephiles, the SSENSE editors traverse the landscape of horror, isolating the genre's most spectral overcoats.
At the beginning of the original 1978 Halloween film, Michael Myers escapes Warren County's Smith's Grove Sanitarium where he has been held for fifteen years, since murdering his sister. On his way home to Haddonfield, Illinois, he kills a mechanic. He spends the rest of the film's franchise in this blue mechanic's jumpsuit. How timely that the 2018 reboot arrives during the surely cresting workwear-as-streetwear moment. Michael's signature murder-friendly cover-alls are now something of a fashion staple, as the style sector follows his late-70s lead in appropriating the attire of the working class. Childs offers up a nice coat version of the jumpsuit with a tailored, traditional-menswear twist to Michael's utility.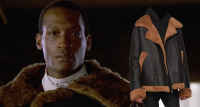 Don't read this out loud while looking in a mirror, but "Candyman, Candyman, Candyman, Candyman, Candyman," is the key to summoning you know who. The 1992 slasher film is a cult classic. It's also experiencing somewhat of a comeback, with a rumored remake by Get Out director, Jordan Peele. The Candyman is scary, sure, but he is also cozy. So cozy, that he seems benevolent, approachable—maybe all it takes is a fuzzy overcoat to trick your foes into believing you mean no harm. And as Sammy Davis Jr. says, "who can take the sunrise and sprinkle it with dew? The Candyman can." He certainly can in this coat.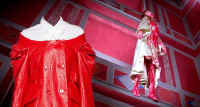 Harvard studies have suggested one's quality of sleep can be improved with the use of a dimmed red night-light. If that's the case, it's unlikely their research took into consideration anyone who'd recently seen Dario Argento's 1977 thriller, Suspiria. The film's ambiance of torrential downpours and scarlet lighting creates the backdrop for a nightmare—filled with conspiring witches, maggot infestations, and the spewing blood of a bat beaten by a wooden stool. But it's that same shade of arterial red that fills Suspiria with beauty; velvet curtains and upholstered furniture, the painted lips and nails of Suzy's ballerina classmates. Simone Rocha's Red Crinkled Double-Breasted Dress evokes a similar dichotomy—one of menace and appeal. Slide into its sticky sleeves and follow Dakota Johnson's lead in Luca Guadagnino's 2018 remake. Become a dreamlike lady in red—equal parts sweet and terrifying.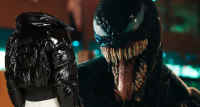 Despite poor reviews from critics, Venom has already grossed nearly $400 million. You could say it's the nature of the beast, and this beast is an alien symbiote infecting an oxygen-breathing host. Come November 1st, it's officially winter in the world of consumerism—given the instantaneous switch to Christmas decorations—which means in order to persevere through the sub-zero temperatures, you'll need the right coat for the job. Even if you'd just like to look like Venom, Chen Peng's Black Down Banana Jacket—slick, hulking, down-filled obsidian armor—can keep you shiny, warm and strong.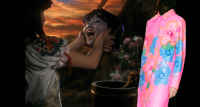 Hausu feels more like a comedy-horror hybrid than a pure horror movie, and the same thing that makes it funny is the same thing that makes it scary—it is psychedelic, unpredictable, and unlike most other things. Director Nobuhiko Obayashi said that the film was inspired by the nightmares of his 10-year-old daughter, and that it was an attempt to inject a sense of childlike play into a film industry that had become dull and jaded. Utterly strange, surreal, and saturated with bursts of 70s color—the same could be said about Christopher Kane's bright foray into the potentially colorless, uninspired world of coats.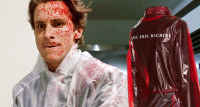 "You like Huey Lewis and the News?" Patrick Bateman (Christian Bale) asks a wasted Paul Allen (Jared Leto). Patrick dips into his sleek, tiled bathroom to slip into his infamous raincoat and fetch his axe as Paul's whisky-delirium keeps him heedless to his own impending decapitation on the sheet-covered sofa. While there's probably nothing new to say about Mary Harron's American Psycho, Patrick Bateman's translucent PVC overcoat is eerily of the moment. Could it be the resurgence of 80s corporate silhouettes on the runway, or the gutting contemporary social parallel of toxic men in positions of power? While you may not be engaging in any living room violence this season, you can still rock a blood-red raincoat, splatter-free. And be a "Manic Soul Machine," even without an axe—it is, after all, hip to be square.
Text:

SSENSE Editors

3D Artist:

Nathan Levasseur