Snarkitecture:
Are Stores the New Museums?
Adventures in Brick-and-Mortar with the New York Design Firm Snarkitecture
Interview:

Nick Rhodes

Photography:

Adrian Crispin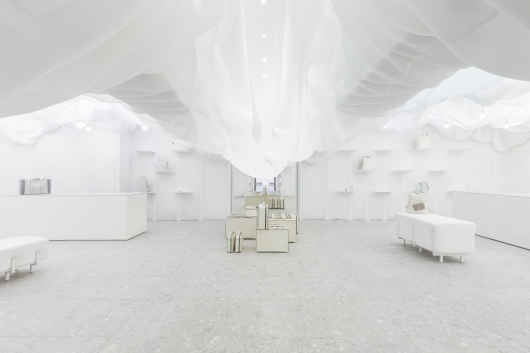 The digital revolution has been a global decluttering process, one that collectively involves figuring out which things actually need to exist as physical artifacts. Through the machinations of this new order, newspapers, television sets, radios, and videotapes have all been absorbed into our phones, reduced to steampunk nostalgia. Yet, despite shopping's centrality to digital life, brick-and-mortar retail has stood in a strange limbo. In fashion, particularly, there has been an arms race over who can generate the most hype and lure foot traffic. And, in some ways, it has worked. The mere mention of the words pop-up, in-store only, especially in a post-drop culture where products are systematically released in limited quantities during set intervals, is enough to amass wrap-around lineups. But is this the only model stores can follow just to get people through the door?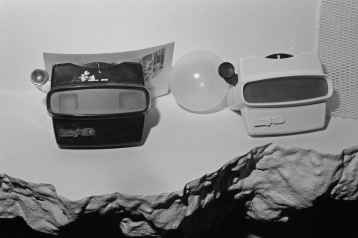 The New York-based design firm Snarkitecture seeks to answer this question by thinking of retail as a type of museum-going experience. Whether it's by crafting a ceiling of concrete Air Jordans for NYC streetwear haven KITH, creating a snaking marble track installation for Swedish imprint COS, or designing an all-white floorspace complete with a canopy of billowing drapes for Italian luxury leather company Valextra, co-founders Daniel Arsham and Alex Mustonen are attempting to turn shopping into a source of experiential capital.
Nick Rhodes met up with Daniel and Alex at their Long Island City studio to find out what their most challenging project has been thus far, where they think physical stores stand against an ever-growing e-commerce landscape, and what dream spaces they hope will come to fruition in the near future.
Nick Rhodes
Daniel Arsham & Alex Mustonen
What are the biggest hurdles faced when working with interior spaces? What compromises are made, if any?
D: Our biggest challenges, honestly, are probably timelines. Oftentimes people come to us with unrealistic expectations of how long it actually takes to do something. I would say that we're very good at executing things in compressed periods, but there are certain things that you just can't do, physically.
A: There's something very challenging yet freeing about working in retail specifically, which is an area that we do quite a bit of interior work in. You can take more risks and there tends to be more of an appetite for unexpected or memorable work—which is what we're trying to do—than, say, a typical office or residential space. But it does come with certain trade-offs or challenges; more people move more frequently through a retail space at any given time than in other types of spaces. You also have to fit a lot of product in.
When working with brands on designing new retail spaces, are there certain pieces from their ethos or aesthetic that you usually dissect first? Is there a specific process that remains uniform for every collaboration?
D: It certainly depends on the client. For instance, using KITH as an example, every store that we've designed for Ronnie [Fieg] has been different, and I think part of the notion for him with that is that these spaces are about experience, not just buying something. The customer is more or less the same at every store, but each location feels different and the product in them has less to do with that. But for other clients like KAWS, we've gone specifically into some of their collection to inform the palette or the texture about them.
A: But in a fairly abstract way in terms of taking something that's from their world and reinterpreting it into a Snarkitecture environment or Snarkitecture experience.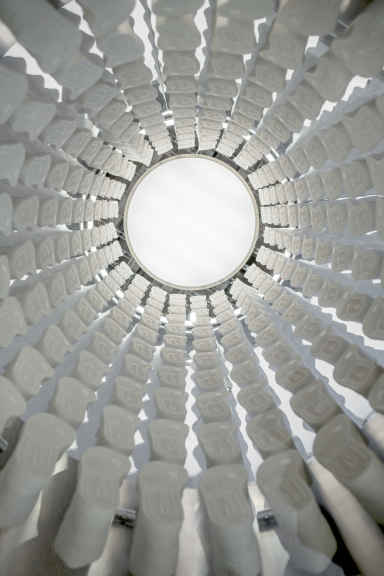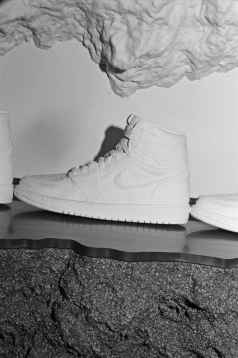 Whispers about brick-and-mortar retail's demise have been circulating for years, but your involvement in their development seems to remain prosperous. How has the role of a physical store changed since the rise of e-commerce?
D: It's a two-way street, right? So for every brand that's hitting a wall with a physical retail presence, there is a young brand or an online brand that's hitting a wall digitally and is finding a need to go into a physical space. This, for me, encapsulates that there are things about a physical experience that you simply can't do online. I think it has to do with a direct visual and spatial connection not only to the product but to the space where the product is held. It's all a sort of architectural definition or DNA of what that brand or label is really about and I think that now more than ever people want that physical, tactile engagement. It's like something about knowing and feeling that it's real as opposed to being something that's just a digital image.
A: I mean you can only go so far with images or an online social media presence. If you're a designer and you have a great online presence, what is the space that you would design look like to your customer or audience? I think everything from the location to the way that it smells when you walk in have a profound impact on the way that people understand the universe that you're trying to make.
Obviously people are attracted to the convenience offered by online shopping, but what do you think is the one thing that IRL stores will always excel at no matter how advanced digital commerce gets?
D: For clients of ours, like KITH, who have an obsessive quality to a lot of their customers, there's nothing that can replicate the feeling of a drop at the store, even if it's done online. I think there's an energy around it that's unique. For me, thinking about the best places that I would shop just to see things, I don't exactly spend what I would online in those stores because they were so good at defining place. Something like colette, for instance. You would go there every time you went to Paris regardless of whether or not you were going to buy something.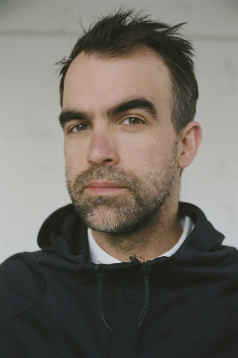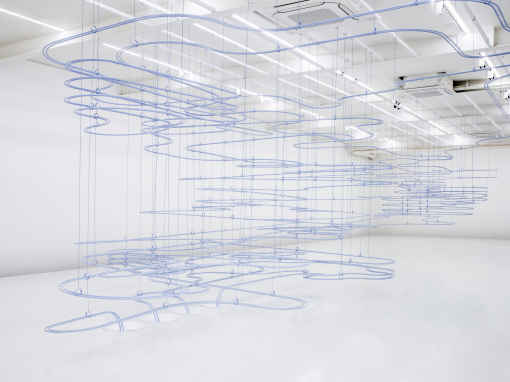 Obviously all of your work is very physically tangible and meant to be consumed in-person, but do you think this could ever translate into a digital space?
A: We've certainly had success through social media even though the experience of being in our spaces is much different from seeing an image, but the images of what we create do translate well and we're certainly aware of this. Whether it could translate directly into a website or app scenario, who knows?
D: When we started the practice there was a clear objective for making a physical experience, like bringing these ideas into concrete reality, but now there are opportunities that were just not there 10 years ago when we started thinking about these things. We'll see what comes up, but I think for now we're interested in continuing to explore.
What would you say was one of your most challenging retail endeavors?
A: There are some good ones in there. I was just thinking of the first retail project we ever did, which was a pop-up for Richard Chai. We designed and built this store in three weeks for like $5,000 USD or something, and it was made entirely in our studio and we installed it in two days.
D: It was all made from one material, too.
A: The concept of the store was that instead of designing little things that would get built, we just filled the entire volume of the space solid and then cut away the material to make tables, shelves and racks. So the whole thing came from a single material that was cut away in this glacial excavation. It didn't really look like a store, but it seemed to do quite well.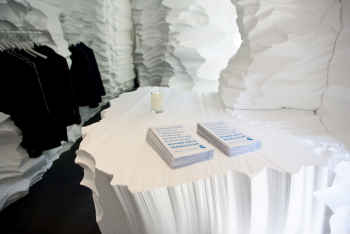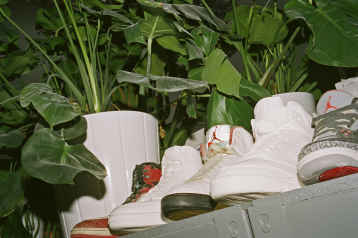 Are there any dream spaces that you hope will come into fruition someday?
D: We've always wanted to bring some of our installation-based projects, like this project "The Beach," to New York because it's not often that our work gets to be seen here. Just because it's such a global practice in that respect. So that's something that we're certainly working on.
A: I think there's just a lot of areas that we haven't worked in yet. Even though we do a lot of work in retail, that's not the only thing we do and it's not the only thing we're interested in doing. But it's basically finding opportunities and finding ways to expand some of the goals of the practice into these other areas of the world, like hotels, parking garages, museums and all of these other areas that we can start to play with.
D: Snarkitecture Hotel. That's a thing.
Would it have concrete pillows?
D: On the bedside, yeah. On the bedside table where you'd place your phone.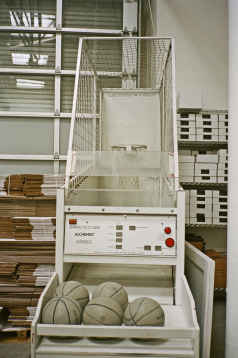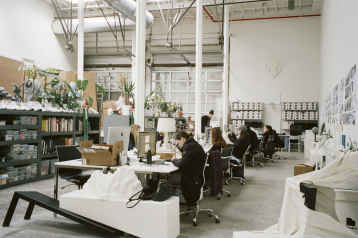 Nick Rhodes is a writer based in New York City.
Interview:

Nick Rhodes

Photography:

Adrian Crispin

Images/Photos Courtesy Of:

Snarkitecture