Architecture Critic Niklas Maak Examines the Radical Potential of the Countryside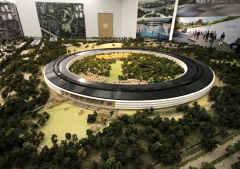 Recently, I heard a radio playing the 1964 song "Downtown" by Petula Clark, written at the height of the Western world's suburbanization.
It sounded like an aria from the crypt.
"When you're alone, and life is making you lonely
You can always go downtown
When you've got worries, all the noise and the hurry
Seems to help I know, downtown
Just listen to the music of the traffic in the city
Linger on the sidewalk where the neon signs are pretty
How can you lose?
The lights are much brighter there
You can forget all your troubles, forget all your cares
So go downtown, things'll be great when you're
Downtown, no finer place for sure
Downtown, everything's waiting for you..."
Everything about the lyrics seemed wrong. The brighter lights, the life, the open world, the columns of glittering, confidently-humming road cruisers, the wild mix of people and cultures in the middle of the city—the downtown I live near has none of that. What you find instead are empty shopping streets. A tour bus. Horse-drawn carriages, beer bikes, gridded sandstone facades. Expensive boutiques. Construction sites for shopping malls (how touching—those huge things dying all over the country thanks to online retail). Office and luxury apartments with ambitious Anglophone names ("The Upper East"). Far too little concentration, life, or future.
Could it be that we're the last generation to see the big city as a promise? Could it be that big city centers are designed only with financial flows in mind, and appeal only to wealthy retirees and tourists?
The urban aesthetic augurs an end. New skyscrapers writhe and have holes and torsions like a person standing awkwardly in the corner and shirking away. The promise of sovereignty, confidence, and power is gone. What they offer instead is security and comfort, sometimes colorful slapstick culture for pensioners, like Anish Kapoor's silly and highly elaborate London observation tower—an example of the total whimsicality of big cities, as architect and thinker Rem Koolhaas calls it. For years, Koolhaas has been working on a theory of the countryside as a counterbalance to increasingly feeble theories about the future of the city.
How might new places to live look, and how could they be created? Places that, rather than offering security and comfort at the price of self-determination, foster freedom and self-responsibility?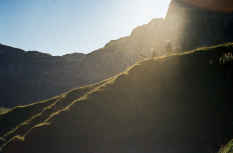 "Could it be that we're the last generation to see the big city as a promise?"
We are constantly being told that more than half of the world's population will soon be living in urban agglomerations. Countless biennials and books have questioned the way cities are changing, and yet the city is seeing only a fraction of the changes happening to its opposite. If over half the global population lives in urban agglomerations, it means that almost half—or a few billion—lives in something we call the countryside.
There has always been something depressing about heading to the country—like an admission of being overwhelmed by the noise, speed, complexity, and modernity of metropolises. The country was for wannabe aristocrats in green corduroy trousers who were horrified by the city's mirrored glass facades, to whom country magazines at train station newsstands promised idyllic half-timbered houses, sunflowers, and horses galloping in the sunset. In other words, the countryside was a kind of pre-modern relaxation zone for big-city dwellers. A closer look shows that none of that is true anymore. It's more like the other way around.
Metropolitan centers have become ruralized. Cafés run by bearded men in flannel are cobbled together with raw wood, as if they were surrounded not by a big city and Google but by a forest full of grizzly bears. For many, the only way to escape total control and surveillance is to avoid high-tech devices like mobile phones, modern cars with GPS navigation, and networked, data-generating, "smart" toothbrushes, running shoes, heaters, and homes. This often amounts to the purchase of nostalgia products: an analog wristwatch, a car with Kugelfischer fuel injection, a folding Falck map, a house with stove heating—life as grandpa lived it in 1975. Or like the Colombian drug traffickers who switched to carrier pigeons once U.S. authorities tapped their satellite phones. While this life on the down-low has long been associated with the country, it is the militant spirit of the inner city that fulfills all the negative criteria attributed to villages: a homogenous demographic structure, xenophobia (refugees are always sent to the suburbs), narrow streets, deceleration, and an aesthetics of the idyll.
As everything in the cities grows smaller and more rural—as one-way streets become children's play zones and latte macchiatos are served on self-chopped wooden boards, as the city becomes addicted to the decelerated, idyllic, and homemade—all the great things, as Koolhaas points out, are happening in the country. Large structures are frowned upon in cities like Paris and Munich and skyscrapers are forbidden, but gargantuan distribution and logistics centers and server farms are built outside of the city limits, lying around the countryside like toppled high-rises.
"A journey to the countryside has often been misunderstood as an act of de-politicization or a retreat into the private and nostalgic. This has always been wrong."

We are witnessing a strange new desire to speed through the landscape and the universe with super-machines—a new high-speed expansionism. Elon Musk, who first became famous with PayPal and the electric car company Tesla, wants to build a supersonic Hyperloop train that reaches speeds of 745 miles per hour (1200 km/h) in a tube from Los Angeles to San Francisco, shooting its passengers from one place to another like a pneumatic dispatch system for humans. And he is working on the SpaceX shuttle, the first privately financed space program that will very soon be taking people to Mars. Musk is serious about the great expansion-promise of modernity, but the future should be more than a euphemism for resource wasting and a stylistic concept that recalls the orange space bubble aesthetic of the 1960s and early 70s. What does it mean when pioneers of virtual communication put their billions towards fulfilling the acceleration dreams of the analog world of their youth?
And why do major companies build their corporate centers outside of the city, with views of bays and nature reserves? The headquarters Frank Gehry designed for Facebook visually blends in with nature, as though Facebook were part of it. Other corporate headquarters currently under construction will also be flat but gigantic buildings with artificial landscapes. Norman Foster's plan for Apple foresees a gigantic glass donut on a 200,000-square-meter site in Cupertino, California—a four-story, ring-shaped building where 12,000 people will come to work. The empty center will be home to an artificial jungle; the building, which is situated in a large park, will be almost invisible from the street.
While structures become more massive the further they are from the city, the future emerging there is one with few humans to speak of. Thousands of satellites and surveillance cameras relay images that are only ever analyzed by machines. Nevada has gigantic areas complete with streets and buildings where there are no more people, at most a security guard to protect the premises from saboteurs: 800-meter-long Supernap server farms to store all of Silicon Valley's data, with clients including Sony, Google, and eBay. The data centers boast a total 70,000 square meters of floor space, with Supernap 7 alone covering 37,800 square meters of ground. An 800-kilometer-long network known as the Superloop connects the servers with Los Angeles and San Francisco, the two cities Hyperloop will shoot back and forth between. Because its passengers will presumably want to continue eating beef (probably even on Mars), the Nevada server farms are just a short distance from automated beef farms. These satisfy California's meat needs, but it is automata and robots that milk the animals, monitor their health, and put medicine in the feed. Robots move around and prepare shipments in Amazon's delivery depots, which are built like giant hard drives.

This post-human world and its disembodiment of things and phenomena might also help explain why its protagonists put their money into things that challenge the body—be it a Mars launch, a 700-horsepower Tesla with two engines, or shooting through the landscape in a tube. Maybe all of this can be attributed to a yearning for something palpable and physical—a hope that, for all the silent smartphones and smart cars and smart homes, there will still be something left for the body to experience.
A journey to the countryside has often been misunderstood as an act of de-politicization or a retreat into the private and nostalgic. This has always been wrong. Anyone who has laid eyes on the futuristic paintings of Benedetta Cappa or John Berger's books, like A Seventh Man, knows that the country can also be a respite from the slowness and torpor and museum-like atmosphere of the city, an act of hopeful acceleration and politicization.
Take Tarnac, for example: the best-known, most entitled village in France since no later than November 2008. At that time, the place was surrounded by 150 policemen, several helicopters circled over the village, and special units pushed into the buildings early in the morning, capturing 20 men and women who had been living there in a kind of commune. The accusation was terrorism, at least according to President Sarkozy and criminologist Alain Bauer, who had stumbled upon a text on the Internet drafted by an anonymous collective entitled "L'insurrection qui vient"—"The Coming Insurrection." The book argued that French society is caught between drudging consumption, divisive selfishness, and a fundamental lack of perspective. The only hope at this point was to broaden the uprising that had already happened in the banlieues.
The last chapter of the treatise acts as a kind of guide to the revolution, as well as a call to steal food from supermarkets and paralyze high-speed trains, servers, and the entire infrastructure of modern capitalism. When people really did sabotage high-speed train lines in Limousin, police in Tarnac initiated a months-long look into suspicious activity that mainly consisted of students from Bordeaux, Paris, and other cities settling into an old farm to work, discuss, and live out a mixture of Black Mountain College, Monte Verità, and a kibbutz.

"It is not a refuge, but a basecamp for citizens whose energy is not entirely devoured by iPads and real estate loans."
On the morning of November 11, 2008, authorities arrested 20 men and women aged 22 to 34. Part of this legendary Tarnac group—Guillaume Maigron, documentary filmmaker Florent Tillon, and Benjamin Rosoux—presented plans for a new residential architecture that could be assembled from prefabricated elements at an exhibition at the École d'architecture de la ville et des territoires in Marne-la-Vallée near Paris this year. They are cellular modules that can be made into larger buildings for refugee families, but also eight or 10 friends, a commune, a group of 80-year-olds who don't want to live in a home—for anyone, basically, without an architectural form for the kind of life they want to live. Soon volunteers will begin building these houses, which (their inventors hope) will be replicated all over France—hamlets where people live and work differently, pay less for housing, and devote more time to political education and planning nationwide protests. Insurrection villages, so to speak. Theirs is an anarchist architectural project that rejects the city and seeks to resettle the country, but not the only one. The Tarnac activists believe in the village not as a place of retreat, but as the utopian nucleus of a new society that can no longer emerge in museum-like cities.
The fact that the city is becoming less and less attractive to more and more people owes mainly to the price of rent and cost of living. In an issue entitled "Meet the New Village People," Monocle asked whether it was time to leave the big city, and devoted half the issue to the best villages one could move to.
Here in the countryside, city dwellers frustrated by real estate prices come face to face with a fed-up local population for whom the absence of traffic jams, factories, office towers, and noisy streets spells unemployment, not an idyll. This is where you find the Amazon warehouses and sprawling server farms where big-city corporate data is stored and evaluated. The actions of a city dweller sitting in a raw-from-the-saw café, Googling this and "liking" that, are anticipated and manipulated by server farms in the countryside. This algorithm-driven anticipation of the ego, of what we will want in 10 minutes or 10 years, comes from the very place nostalgic city dwellers see as a reserve for the simple life.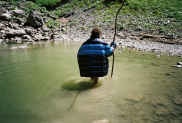 Unlike other DIY, neo-hippie communes, the new village does not pretend to fight data streams with wooden boards. It is not a refuge, but a basecamp for citizens whose energy is not entirely devoured by iPads and real estate loans. Innovations like online retail distribution centers can give local manufacturers access to a global market, and new Internet-based workplaces mean efficiency is no longer a matter of spatial consolidation in one place, but of intelligent networking.
If this is true, then the futuristic counter-model to the nostalgization of country living is an open game with existing technologies. And they are by no means only in the hands of a few large corporate conglomerates. You can choose not to connect smart homes to the major data streams, or hook them up to a self-sufficient network that cannot be accessed by large groups like Google (see Tor Browser). You can use Facebook to exchange information without giving away too much personal data. These micro-group settlements and their networks for sidestepping large data collectors will be one of the future's most important technological challenges. What is the countryside? It is an area full of mountains, fields, deserts, and savannahs—an area that is hard to control.
"Let us imagine a beginning," Tiqqun writes in This Is Not a Program. "There is, inexorably, determination. But this inexorability can also mean a formidable freedom of play with determinations, an inflationary subversion of cybernetic control."