MoMA PS1's Warm Up Turns 21
Meet the Curators of the Pioneering Music Festival
Interview:

Durga Chew Bose

Photography:

Eric Chakeen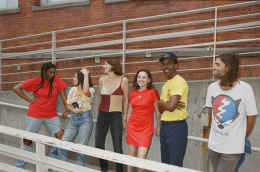 School's in for the summer. Housed within a once-abandoned Romanesque Revival public school building that was converted into an art center in 1971, MoMA PS1's outdoor music festival, Warm Up—also known as a program, a rite of passage, or quite simply, a "Saturday" for some—is in its 21st season. Having announced its line-up last month, which this summer includes Discwoman, Tierra Whack, Omar Apollo, Kelsey Lu, DJ Josey Rebelle, Amber Mark, Gang Gang Dance, and many more, Saturdays in Long Island City—from June to September—are not only a guaranteed outdoor dance party but a welcoming, thoughtfully organized, cross-genre, global and local celebration of established and emerging artists.
"We're trying to be good hosts," says Naomi Zeichner, one of the program's organizers, who also sits on its curatorial committee. "I think of it as a hospitality experience. We're not beholden to status, booking agents, politics. We have this unique permission and mandate to program people that we like, that we think are interesting, that will play well." Zeichner, who lovingly calls Warm Up's oasis-like vibe a "cheap vacation," has enjoyed the music from a "decidedly unglamorous perch"—the ramp adjacent to the stage—since moving to New York ten years ago. She attributes the longevity of Warm Up, in large part, to its focus on community-building and its staunch refusal to brand itself as just another relentless and unfeeling, trend-hungry music festival. "It's not this over-sensory, escape from life situation. We're not three stages, we're not in a parking lot or on an island, there's no food trucks."
With Zeichner, Warm Up is organized by Eliza Ryan, long-time Warm Up organizer and curator, and MoMA PS1's Taja Cheek. They're joined on its curation committee by returning curators Dean Bein, Venus X, Matt Werth, and new members, Jonas Leon, and Isabelia Herrera. Seven of them spoke about the program's past, present, and future.
Can you talk about your process? How often do you meet, and how do you make your booking selections?
Eliza Ryan: Warm Up was originally driven by the vision of just one or two curators. When I joined MoMA PS1 from MoMA in 2010, one of my goals was to broaden the scope of who performed and reach new audiences. It made the most sense to me to invite in a group of leaders from outside of the museum. People from different areas of music, put together in dialogue. So now the line-up is the result of a curatorial committee's conversation. There are many calls and hundreds of emails and texts. We have a lot of fun.
Taja Cheek: We're in constant contact. In the earlier stages, we meet weekly.
Naomi Zeichner: It's like an after school sport.
Matt Werth: We meet in different configurations. Each line-up is only as good as it is diverse, which emboldens each curator to reach further for the truth.
Dean Bein: We try and define days by feelings or moods rather than genre or the headliner. It's a kind of abstract process: boil down an idea of a day that feels interesting and cohesive from top to bottom, come up with a list of artists that could fit, then work backwards.
Isabelia Herrera: You see pioneers booked alongside people who are carrying the torch. Specifically, it's important to me that I offer this opportunity to Latinx artists who may not typically have access to spaces like this. Latinx artists are often viewed as niche or kitschy. It's been my goal to challenge that segmentation. Ultimately, no artist is booked without consensus from the entire committee, and no one curator dominates the line-up.
What differentiates Warm Up from other festivals?
Dean Bein: We aren't promoters. We're music fans.
Taja Cheek: The lack of corporate branding separates us, and our commitment to the curatorial process. We have freedom to think about the flow of a day as a curatorial exercise and not just a demonstration of popularity. At Warm Up, being famous doesn't necessarily mean you'll play later in the day. A young family might enjoy a noise set early in the day. Total Freedom might headline after Cardi B.
Isabelia Herrera: We're making potentially unsuccessful choices. We're trying to put different audiences together in the same room.
What do you think has allowed and secured 21 years of longevity for Warm Up?
Dean Bein: The priority has always been making a place where music fans can go, be themselves, dance, and maybe discover something new. The simplicity of that mission that makes Warm Up relatively immune to trends.
Matt Werth: Each summer there are new attendees, and people converted from seasons before. You don't see a ton of people from the very early years, but there are interval consistencies. Almost like graduating classes.
Taja Cheek: We have fewer resources than the proliferating landscape of major festivals, so we've become more nimble and adaptable. We have an audience that trusts our decisions. We've also got the Young Architects Program and the museum exhibitions open to the public throughout the day.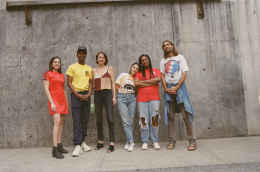 How would you describe the DNA of Warm Up?
Taja Cheek: Since its beginnings, MoMA PS1 has always had a goal to cultivate community and embrace the avant garde. To build atmosphere and audience alongside the selection of artists, like a nightclub might. Some institutions tokenize music as a way of getting large numbers of younger and/or browner people in through the doors, without much thought about the work itself. But Warm Up has always been a key part of MoMA PS1's exhibition calendar, and treated as such.
Does Warm Up change depending on who the curators are?
Matt Werth: Vastly. It's surprising how much you think you know about music and then you have your mind's eye awoken to so much more via the group.
Isabelia Herrera: Recent Warm Up committees have been tried to address some of the harmful, more repetitive line-ups you see at festivals by curating with gender equity and racial and ethnic diversity in mind. This year we have a greater number of live acts, rappers, and Latinx artists.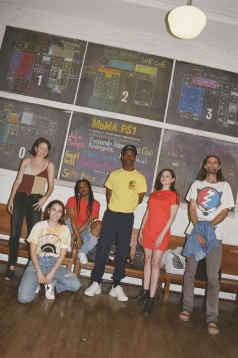 How do these diverse perspectives strengthen the line-up? How do you challenge each other?
Taja Cheek: Programming for the public, especially in outdoor space, is inherently political. While all of us on the committee are generally progressive and engaged, we have different ideas about how to achieve our mutual goals of equitability and accessibility—for our line-up, our audience, and our own team—while also making sure that the event is successful in a more quantitative sense—attendance numbers and revenue. We don't always agree. I don't think there is an expectation that we would or should.
Isabelia Herrera: It's refreshing to be a part of a music program that is self-critical, especially one that isn't wholly focused on profit. That penchant for self-criticism around booking and curation typically only exists in underground music spaces these days.
Eliza Ryan: It can get heated. For some of us this has been an eight-year conversation, and I've formed some of my closest friendships in New York in the process.
Naomi Zeichner: It's crucial to know what you don't know. I can't be certain which techno sets are great and which are just good. I don't have everyone's phone number. The ideal state for this group is that each member can trust that another member will know more than they do about something important, and that every member has the interests of our guests at heart.
Dean Bein: Sometimes I think of us like the five boroughs. We each have our own flavor, interest, and history, but together we form a potpourri of ideas that add up to a holistic identity of our city.
What's a misconception people have of Warm Up?
Dean Bein: That we have a lot of money to program the series. In reality, the artists that come to play do so because they want to for the most part.
Jonas Leon: That you have to be signed or have some fancy agency to play.
Taja Cheek: That it's bro-y.
Matt Werth: That every Saturday is slammed. Things certainly fill out around high profile names, but that's all the more reason to seek out some of the lesser-known dates. Warm Up on an easy, breezy Saturday with room to stretch out and dance is an unbeatable vibe.
What excites you about this summer's line-up? Who and why?
Jonas Leon: Jon Bap. To watch a few thousand people fall in love with him will complete me.
Isabelia Herrera: DJ Playero and Omar Apollo. Those bookings reflect the range of what Latinx artists have to offer at Warm Up this year, and in general: Playero is a reggaeton godfather from Puerto Rico, and Omar Apollo is a 20-something R&B singer from Indiana. Valee because I'm from Chicago. Manara because we need more impeccable and talented women of color DJs. Soul Summit because no one throws a better outdoor party than they do.
Naomi Zeichner: Slowthai. New Impressionz, the go-go band from D.C. 2019's best rappers Tierra Whack, SOB x RBE, Maxo Kream, and Cuban Doll. HoodCelebrityy, a 2017 surprise guest who's coming back this year with a radio hit.
Matt Werth: The hardest question, but I am way too excited to see what Tierra Whack will be up to on July 7.
Dean Bein: DJ Playero. And there are also some surprises we can't talk about yet that I'm really excited about.
How would you describe the mood of Warm Up?
Taja Cheek: It depends on the day. I've experienced it as celebratory, communal, and reflective.
Isabelia Herrera: To me, Warm Up has always felt like a community. I always see familiar faces and the atmosphere is very much about sharing space with other fans. It's summer! Everyone cares a little less and is more friendly, free, and uninhibited.
Matt Werth: It's analogous to that unplaceable sensation that magically re-appears every summer in NYC. Warm Up just glows hard.
Durga Chew-Bose is a senior editor at SSENSE.
Interview:

Durga Chew Bose

Photography:

Eric Chakeen