Maxime Ballesteros Gets Naked
The Berlin-based Photographer Opens Up About Why He Lives for His Camera
Text:

Timo Feldhaus

Photography:

Maxime Ballesteros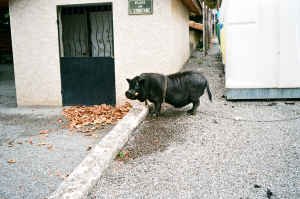 Dream and nightmare, day and night, the subjective and the objective—these binaries synthesize in the photography of Maxime Ballesteros. A steady SSENSE contributor, he has gone from shooting Miu Miu in Sardinia, to Prada in Milan, following his protagonists to excessive parties, into their private dwellings, and during early mornings on the beach. His work treads the line between visceral, soft-core gore, and untethered glam. Equal parts repulsive and intriguing, the imagery inevitably conjures up FOMO. "People are cruel and beautiful," he says—a contradiction that dissolves in his work.
Timo Feldhaus caught up with Ballesteros in Berlin, where the two chatted about Les Absents, a recently published collection of the photographer's work. Under a shroud of e-cigarette vapor, Ballesteros contemplated his muses, his vulnerabilities, and most everything in between.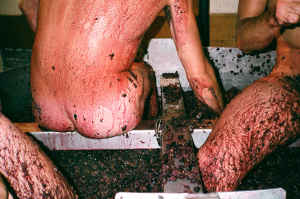 ON GROWING UP
I come from the Lyon countryside, about 20 minutes away from the suburbs. I was a loner, and I'd bike around through the area. I was a weirdo as a kid—I was crying all the time, like an insane amount, and peeing my bed. I stuttered and I looked like a pimply monster who couldn't speak. When I was 16, my mom sent me to a speech therapist who was amazing. Then I started to take pictures. My camera lured me in and pulled me out.
ON FACING YOUR FEARS
I don't like travelling, I'm not very social, and I'm shy. My work is the opposite—photography has pushed me a lot. I have to travel, talk, and be intimate with people. I role-play the opposite of what is natural for me, which is amazing because it's challenging. For instance, I started to get vertigo in my early 20s, despite having climbed so many mountains as a kid. Being a photographer changed that for me. Now, when I'm on a rooftop or something, I look down and it goes away.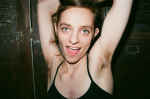 ON HIS MUSES
I love the camera. And I also love sharing my life with women. Every woman I've been with has been very important to me. My mom, my sister, my ex-wife... I've always been in love with women. I like to shoot the same people over and over. Jen [my ex-wife] is always there. The whole book is dedicated to her. The beginning of the book starts pretty much when we met—two years after I moved to Berlin—and it kind of finishes when we separate. I was experiencing almost everything with her. She was with me on so many shoots. We were constantly travelling together. There are a dozen or so people who I've been shooting for the past few years and they keep coming back. It's very interesting to watch people grow from when you met them 10 years ago, to today—their lives and bodies are different.
ON WHAT INTRIGUES HIM
Violence, beauty, aggression, sadness. We have to deal with these things every day. I really admire William Klein and Mary Ellen Mark. Even if the look is different, the philosophy is shared. For me it's about reality, even when I set things up. We have fantasies when we're awake and we have dreams when we sleep, but there's still a reality. I don't know how else to say it.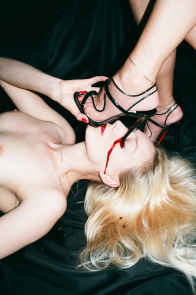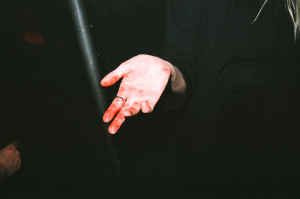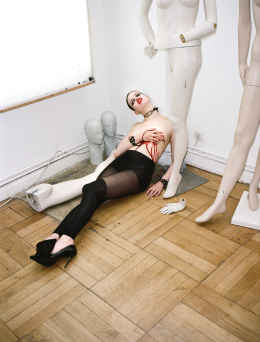 ON FETISHES
I'm very visual. I can't do anything without my camera, without paying attention to faces and high heels. If I'm at a bar and there's a fight, I'm going to photograph it because I want to see it and I want to feel it. With high heels, it's a love story and it's the most common one. If you believe Freud, when you're around three years old, you realize that your mom doesn't have a penis. The fetish replaces your mom's missing penis. Often it's the shoes, sometimes it's hair, a breast fetish, or the nose. I don't know if it's true, but I think it makes sense. I don't like to wear [high heels]. Some people love it, but you can't just develop a fetish on a whim.
ON BLOOD
The color of blood is beautiful to me, especially with the film I use. It also fits well with Louboutins, and that's why I use them often. The red is so powerful—it always has an impact. I've tasted blood, for sure. Not like a glass of blood, I'm not into it that much.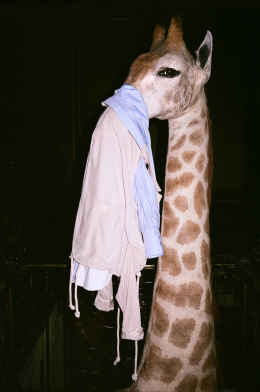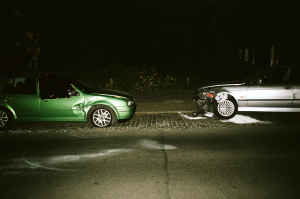 ON FLASH
For the first five or six years when I started, I forbade myself to use flash, so that I had to learn with my bare eyes what the conditions were outside the camera. Then I bought a flash, and it changed everything. It's fantastic. You can freeze the moment. Unless you're in really good light, flash is the only way you can really capture it. I use it a lot, even during the day, just to remove shadows. It flattens everything and turns it straight into a photograph—a very two-dimensional thing.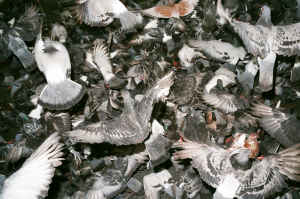 ON SHADOWS
Without flash, everything is more romantic. There's one photo I love in the book called Les Absents: it's a woman alone in the metro. It's about loneliness. You imagine that she's a bit older and there could be space for a family. It feels like she's looking but they're not there. The whole book is a little bit about that feeling. It has always been in my work, but it's even more exuberant and accentuated by splitting up with Jen because this feeling was always strong and very vivid. Now it seems all over my work. When somebody dies, you put flowers down.
ON FEELING ALONE TOGETHER
I love to go to the kinds of parties or events where strangers gather because you see so much loneliness. Everybody wants to fit into something. People want to belong somewhere. I love to watch this little spectacle—everyone is the same. But it's absolutely not specific to these parties. It's the same if you're a football fan meeting up with people from your team. The outfits might be different but the feeling is the same in my eyes. I've met amazing people in any kind of society. Even if we are among humans, we miss something. We constantly do things to make ourselves feel like life is okay. Yet, life leaves us alone. We remain alone. That's why it's so important for me to shoot among people—you always have the beauty and the sadness. There are no rules. Ultimately I need my camera wherever I go, because without it, it doesn't make sense for me to be there.
Text:

Timo Feldhaus

Photography:

Maxime Ballesteros