Ext. Queens Evening — With Actor Buddy Duress
Meet the Consummate Storyteller and Co-Star of Good Time
Text:

Durga Chew-Bose

Photography:

Jody Rogac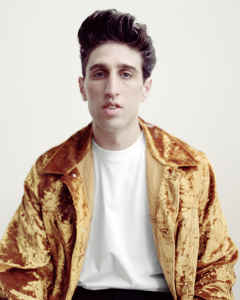 You'll be hard-pressed to find a name more suited to a face. Or a face, rather, that more perfectly personifies a name. Buddy Duress, the Queens-born actor who plays opposite Robert Pattinson in Josh and Benny Safdie's grim, unpretty, and epinephrined crime drama Good Time, is, at first glance, such a Buddy Duress. He's soft-hard. Broad-shouldered and imposing yet easily made wacky. As if plucked from the surreal humanity of a Fellini film, his face is generously communicative and capable of subsuming extremes. Giulietta Massina and Anthony Quinn in La Strada; scrappy and rough-hewn but believable—and worth imagining—in silent era clown make-up. Buddy Duress (his stage-name) is the pal who, mouth agape, seems vaguely preoccupied, accelerated, while also preternaturally chill. His refrain to whatever obstacles, worries, or change of plans arise: "It's all good."
Duress' deep-set pale blue eyes, which we first encountered in 2014 as a Safdie brothers discovery in their harrowing heroin-addiction drama, Heaven Knows What, further remind me of another chambered stare, that of Timothy Carey: the eccentric, rowdy actor best known for playing characters pushed to rabid extremes. His minor roles, like Morgan Morgan in John Cassavetes' 1971 Minnie and Moskowitz, are bizarrely tonic, scene-stealing, and charismatically coarse.
It's a muggy July evening, and I've just mentioned the Timothy Carey comparison to Duress. Maybe that was a mistake. We've been walking up and down the same stretch of 30th Avenue in Astoria, not far from the house where Duress lives with his mother, Joanne, and his brother, Chris. "We're Italian, we're very family-oriented," he tells me. "Even if I had tons of money, I would still live at my mom's house. My mom's old. I gotta be around to take care of her." We've crossed Steinway Street too many times to keep track, back and forth, back and forth, passing a Duane Reade on the corner that was once a United Artists cinema, where Duress remembers seeing Mortal Kombat when he was a kid. The two of us barely stop or take breaks, except to pick up "Orange-Orange" Vitamin Water, Duress' favorite flavor, ten loosies, which he smokes over the course of our three-hour chat, and a frozen 2-pound box of Stouffer's Macaroni & Cheese for him and his girlfriend to eat later that night. Grimacing at a picture of Carey on my phone, the 32-year old Duress exclaims, "I'm better looking than him!"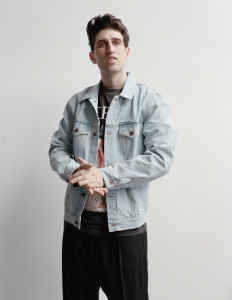 It's true. I apologize—not because I think I'm wrong, but because I'm not properly articulating what I mean. Eventually I land on a photo of Carey that elicits a nod from Duress. "Yeah, he's handsome there. I see it. I see it," he says. "My ocular bones really stick out. People say I look like a raccoon at night." What I try and fail to convey to Duress is how it's more than merely his looks. The connection feels part of some deeper cinematic heredity.
Some faces—like Carey's, like Duress', with its big avian features—are meant to be photographed. As the journalist Grover Lewis once wrote, "Perhaps only the camera truly loved these kinds of mavericks and marginals…the work of certain low-billed jesters, sidekicks, and tough guys runs through movie history like the veins in a granite cliff." Perhaps it isn't only the camera. Perhaps that's simply the impression created when those rare "mavericks and marginals," who, like Duress, are fizzing with life, figure out where they belong: on screen. Because Duress' pure, uninhibited energy appeals to the magic of moving images. "Whatever thought process or chemicals that make people embarrassed or nervous, I just don't have that," he tells me. "I'm not trying to brag. I just don't get scared. My heart rate never goes up."
It's no surprise the Safdie brothers cast Duress as Mike, the companionable junkie in Heaven Knows What—a role not all that dissimilar from Duress' actual life before acting, having lived on the street and done time at Rikers Island for drug-related offenses. Duress has plenty of crazy stories, which he recounts—as Josh observes to me over email—with "a freakish knack for detail."
Whatever thought process or chemicals that make people embarrassed or nervous, I just don't have that. I'm not trying to brag. I just don't get scared. My heart rate never goes up.

At some point during our walk, Duress tells me about how he ended up homeless in 2013, the same year he met Josh. "I had just gotten out of Rikers. I was there maybe 3 and a half months for a drug charge. They wanted me to do an in-patient program. It was either 8 to 10 months in the program or 2 years in prison, so I took the program, and went to the TASC building in Queens right near the courthouse. They told me to just wait there and an escort would come and take me to the program. But when I was sitting there I already knew I wasn't going to go. I waited an hour and a half for the escort who never showed, and then I just left and got a random person on the subway to swipe me. I went straight home, took a shower and shaved, told my mom what was happening and how I was gonna go on the run for as long as possible. In my head it was like, as long as I can, I'm gonna be on the on the run and enjoy summer, and evade the authorities. And when they catch me, I'll take it like a man. I ended up staying on the street, sleeping in Central Park, Riverside Park. At this one church, I got a fake ID. Not a DMV ID. It's like a soup kitchen ID that they made me, and you can put whatever name you want on it. I put a fake one and when the cops would want ID, they'd check my name and nothing would come up. I thought it was pretty clever of me. I got out of Rikers August 2nd 2013. They caught me on August 1st 2014. 364 days on the run."
Duress then goes on to tell me how during that period, his long-time friend and the star of Heaven, Arielle Holmes—whose life-on-the-streets addiction memoir, Mad Love in New York City inspired the film—introduced him to Josh. "I was hanging out with Ari—we stuck together on the streets—and she was like, 'Yo, I'm gonna be in a movie.' So Josh came through with a bottle of Patron, and we sat in his car and drank it. He didn't drink it 'cause he had to drive, and we started talking, telling stories."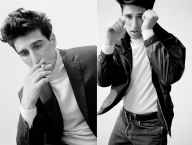 A few months later, Safdie asked Duress if he wanted to play a small part in the movie, which eventually turned into a much bigger role once it became obvious that Duress' scammer confidence and warm-hearted power translated effortlessly to the screen. "Hell yeah. No hesitation," declares Duress. "Someone asks me if I want to be in a movie, I say, 'Hell yeah.'" Just then, Duress, who hasn't really stopped moving since I've met him, pauses and turns to me. "You know, I still look back at it. If I had went to that program, I wouldn't have been in Heaven Knows What, and I probably wouldn't be an actor right now. That's the honest truth. I wouldn't. There's no way."
With Good Time, the Safdies cast against Lewis' claim, giving Duress top-billing beside one of the most famous actors working today. More so, the part was explicitly written for Duress, with frequent Safdie collaborator and star of their 2009 indie, Daddy Longlegs, Ronald Bronstein. Tonally, Daddy Longlegs shows early signs of Good Time's unrelenting, mulishly street-charged-style of moviemaking, as well as the Safdie brothers' fondness for portraying the turbulent side of filial affection—how deep love can debase a person just as much as it can move a person toward life.
Theirs is an addiction to film—and in that way, the Safdies' addiction is equal parts darkly vital to their work and sometimes hard to watch. They function on a pounding frequency of their own making, racing through the bowels and compulsive corridors of their artistic obsessions. Take Duress' character in Good Time, for instance. He plays Ray, the fast-talking low-life parolee who comes alive mummy-like (you'll understand once you see it) nearly halfway through the film, intercepting the storyline that until then, belongs to Connie Nikas (Pattinson). Having botched a robbery with his developmentally disabled and hearing-impaired brother, Nick (Benny Safdie), Connie, along with Ray, embark on a hellish and utterly screwed-up one-night bender involving the quick sale of some liquid LSD.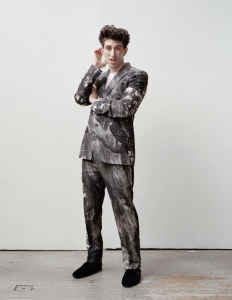 Good Time is twisted. Connie is unglued yet irretrievably bound to his own limitations. He's quick-thinking and cannot cope with confusion despite creating violent amounts of it. And while certain moments feel bad—dead wrong, actually—they do not feel false. Connie takes advantage of whomever crosses his path, like Ray, like Crystal (played by Taliah Webster in her feature-film debut), a 16-year-old bystander who gets roped-in and discarded. At one point, sitting in a car outside White Castle, the three of them—Ray, Connie, Crystal—develop a dynamic similar to the one in Stranger Than Paradise had Jim Jarmusch's 1984 misfit-comedy gone aggressively, tragically wrong. It helps, too, that Duress' tough-droop brings to mind John Lurie.
I remember interviewing the Safdies in 2011 for their short film, John's Gone, and noticing how, the entire time, while engaged in the conversation, both brothers were restlessly sitting balanced on the back legs of their chairs. The precarity of their sitting posture paired with the speed in which Josh, especially, spoke, felt something like watching one of their movies. At any moment, wild enthusiasm and idée fixe-type hyper-passion might be met with a crash. A boom.
Hell yeah. No hesitation. Someone asks me if I want to be in a movie, I say, 'Hell yeah.'
But perhaps more significant to their work and worth noting, is their collaborative process. Good Time's press notes mention that the film was envisioned as a partnership between Pattinson and Duress. "The kernel of this project was putting Rob and Buddy in a movie together…Originally it was Rob taking a supporting role opposite Buddy," says Josh, who early in the process, would meet Duress in diners at night and ask him to tell stories that he'd record on a handheld camera and later show to Pattinson. One of Duress' real life stories involving losing his wallet on a particularly drunken night, ended up in Good Time. Without revealing too much other than it involves jumping out of a moving car, I ask Duress how his mom reacted to him coming home having been "knocked senseless" and covered in bumps, cuts, and scrapes. "I told her what happened and she laughed. 'You're already an actor, now you're trying to be a stuntman?!'"
Exactly how Duress plays against Pattinson yet somehow with him, is, truly, what holds our attention. Ray is an albatross around Connie's neck. While one might be tempted to call Duress a natural, what's really at play is his resourcefulness. He makes use of his struggles; what he knows and what he's seen. Duress wastes nothing. His performance is propellant. He is Good Time's gasoline. Duress runs like he's been chased and tells elaborate, spirited stories like someone who's had to rely on his own company.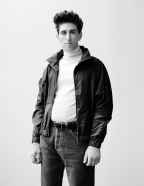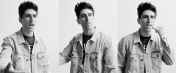 He tells me about this one time. It's 2015. Josh Safdie and director, Dustin Guy Defa, (whose latest feature, Person to Person, a New York-set ensemble co-starring Michael Cera, Abbi Jacobson, and Duress as a small time con artist) are visiting Rikers where Duress is doing three months for violating his parole. There, Safdie and Duress catch up while Defa mostly listens. At some point, Duress is advised to—no matter what—not cut his hair. He'll need it for his next role. Duress promises. "The last week of my three months," he tells me, "they made me go upstate 'cause I guess on parole violation, they have to sign you out from upstate. They do this whole thing upstate; they strip search you, put lice shampoo in your hair, and then tell you to 'Dry off!' And then they make you line up outside the barber shop and they try and shave your head like the military. So I'm standing there, last in line, and they're like 'Your turn!' and I'm like, 'I'm not doing it.' And they're like, 'What?! What?! We got a refuser!' And the CO's upstate are notorious for fucking people up, for anything you do wrong, and I was like in my head, 'I don't care. I'm not gonna get this haircut. I'm gonna get this movie role.'"
"The CO had like veins popping out of his neck and he was like, 'Why are you refusing?' I didn't tell him about the whole acting thing because they don't need to know my business like that."
"I made up a lie. I was like, 'I have a job in Manhattan, and I can't go looking like a convict. In my job, looks are important.' They asked me what the job was and I was like, 'Dude, you probably don't even know.' But then, thinking quickly, I was like, 'You know the Diesel on 5th Avenue? I'm the greeter at the Diesel on 5th Avenue and I have to look good. I'm sorry, I'm not losing my job. I gotta go to my Diesel job.'"
That was the job you landed on?
"Yeah! And the CO said, 'You're going to the hole!' And I was like, 'Alright, you guys do what you gotta do.' I only had a week left, so I was in the hole for a week. I read a couple books. I talked to myself. I would sing out loud. Oh my god it was so boring. In a situation like that, I just try and be my own best friend."
"Yeah. I'm never going back. I'm never going back."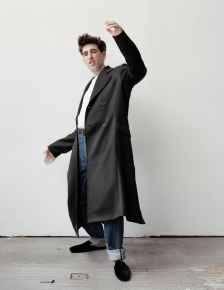 It's exactly those kind of stories, and the way Duress tells them, that cause you to root for him. The way he waves his arms the louder his voice booms, asking me what I think of his acting, his shadowboxing—"Am I sharp? Am I sharp?"—or if his stage name is "catchy," or if—he seems concerned—Good Time is too upsetting. "But it didn't make you depressed, right?" he asks me multiple times.
Duress tells me his mom's always known he was going to be an actor. She was the first one to hear his "crazy stories." When I ask Josh what it was like to go to Cannes with Duress and experience the spectacle of premiering their film in competition, he says, "I cried. Buddy is such a great talent. From Heaven to prison, to acting classes with Clark Middleton, he kept getting better and better. His auditions were always my favorite. He made me have faith in the audition process!"
In a situation like that, I just try and be my own best friend.

I email Defa too, and ask him about working with Duress, whose small part (and goofy haircut) in Person to Person not only stands out but hints at Duress' taste for physical comedy. "I'm really attracted to people who can be themselves and who have a certain kind of rough-and-tender charisma," Defa writes. "There's just a certain quality that you can't necessarily pinpoint. It's just a nature. It's a cinematic presence that you almost don't want to figure out. Not that you even could, because part of the appeal is an evasiveness of sorts. The camera loves Buddy but the camera will always be chasing him and it'll never catch him."
Watch the Cannes press conference for Good Time. Watch until the very end, until Duress finally speaks. His answer to the moderator's question develops into a frank monologue that not only reflects on Ray's character—"He feels free in his mind…You know, no one can break [his] spirit"—but captures Duress' willingness to dive headlong into his newfound life and pursue acting, seriously, unreservedly. "I'm a criminal. Ex-criminal. I'm trying to take all my criminal mindsets that caused me to do all the bad things, all the dirt I did in my life, I'm trying to focus it and use it for positive. I wanna continue acting. Three years ago, I was in a really bad place and to think now I'm in Cannes. It's crazy." Keep an eye out for producer Sebastian Bear-McClard's smile, and how Ronald Bronstein's face warms. Their awe laid bare, unbeknownst to them, looks a lot like gratitude. It looks a lot like what happens to our faces when we go to the movies.


Text:

Durga Chew-Bose

Photography:

Jody Rogac

Photography Assistant:

Justin Leveritt

Styling:

Eugenie Dalland

Styling Assistant:

Jillian Amos

Hair:

Fernando Torrent

Grooming:

Allie Smith