A Guided Tour of the Russian Capital By The City's Skate Clique
Text:

Arseniy Kazimirov

Photography:

Stas Galaktionov

Moscow-native and Gosha Rubchinskiy collaborator Arseniy Kazimirov and photographer Stas Galaktionov take us on a tour of Russia's capital, as we get to know the city through the eyes of its skate kids. From the inconspicuous clubs housing queer dance parties, to the oldest and most elegant places to munch vinegret and herring, Arseniy's main advice: if it's named after Pushkin, it's a good look. Amongst the desolate post-rave mornings and the grandiose bath-houses of the Emperor's Russia, Arseniy, Stas, and their friends tear through Moscow, visiting their favorite haunts.
Айс Клуб / Ice Club / Stoleshnikov pereulok, 7/2
Fancy neon-lit letters are the only thing marking this spot. Inside, Moscow's most notorious queer gang loses their shit to Russian 90s hits, while dancing on white foam snowballs. The owner of the place is known for his (bad) Rocky Horror cosplay. After making a couple of jokey jokes he asks us for a song request—Madonna's "Like A Prayer" is an obvious choice.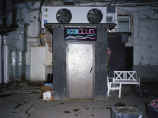 Наука и Искусство / NII / Nastavnicheskiy pereulok, 24
Apparently one of the most iconic spots in Moscow, NII (short for "Science and Art") is a place of power for independent artists and musicians. Since opening in 2015, the concrete walls of the building have seen multiple showcases of local underground artists and collectives, like Johns' Kingdom, Gost Zvuk, and Oblast, as well as Boiler Room events. Riding on the wave of their success, NII just opened a second space—a platform for multidisciplinary projects and bigger raves, of course. Weekends there are all about hanging out together among a vibrant mix of Moscow creatives, analog-synth enthusiasts, and local art students.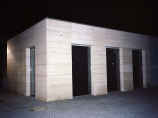 Кафе Пушкин / Café Pushkin / Tverskoy Bulvar, 26
If something is named after Pushkin, it is 100% worth a visit. Located on two floors of a Baroque mansion, Café Pushkin has been an iconic Russian cuisine residence for almost 20 years. This extremely colorful and nostalgic world of grand Russia is still one of the strongest places to celebrate your first evening in the capital. It's open around the clock. This is where you go to bathe in luxury and status, cold vodka, and vinegret.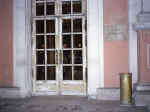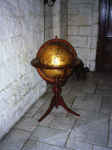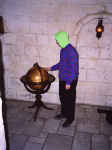 Сандуны / Sanduny / Neglinnaya Street, 14
If you're a guy hanging out with Russian guys, taking a bath is probably the most classic scenario you can find yourself in. The 19th century Sanduny—aka the "mother of all baths"—is the oldest Muscovite spot and opens up a journey further into the world of the Emperor's Russia. Soaking in a hot pool amidst aristocratic Roman interiors goes very well with beer and fresh shrimp. It will be a costly experience, especially if you're planning on wearing Sanduny's hot merch pieces, consisting of a sheet to wrap yourself in and a hat to avoid burning your hair.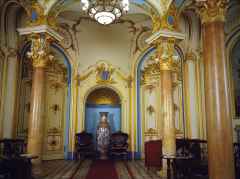 ВДНХ / VDNKH / Mira Avenue, 119
The VVTs, better known for its Soviet-era name, VDNKH, is "the Exhibition of National Economic Achievements"—a fascinating monument faded by Soviet pomp and Russia's open-mouthed capitalism. Today, it is a bizarre juxtaposition consisting of an agricultural fair, a trade expo, shopping center, and slot-machine arcades. It's also known as one of the most legendary Moscow skate spots.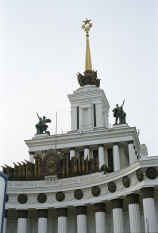 Рабица / Rabitsa / Olhovskaya Street, 14
Newly opened Rabitsa is a place where one finds Berlin in Moscow. Endless techno raves and a "no cameras during the party"-policy speak for themselves. The interior is a composition of a former warehouse that culminates in a beautiful as well as a horrific ode to the DIY approach. We went there on Sunday evening, which is the best time to enjoy the space. All you do is wander in the dark, occasionally meeting friends who look more like lost kids stuck in a mode of post-rave heaven.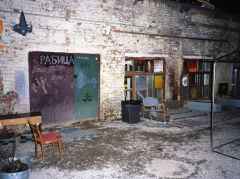 Пушкинский Музей / Pushkin State Museum / Volhonka Street, 12
When asked about Moscow's sight-seeing essentials, The Pushkin State Museum is one of the first places that comes to mind. The museum complex consists of three buildings and has achieved a cult status as an architectural monument. It holds one of the largest and most diverse open-access museum collections in the world: paintings, sculptures, and applied art from ancient history—the museum's archive spans 5,000 years of world culture as well as treasures of European and American art from as early as 1600. Art fans can find all this and more at the Pushkin Museum.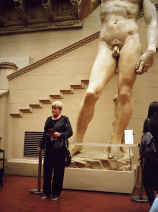 Центральный Дом Художника / Central
House of Artists / Krymskiy Val, 10/14
Famous for being the largest exhibition center in Russia, the CHA is located on the Krymskiy Val—an area that can be reached through a 20 minute esplanade walk from the Kremlin. The collection is a labyrinth of works from an archive spanning a decade of art by iconic Russian and Soviet artists: Kazimir Malevich, Wassily Kandinsky, Kuzma Petrov-Vodkin, and more. Be prepared to spend long hours here during your tour.

Фрик Фрак / Frik Frak / Shabolovka Street, 25
Classic Levi's blue jeans, shiny "gabber" Adidasmust-haves, 80s suits, and local punk band posters–find all this in the small vintage clothing store located in the basement of a quite ordinary apartment block. When hitting Frik Frak for the first time, you lose yourself in a huge amount of tightly hung clothes and objects. The owner of the shop says that in spite of the masses of apparel hanging in the halls, not one item has appeared twice in the last 15 years of the shop's existence.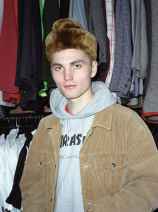 Чебуречная "Советские Времена" / Cheburechnaya "Soviet Times" / Varsonofyevsky Lane, 6
#TBT atmosphere alert of a bygone era of communism. Here, drinks are served in traditional decanters with a stitched neck and tea is brought in faceted glasses. While having your crispy crust chebureks, you can enjoy the solid melodies of the 80s and vintage photos of Moscow, all in the company of local architecture students, nearby working store clerks, and even former members of the USSR space program.


Text:

Arseniy Kazimirov

Photography:

Stas Galaktionov