Before the Influencer,
There Was Angelyne
Enter the Blonde, Pink, and 100% Self-Made World of the Hollywood Billboard Icon
Interview:

Erika Houle

Photography:

Kenny Griffiths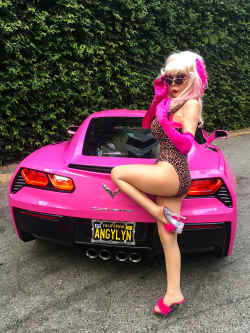 While most A-list encounters are taking place somewhere between Nobu and Erewhon, I'm sitting in a corner booth at Denny's, waiting for Angelyne. We're meeting for a pre-interview interview—a protocol she's established to list her stipulations and filter out the trolls. Her manager, Scott (who tells me that's not really his title, as "she's her own boss") calls me to tell me she's arrived. I'm informed that the unofficial Queen of Hollywood prefers to be greeted at her car, so I make my way outside towards her unmistakable, bright pink Corvette. And there she is: confirmed by her eponymous license plate, performing a high kick out of the driver's side door.
Angelyne greets me warmly, wearing a kiss-printed mini dress with beige stockings, peep-toe heels, and ribbons tied throughout her voluminous blonde hair. "Are you the Canadian?" she teases, before instantly luring me to her trunk-turned-mobile-merch-shop. Inside, it's brimming with an extensive range of product: keychains, dog tags (when I explain I have a cat, she insists I wear one myself), apparel emblazoned with "I Believe in Angelyne" and "Kiss Me L.A." slogans, postcards, buttons, tote bags, meditation cassettes, and $300+ limited edition records. I choose a fan club t-shirt with "Warhol-inspired" graphics and a magnet featuring Angelyne sprawled across a table, then we head back into the restaurant. She plucks two leaves from a potted plant along the way, "for good luck."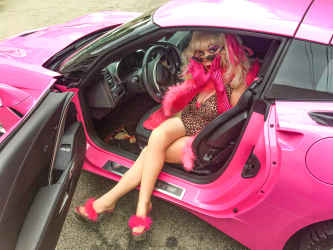 Can you tell me more about your superstitions?
If I'm having a quandary, I'll write myself a note and it will say, "All taken care of, gods and fairies." I believe in granting angels. If a person wants something done, and they imagine a granting angel will bring it to them, I believe it will come true.
Strutting ahead on a mission to her favorite table, Angelyne waves at the employees and patrons à la British royalty. Our server rushes over—she's evidently a regular here—and we both order a coffee and proceed to business. Who am I? Where do I work? What am I looking for? What will I buy? As Cyndi Lauper's "Girls Just Wanna Have Fun" booms over the speakers (Angelyne politely requests for the volume to be reduced, three times), we agree on our terms. The dynamic shifts from the context of an interview to a conversation between a witty, eccentric aunt (the kind that gives both the best presents and advice) and her beguiled niece. From her purse, Angelyne pulls out a palm-sized rhinestone hair clip and offers it to me. She mentions that she just bought it yesterday, and before totally handing it over, she draws it back and asks, "How would you style this?"
I push the fuschia barrette sloppily into my tangled hair, awaiting her approval. Angelyne immediately asks for my phone and begins taking pictures of me beneath the diner's window. "You're so bashful!" she squeals, before elaborating on the importance of good angles and optimal lighting. She captures a shot she's satisfied with, ensuring I agree.
Do you pay attention to trends?
God, no! No, no, no. They'd kick me out of the rebel club.
How would you describe your approach to fashion?
For anyone that wants to access sexy, glamorous, and outrageous. Class with trash.
Who were your biggest inspirations growing up?
Do you have any daily routines?
Bubble baths, yes! And doing the splits.
What have you been most excited by lately?
I ask her what she's been working on recently, and she divulges all the details of her latest musical projects, billboard ads, and an upcoming documentary (it's been in-the-works for over a year). She shares a clip in which her portrait is plastered over a building at the corner of Hollywood and Vine, and while a man paints her larger-than-life-sized breasts onto a brick wall, Angelyne chimes in: "That tickles!" I learn that she has a particularly chummy relationship with her dentist, when she plays me an audio file of a song he wrote, recorded, and named after her. When I ask her where she keeps her collection of Corvettes, she tells me "under the bed." Discussing her plans for the rest of the evening, Angelyne goes off on a tangent about her passion for silent movies.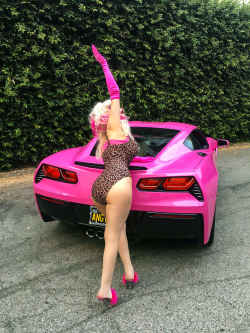 What are your earliest memories of Hollywood?
When I was two years old, looking out the window at my babysitter's. The stars were all shining and beckoning me.
Did you always feel like you were destined for fame?
I think I was equipped [for it]. I had all the talents. Humans are moved by direct emotions, meaning, I lost my parents when I was five. I had a quest to have the love of the world to replace that loss. I was alone. That's why I became a bit of a rebel. All the kids would follow me around. I was always clever about getting what I wanted without breaking the law. I like to play by the rules, but I also like to create new rules.
We decide to meet again the next day, back at Denny's, but this time as a pick-up spot for a trip to The Roosevelt Hotel. In his 2003 documentary Los Angeles Plays Itself, Thom Andersen reveals the city's convoluted, and at times misguided, representation in film. Showcasing the false premises that pop culture perpetuates by inserting its own ideological standards in the depiction of its subjects, he exposes an honest and jarring assemblage of L.A.'s uncharted realities. Moments into my second date with Angelyne—sitting in the passenger seat of her car, bonding over our shared love for Kate Bush—I realize I'm experiencing a similar epiphany. Despite the media's undying attempts to uncover her past, Angelyne's reputation precedes her. That's because she's so committed to controlling it—eternally in character of the role that she created. She asks that I transcribe our conversation on-the-spot, as she's not comfortable being recorded. As if rehearsed (and likely so), she concludes each answer by prompting me with a question of her own: "Ask me why?" The script she's been running for decades has become her second nature.
What's been the most challenging part of your career?
Do you remember how you felt when your first billboard went up?
Normal. It felt like I was finally normal.
Do you ever feel misunderstood?
Absolutely not. I'm so understood on every level. It doesn't matter if someone thinks I'm a pornstar or a Barbie, I'm about empowering people to have the courage to not be flesh robots.
On our way to The Roosevelt, Angelyne shares a dream she had the night before, in which she realizes her legacy will be similar to Joan of Arc's (this doesn't seem entirely unfounded). She tests the waters of our budding acquaintanceship, asking me to pump her gas. I decline, and Angelyne is unbothered—"It's just not glamorous," she explains.
We arrive at the hotel and Angelyne guides me through a tour of its Golden Era architecture, tiered fountains, and multiple cocktail lounges. Ready for a meal, we find a table at the hamburger spot downstairs, but the music is "too distracting," and the AC is making Angelyne's eyes water. She suggests we relocate to her Italian restaurant of choice, Miceli's: a Hollywood landmark since 1949 (where, as its website recounts, waiters will "serenade you with Italian arias, musical show tunes, classical standards all while you dine"). Finding parking is proving impossible as we circle around the block (more than 10 times) listening to all of Angelyne's new music. She asks for my honest opinion, serenading me (sans chicken parmigiana) with songs titled "Sex Goddess" and "I'm So Lucky." While pedestrians stop to take her photo and police officers blow her kisses, Angelyne proposes that we return to our relationship-defining dining destination: Denny's.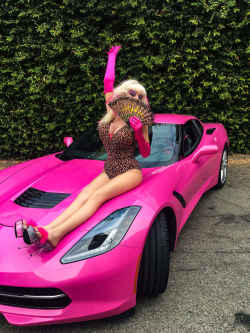 How do you hope people feel when they listen to your music?
If they feel like dancing, I have music for that. I have music for having sex. For meditating. For playing in the background, driving, or while a person's eating. For punk rockers. I have a little tiny rap song, it's called "You Are My Boyfriend."
Long before Beyoncé was writing her own cover stories for Vogue, before Lana del Rey was publically lashing out at NPR's renowned music critic, Ann Powers (via Twitter: "Never had a persona. Never needed one. Never will."), before Kylie Jenner was dubbed the world's "youngest self-made billionaire," Angelyne invented herself. Pre-internet (she tells me not to believe any of the rumours I read online), she became a star—the first to be "famous for being famous." Despite her elusive approach, Angelyne is avidly authentic. A master of her industry, ever-flourishing in her (truly) self-made "mystique." While her backstory appears in fragments all over the internet, mostly in the form of rumor or speculation, it all feels somehow irrelevant.
What's the most important thing for people to know about you?
That I'm not stupid. I've been doing research. I know there's a place that's better than this, and I'm questing for that.
Erika Houle is an editor at SSENSE in Montreal.
Interview:

Erika Houle

Photography:

Kenny Griffiths

Styling:

Stacy Ellen Rich, Tabitha / Cipriano Custom Tailor

Hair:

Josh Valentine

Makeup:

Kallisto Damore

Date:

October 22, 2019