Angela Dimayuga's Edible Politics
Cooking a Korean-Inspired Chicken Soup with the Chef Whose Recipes Span Cultures and Generations
Text:

Kevin Lozano

Photography:

Liz Barclay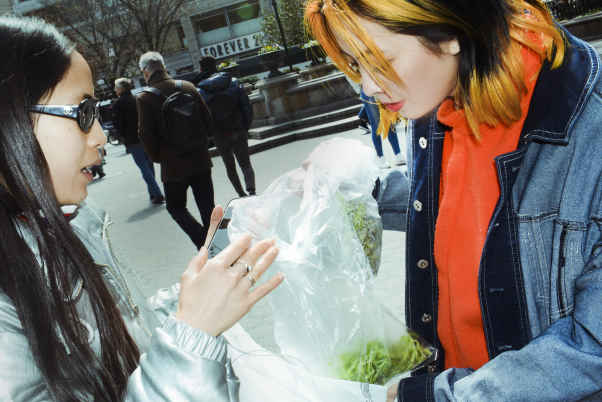 Angela Dimayuga considers cooking and serving a meal a political act. For her, it is a nexus for issues much more complex than mouthfeel and plating. In each dish, hard-wired into a meal from course to course, there is a lesson about identity, history, culture, and power.
She is best-known for her five-year stint as the executive chef at Mission Chinese, the brash downtown New York restaurant famous not just for its brain-scrambling, pan-Asian—or, as Dimayuga pointedly describes it, "New American"—dishes, but as a constantly evolving space for art and community. She collaborated with Eric Wrenn, the art director who's worked with the likes of Artforum, Eckhaus Latta, and Helmut Lang to create the restaurant's menus. She commissioned artists to create a rotating set of ambitious installations in the dining room, one of which included a head-spinning Mylar "outer-space cave" by Grace Villamil. When it came to training her front of house staff, she drew on queer theory and gender theory. There is no restaurant in America quite like Mission Chinese, and Dimayuga was the secret brain behind what made it special.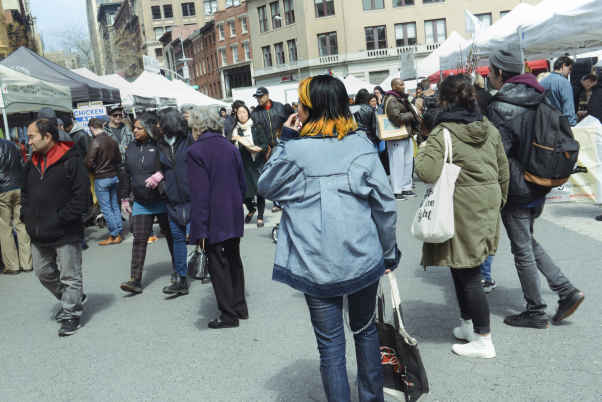 While she was a behind-the-scenes operator for much of her time there, she came into prominence last year when her Instagram post strongly rebuking a request to be featured on Ivanka Trump's website went viral. This is all just to say that whatever roles we think chefs can occupy, Dimayuga has already defined new parameters. Her resume asks us to think of the chef as someone who can be a creative director, a curator, a theorist, an activist, and a lot more.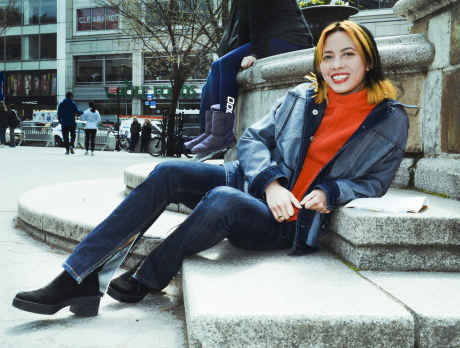 About five months ago, she packed up her knives and left her post at Mission Chinese to figure out the next phase of her career. Now, she's what you might call a freelancer, collaborating with artists, galleries, fashion brands, nonprofits, and all manners of non-restaurant spaces to show how a meal can be more than just a tightly-curated set of dishes, but a vehicle for concepts and philosophies. For example, one of her next projects is a dinner at the Geneva Biennale, where she'll collaborate with the artist Meriem Bennani to cook a dinner inspired by immigration and futurism. In a profile on The Cut, Dimayuga referred to restaurants as "social places where ideas are created." Her new mission, it seems, is to find a way for food to facilitate that thinking outside conventional restaurant spaces. She'll also explore this concept in a just-announced new role as the creative director of food and culture for the Standard International hotel group. While the details of the job are still being worked out, Dimayuga said in a recent interview that it's "an opportunity to take my interest in hospitality as a cook," and she'll help oversee programming that includes not just food, but art, music, and much more.
"In each dish, hardwired into a meal from course to course, there is a lesson about identity, history, culture, and power."
A week before we meet in early May, she wrapped up a short world tour that included stops in Tokyo, Paris, San Jose, and Los Angeles. In L.A., she was an artist-in-residence at the 356 Mission gallery in Boyle Heights, where she helped host an event called "The Year of Doggo" in collaboration with Jennifer Shear. The event included a cooking demo for neighborhood kids, teaching them how to play with their food, guiding them in making rice sculptures in the shape of dogs and funny cartoons. While Dimayuga's events can be brainy and ambitious, she is equally playful and unpretentious.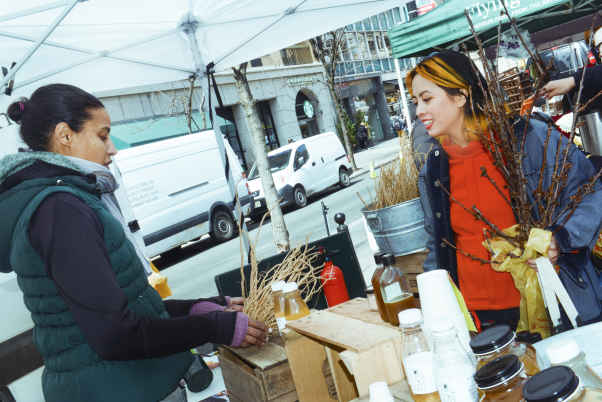 She told me that when she was 10, she had a vision or a premonition of herself as a chef on an errand, and just knew that was what lay ahead for her. When we meet outside New York City's Union Square Greenmarket, she carries herself with that same intensity and forthrightness. We're looking for ashwagandha root, an ingredient that's become increasingly popular as a supplement at health food stores like Moon Juice or products like Sun Potion. It's an adaptogen: a kind of healing herb-cum-panacea popular in Eastern herbalism (in ashwagandha's case, traditional Ayurvedic, Indian, and Unani medicines) that can relieve stress and aches. While she's not exactly opposed to that use for the root, she's more interested in seeing if she can coax and massage ashwagandha's intensely bitter flavor in a chicken soup she wants to make for me.
It's one of those a-little-too-crisp spring days in New York, and the prospect of warm broth sounds appealing, but when I get a look at the root at the farmer's stand, I'm not sure what's in store for me. The first word that comes to mind is "gnarled." If this was a Guillermo del Toro movie, the twisted, wooden fingers of the ashwagandha would come to life, grab your ankles, and whisk you away to some dark unknown. Dimayuga grabs a particularly meaty specimen and puts the base of the root to my nose. I close my eyes and inhale, and the sense memory rockets me back to tripping and falling face-first onto a forest floor as a child, dirt and earthworms mingling near my taste buds and nose hairs.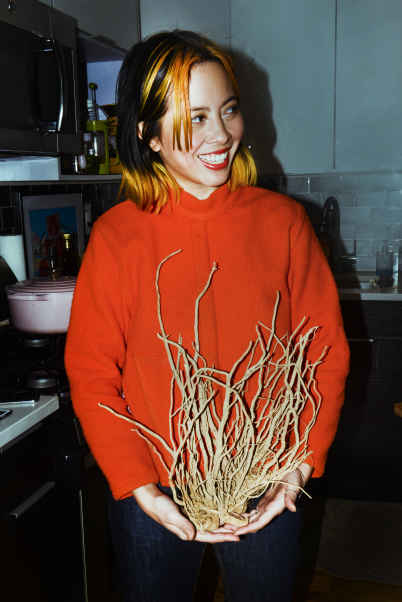 The recipe Dimayuga's conceptualizing today is a riff on samgyetang, a Korean chicken and ginseng soup she first encountered in Seoul. She calls the soup "fortifying," and she substituted ashwagandha for ginseng because they have similarly medicinal flavors, but ashwagandha was easier to source locally. It's important for her to note that while samgyetang is the jumping off point, her dish is going to be "inauthentic," a kind of collage of the local and international culture she's inspired by.
On our journey back to her apartment in Bed-Stuy, we talk about the moment Filipino food is having, and what it feels like to be a first-generation kid in the middle of all that, with a burning desire to dig deeper into your family roots. In a word: it's exciting. Dimayuga often says that what she offers in her cooking is her "personal identity politics," the formation of which is partially an intergenerational process. Her family is woven into both American and Filipino culture in ways that might surprise you: her father invented the McDonald's extra value meal, and her great-grandfather is one of the one of the inventors of Kundiman, the modern Filipino love song.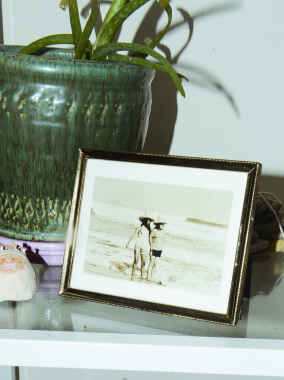 Back at her apartment, in what seems like a blur, Dimayuga stuffed a chicken with sticky rice and plopped it in a stock pot with aromatics and spindly sticks of ashwagandha. Familiar scents like chicken fat, garlic, and scallion collide with this unmistakable but unfamiliar smell of earthy ashwagandha. As she's tidying, I ask her a broad question: at what point does a person's cooking begin to resemble art? "I think it depends on what you're trying to discover yourself, or what it means for you to cook," she says. "There are a lot of people that might not feel what they're doing is art, but inevitability it is." To explain what she means, she tells me a story about her grandmother.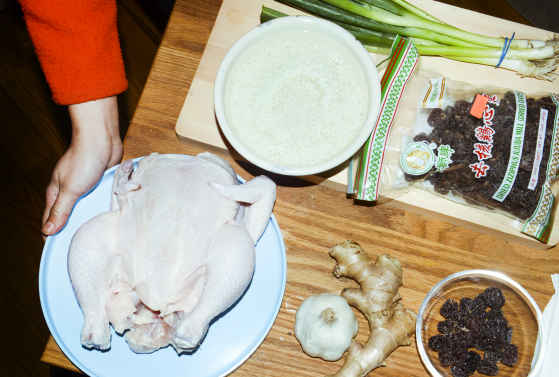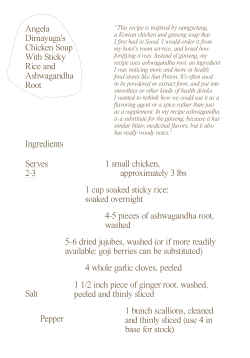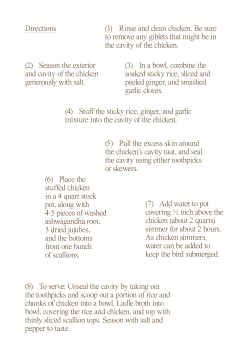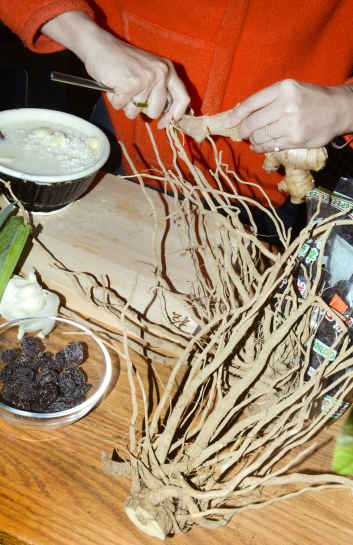 Last month, shortly after turning 100, her grandmother passed away. Dimayuga saw her take her last breaths in her hospital room. She was asked to give a eulogy, and she focused her speech on her grandmother's cooking; how she taught Dimayuga the family's most important recipes and helped shape her palette. She tells me her grandmother fed not just the family, but children all around their neighborhood in the town of Mexico in the Philippines, in the Pampanga province, and in her work as a pharmacist she included Filipino herbal remedies on her store's shelves. The other eulogies, from all the other branches of the family, focused on her cooking, as well. "It made me understand how powerful food is," Dimayuga says. "While it can be a very humble offer, it can be moving for some people," she says. "Understanding that the power dynamics around food isn't always this Eurocentric idea of cooking is important, because my personal identity is what's imbued in my cooking." And part of that identity comes from a love of community and caring that her grandmother imparted on her. "The reason I'm cooking is that generosity and hospitality side of it," she says. "The opportunity to surprise people is fun for me."
"Understanding that the power dynamics around food isn't always this Eurocentric idea of cooking is important, because my personal identity is what's imbued in my cooking."
It took Dimayuga a long time to consider herself a peer of the artist friends she's collaborated with over the years. "The type of food I make is not very flashy. If I've done things that are visual, it's about an exploration, instead of this other way around where someone shoots it and hopefully it tastes good," she says. Her philosophy runs counter to the kind of wizardry we associate with culinary creativity. Unlike more technique-driven chefs, she's not interested in deconstructing the entire human larder into wisps of foam, or other kinds of viral-friendly, telegenic magic. Her vision is grounded in advocating for a food culture that's weirder, smarter, more sensitive, and more thoughtful.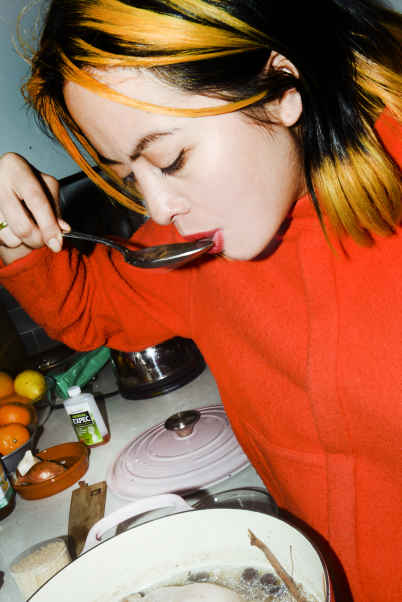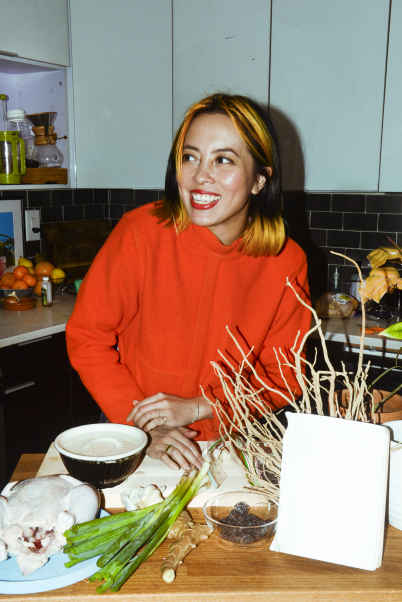 Dimayuga's art is a generative kind. Hanging out with her, I'm reminded that an amazing meal can make you feel better about the world around you. Her cooking proposes, however quietly, that food can create a space that sustains creative practice. She's cognizant that a smartly-assembled dish can activate the brain in powerful ways—it can educate and nourish all at once. And the proof is in the pudding. Or, in this case, the chicken soup.
Right as the broth is about ready, she offers me a spoonful. Again, I close my eyes and have a moment. It's not exactly Proustian, but it's close—neurons fire and taste receptors react to this cluster of flavors I feel like I know, but definitely don't. The soup has those hallmarks of all the good chicken soups I've had—subtly fatty and fragrant-but permeating it all is this flavor that makes me think of diving into a pile of amber-red leaves. It's a taste that's deeply of this Earth, but for a second, it makes me feel like I'm floating right above it.
Kevin Lozano is a Brooklyn-based writer and editor. His work has also appeared in Pitchfork, Artforum, GQ, Bookforum, and elsewhere.
Text:

Kevin Lozano

Photography:

Liz Barclay