A 10 Object Guide to Memphis Design
Inside the Maximalist Movement That Predicted the Eclecticism of the Digital Age
Text:

Gianluigi Ricuperati

Design objects are not poems. They are more like very well written, swiftly produced pop songs. They can be obnoxiously poetic and purely inspired by the Muses—don't get me wrong, but they are more Cole Porter than Sylvia Plath. The Milan-born Memphis Design Group is the all-star band that changed visual culture in the 1980s. Like a perfect pop song, Memphis changed the face of all that is urgent in under three minutes. If you think about it, David Bowie's "Ashes to Ashes"—another 1980 hit single—was not very different.
Writer, artist, and fervent Memphis fan Douglas Coupland puts it very clearly: "Memphis was the opposite of the 1970s, and seeing it was like having a jail sentence commuted. You knew that if you went to Duran Duran's house, they'd have Memphis furniture. Also, Memphis, with its reductive geometry and binary color palette, mapped neatly onto my personal visual pathologies. And where people saw Memphis artifacts as design, I saw them as a pure 50/50 hybrid of art and design. I still do. As time goes on I'm seeing that Memphis is being re-evaluated not so much as a design movement, but rather as an entity that made expensive art multiples, with only notional pretensions of functionality. The thing about Memphis is, if you put it in a room, it instantly owns the room; it's the only thing people will see."
Memphis took its name from one of designer Ettore Sottsass' favorite tunes, "Stuck Inside of Mobile with the Memphis Blues Again," and was exactly what rock critics would call a "supergroup." Each member of the band would go on to create works that would fill any future design museum: Alessandro Mendini, Andrea Branzi, Michele De Lucchi, Nathalie Du Pasquier, Arata Isozaki, Barbara Radice, and many other friends and collaborators. Memphis was not only one of the most influential design experiences of all time, but also a prismatic and communicative good trip: capable of touching various disciplines from interior decoration to textiles to visual art. It was a school of postmodernism in wood and colors, a philosophy department stretched out into primitive shapes. The design group changed the furniture market from top to bottom, but it also created a visual language that crossed continents in an age before the World Wide Web. 2016 marks the 30th anniversary of Memphis' disbanding, and in this era its objects appear to us as the ideal playlist for our pre-Internet brain: filled with freedom, kitsch, complexity, and outrageous associations born out of wildly colored parallel universes. Or perhaps this is the most Internet-like vision imaginable, and a welcome break from the "less is more" aesthetic that has turned our contemporary landscape into a gigantic iPhone.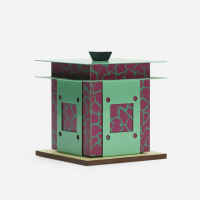 Nathalie Du Pasquier. Esperance Box, Objects for the Electronic Age series, 1984.***
The "Objects for the Electronic Age" series, realized between 1983 and 1984, is made up of 23 pieces including fruit bowls, flower vases, clocks, and boxes. Partly conceived alongside designer George J. Sowden, it is an exemplar of Du Pasquier's poetics, characterized by loose, joyful, geometric patterns. Although not designed for Memphis, this project embodies the Memphis zeitgeist better than other official products. I like to think of this as an homage to Marshall McLuhan's Electronic Age compendiums, written in Symbols font: symbols like fruits like shelves like lights.

Ettore Sottsass. Westside Lounge Armchair, 1983.
Welcome to the Diamond Dog of 20th century design. Ettore Sottsass was the leader of Memphis, and at the time had already led a hundred different lives as an architect, a theorist, an agitator, and an intellectual. Sottsass' toyish shapes and garish colors redefined 1980s postmodern design. The Westside Lounge armchair, whose use of primary colors is reminiscent of the Dutch De Stijl movement, appears like a composition of industrial bricks, and could be tailored, re-composed, and adapted.

Shiro Kuramata. Interior for the Issey Miyake store in Bergdorf Goodman, New York City, 1984.
Memphis has always dealt wonderfully with commerce, so it's little surprise that shops and retail spaces were the obvious fit. Along with fashion designer Issey Miyake, architect Arata Isozaki, and filmmaker Akira Kurosawa, Shiro Kuramata belongs to a generation of then-young Japanese creatives who were able to change the postwar collective imagination. Kuramata combined the sophistication of traditional decorative arts with the sobriety of modern design—even if it's kind of strange to even mention the word "sobriety" in association with Memphis.

Michael Graves. Stanhope Bed,1982.
More needs more. This is furniture for the age of Gordon Gekko—never forget that. Considered as one of the most influential architects of all time, American Michael Graves changed the rules of postmodern architecture. The Stanhope bed he produced for the Memphis Group in 1982 is a peak of his work, which proposed bizarre and protruding forms in order to disrupt minimalist stillness.

Hans Hollein. Vanity Dressing Table, 1982.
The Viennese Hans Hollein, mostly known for his splendid architecture—especially shops—and super intelligent exhibition designs, loved playing with forms in a totally loose and ironic way. This Vanity dressing table is representative of his production, and of the approach the whole group had towards the re-invention of kitsch as a cultural revolt.

Alessandro Mendini. Calamobio,1985-88.
Mendini, the devilish frontman of postmodern design, is hardly wrong about a name and a form. Calamobio is a series of nine numbered and signed chests of drawers that Mendini realized for the Italian manufacturer Zanotta. Each series features a different color sequence of the wooden inlays placed on the right side of the cabinet. This is a classic master caught in the very act of composing the perfect wooden sonata.

Ettore Sottsass. Ashoka Table Lamp, 1981.
Sottsass was a literary man. He would read and know more than the rest of his peers, and his ideas often came from strange books. This Ashoka table lamp stems from Sottsass' fascination for ancient legends and rituals, especially after his journeys to India in the 1960s. After that, totem and cactus forms began to bump out in many of his works. Ashoka was the name of an ancient Indian emperor.

Karl Lagerfeld in his Memphis apartment, Monte Carlo, 1983.
Karl Lagerfeld has always been a curator of taste, an instinctive honeymaker and beekeeper of trends and styles. In the early 80s he decorated his apartment in Monaco with pieces from the Memphis Group, along with nudes by Helmut Newton and drawings by David Hockney. The whole collection was later auctioned by Sotheby's in 1991.

Christian Dior Haute Couture Fall/Winter 2011 and Aldo Cibic's Cabbage Teapot, 1985.
Fashion is always in first row when resurrection rites are concerned. In this case, Christian Dior's 2011 Fall/Winter Haute Couture collection is a good witness to the legacy of the supergroup's production: a Memphis-patterned gown and a pair of high heels whose bright pink and yellow shapes are reminiscent of Ettore Sottsass's 1981 Tahiti lamp.

Christian Dior Haute Couture, Fall/Winter 2011.
From the same runway show, a pair of high heels whose bright pink and yellow shapes remind us of Ettore Sottsass' 1981 Tahiti lamp.
Text:

Gianluigi Ricuperati