A 10 Building Guide to Brutalist Architecture
Domus Academy's Gianluigi Ricuperati Surveys the Digital Age's Favorite Architectural Movement
Text:

Gianluigi Ricuperati
Why has brutalist architecture become an aesthetic craze in our digital moment? The renowned architecture critic Alice Rawsthorn argues that it is because of its "pixelated" surfaces. She also points out a nostalgic attitude for a time when things were brutal, but wages were balanced and middle-class families could still dream big in Technicolor. Either way, the fact remains that posting brutalist architecture photos on her Instagram account attracts more attention than any other style.
Concrete facades. No decoration. Strict social ethics. Low cost and fast effect. In the period between the 1950s and the 1970s, brutalism was the blue pill of urban planning for communities and town councils across five continents. It allowed municipalities to build social housing and public buildings with a limited budget and a cultural blessing. The godfather of all architects, Le Corbusier, explicitly highlighted the beauty of "brutal matter," and in general terms, colors and shapes that look great on a concrete background. Moreover, erecting structures in concrete was easy, economical, and functional for the large social housing necessities of expanding cities in the golden age of postwar Western industrialization. For decades, families living inside these complexes and thought leaders had mixed feelings about brutalism's offset angles and grey-dirty attitude. But now, in the midst of the digital age, young teenagers and worried 50-year-olds are furiously clicking on any concrete pictures they can put their fingers on.
Brutalism's grey trip is still relevant today because it was a perfect marriage of ethics and aesthetics, and it was probably the last moment in which an innovative material was used in an innovative way by innovative intellectuals with the clear aspiration to solve the problems of regular people. Brutalism shouts an interesting truth: The ruling class and the intellectual elite have never been so far from the needs of "common people." Because the trust is that contemporary beauty can actually save the world, on a daily basis, apartment by apartment.
From Le Corbusier to the Smithsons, from obscure Soviet geniuses to the engineers whose calculations allowed these megastructures to be erected—if the brutalist crowd were alive now, they would all be digitally sanctified on our newsfeeds. We cannot stop saying "Like" to these very serious concrete jungles.

Le Corbusier
Sainte Marie De La Tourette Monastery, near Lyon
1960
In the skylights of this beautiful sacred architecture by one of the deities of 20th century, the curious onlooker might get a grip on the whole idea and practice of brutalism: "Architecture is the establishment of emotional relationships out of brutal matter," wrote the French master in Towards a New Architecture in 1923. Here we find basic shapes, as well as rude and naked concrete windows through which a supernatural light comes into a space designed for prayer and meditation. In this piece, the foundations of what we call brutalism are set, safe and sound, in the conscience and on the ground.

Ernő Goldfinger
Trellick Tower, London
1966-1972
In the heart of swinging London, a Hungarian architect designed one of the clearest explanations of the idea of brutalism itself: this social housing project, with its iconic bridges and an even more iconic double structure. This building was loathed by James Bond author Ian Fleming, to such an extent that when looking for a name to give to one of 007's eternal villains, he named him after the architect: Goldfinger.

Rista Sekerinski
Residential building in Karaburma, Belgrade
1963
Belgrade, Serbia is an all-time favorite location for brutalism lovers. In general, all the Eastern Bloc countries produced a cornucopia of concrete-visionary-austere megastructures originally intended for the benefit of mankind. This tower is often called "Toblerone," after the famous triangular chocolate bar. And you could easily imagine a J.G. Ballard dystopia set inside the asymmetrical floors of this tall beast.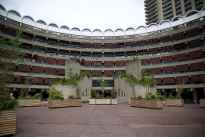 Chamberlin, Powell, and Bon
The Barbican Estate, London
1966-1976
This fantastic complex, brought to the eye of the visitor with a full bloom of balconies, water ponds, stadium-like curves, and the classical flow of concrete-consciousness, is probably one of the major sources of our current brutalist affection. The best minds of the last two generations—Rem Koolhaas, Zaha Hadid, Tom Zé, Tadeusz Kantor—have shown their work here, allowing people around the world to make a virtuous association between great "arc-brut" and great ideas.

Huig Maaskant
Provinciehuis Noord-Brabant, Hertogenbosch, the Netherlands
1971
A roof detail—perfect for some suburban skate daydreams and teenage wildlife parkour—of a Dutch brutalist complex. It is not by chance that Rem Koolhaas decided to host OMA's offices in another building designed by Maaskant. For architects, finding a space is a problem of interpreting historical time.

Alison and Peter Smithson
The Economist Buildings, London
1962-1964
Why do we love brutalist architecture so much? Because concrete, unlike other architectural surfaces, is very similar to our skin. It is perfect and damaged at the same time, and its beauty relies precisely on the ambiguous nature of how we—humans—perceive ourselves now. We live in an era that digitally retouches basically everything that exists: a world that is at once polished and battered, natural and artificial, black and white and springing with colors. The fragile solidity of concrete is the mirror of our own very tough instability.

Alison and Peter Smithson
Robin Hood Gardens, London
1972
What an enchanting name for a black and white garden! It makes one wonder how many novels and movies bear the title of "concrete jungle." Brutalism brings out with pristine clarity the concrete thuggery that populates our clichés. It is an affirmative negation of our common notions about modern cityscapes. It is an honest way of not messing with expectations: not endless vertical rivers of glass, not the assuring folk quality of wood and other traditional materials. It is the age of technical reproducibility in full bloom. It is an uber-cityness in full grey-scope. The Smithsons, as well as being wonderful theorists, represented brutalism at its best in their professional practice.

Le Corbusier
La Cité Radieuse, Marseille
1947-1952
There is something unexpectedly nice about the adjective "brutal": It suggests the opposite of what it means. There is an ambiguity, but also an aggressive factor in a brutalist building—something which makes every single building resonant and crystalline. If you type "brutalist" very fast, it may occur to your keyboard to create the word "neutralist." That's actually the real key to the success of the brutalist epics of our time: a brutal ardor in a neutralist age.

Alberto Linner
Edificio Central de la Caja Costarricense del Seguro Social, San José, Costa Rica
1962
Brutalism had an obvious place in Mesoamerica, where its repetitive shapes and imposing anti-beauty matched perfectly with the incandescent nature and the urgent sociopolitical tragedies of the sixties and seventies.

Giuseppe Perugini
Casa Albero, Fregene, Italy
1971
Brutalism was not only dealing with the major social and political issues of the postwar era—it was an experimental playground, too. This is exemplified by this bizarre seaside house designed by Italian architect Giuseppe Perugini. The offset angles here are replaced by space age imagery. This architecture may be a concrete nightmare, but it is clearly ready to set sail for the moon.
Text:

Gianluigi Ricuperati