Inside the Mind and Studio of the British Artist Julie Verhoeven
Interview:

Jina Khayyer

Photography:

Ellie Tsatsou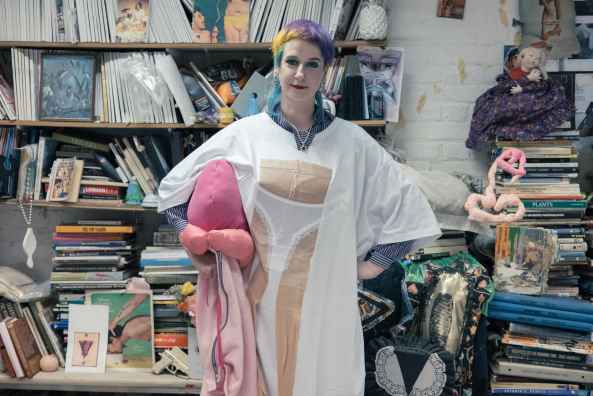 Elephant & Castle, London. The studio doorbell is not working, but next to it is a handwritten Post-it note with a phone number. Julie Verhoeven opens the door herself. She is tall and greets me with a deep, warm voice. Some might never have heard her name but most have certainly seen her signature stroke applied to beautiful poetic drawings, gouaches on paper and ink illustrations. London-based, Kent-born, Verhoeven was trained as a fashion designer but started her career with illustrations, collaborating with magazines like Vogue and brands like Louis Vuitton, Chloé, and Versace. Keeping her drawings always at the heart of her work, Verhoeven's practice today includes sculptures, assemblages, installations, and videos.
Stepping inside Verhoeven's studio feels like stepping inside her eclectic mind. The space is framed with shelves, filled with books and magazines that reflect her love of surrealism. Piles of paint and costumes fill the room. Her works combine a rawness with a bewildering sensuality and a strong sense of color and texture. Her installations are like scatter pieces, staging collisions between all kinds of products from pop culture. All her works have a political dimension that is rooted in feminism and class equality. My eyes come to rest on a humorous installation: a sleeping mask in the shape of breasts; an abandoned penis costume; a "Freize Fart Fair" toilet paper roll, which is a piece from Verhoeven's installation and performance The Toilet Attendant… Now Wash Your Hands. Among the many drawings and sketches are cut-outs of rainbows. Her favorite natural phenomenon, Verhoeven has just translated rainbows into prints for Marc Jacobs' upcoming Spring/Summer 2017 collection.
In conversation with writer Jina Khayyer, Verhoeven gets existential and explains her fascination with manners.
Jina Khayyer
Julie Verhoeven
I would like to start our conversation with a card game I developed, which is based on questions that unveil who you are, if you answer truthfully. It's called Truth or Dare, The Khayyer Questionnaire. First card: Who are you?
Are you where you want to be?
What is the opposite of you?
What does happiness mean?
It means being satisfied.
What is now most important to you?
How do you deal with fear and this terrible feeling of anxiety that continuously grows inside?
Oh dear, I just drink. Alcohol!
Do you ever dream of running away?
You know me so well. Yes, all the time.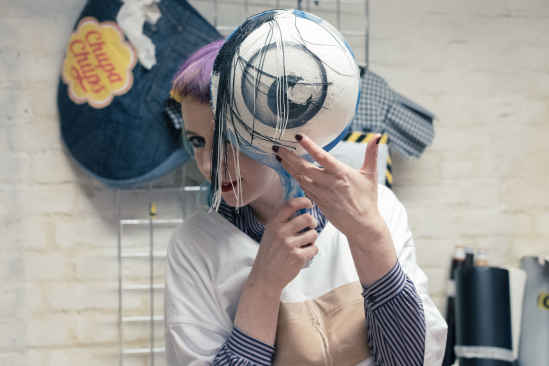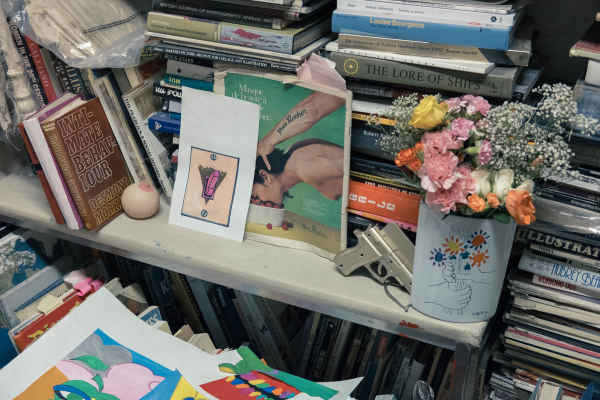 How do you imagine your escape?
Well, it has to be death, doesn't it?
No. I just want to hide. Is that a dream? To hide?
What is the most serious thing that has changed, apart from your body?
I'm much more cynical now than I used to be. I used to be a total optimist. I don't know how that happened though. I don't like myself for it.
Last card: What is the biggest lesson you have learned so far?
Just get on with things, because you haven't got long.
I like the titles of your art shows. Man Enough To Be a Woman, I chose to be the title of this feature. What does it mean to you, to be a woman?
Independence. I'm quite jealous of men. I wish I had a penis. That's why men are so cocky I think, because they've got this funny thing! That's why they're so driven.
Another of your exhibition titles I like is Feathers Up My Arse. What is it referring to?
I find it quite amusing for a woman to talk about anuses. It's something we're not supposedly allowed to do. They're quite hilarious things, aren't they? Also I am referring to the art world. People behave as if they have fingers stuck up their arses. Also, the art world does remain very masculine, still. So I thought, I'll tickle their arseholes and see how they like that!
In your work you provoke politeness. Do manners matter to you?
I'm obsessed with manners. Especially when it comes to public etiquette. The behaviour of people in public spaces tells you everything about them. It's actually one of my favourite things to watch: how people behave on busses, trains, and taxis. How they behave walking on the streets. In public toilets. I did this project for Frieze, The Toilet Attendant… Now Wash Your Hands, which was a performative intervention in one of the washrooms at the art fair. I decorated the toilets and worked there as an attendant.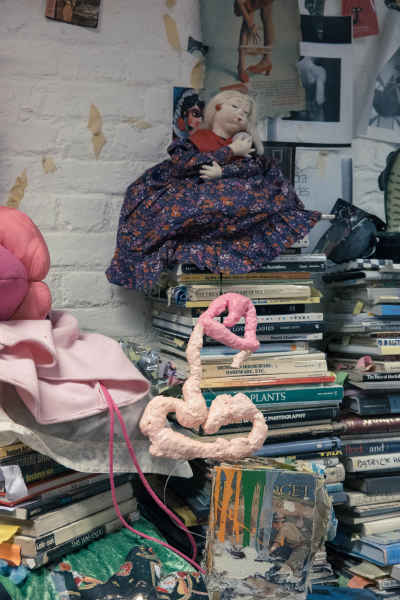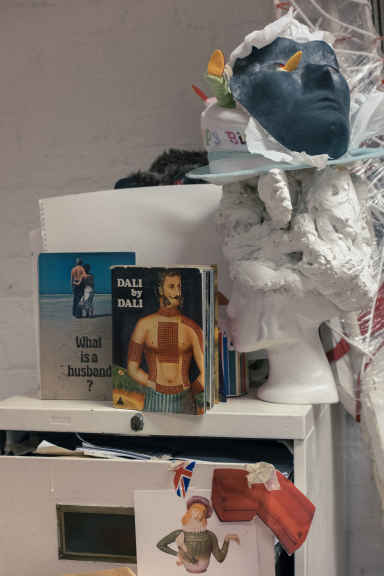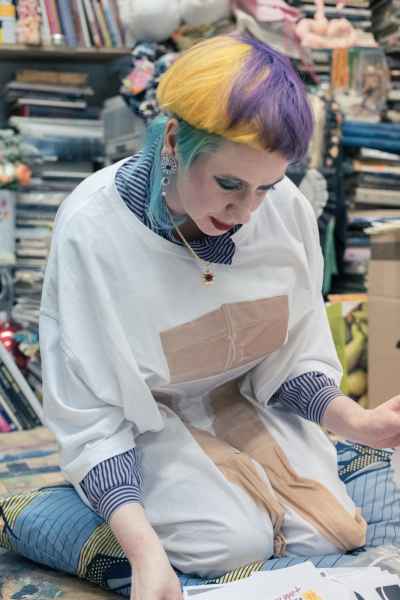 It has to be death, doesn't it?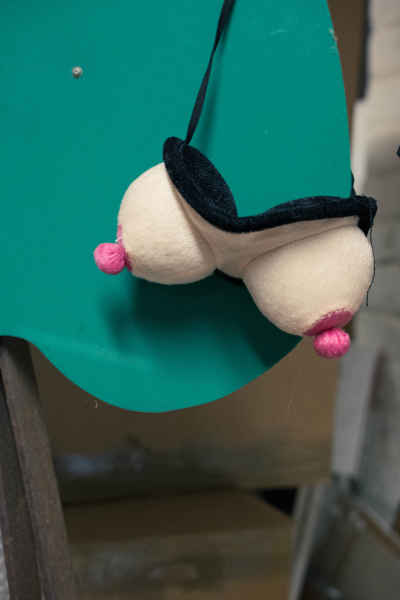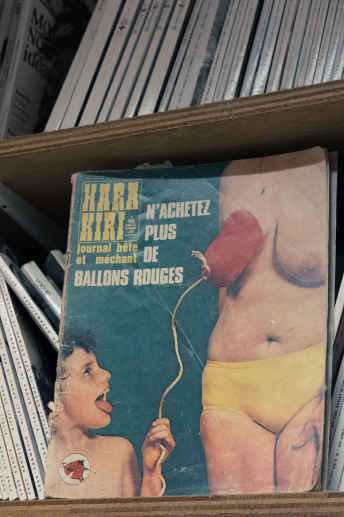 I wanted to highlight the toilet attendant role. I felt that there were many parallels between the role of a toilet attendant and an artist. Most of your artistic-life you're sitting at the side. You're constantly ignored. Also there is a ridiculous hierarchy in the art world.
How did the real toilet attendants react?
I was a bit naive. I thought the real toilet attendants wouldn't be there. But they were, and when I saw the conditions they were working in, it was just horrendous. They didn't even have a chair to sit on. They were stuffed behind the mirrors and the sink units. I hate going to that fair feeling like a spare part. So, I tried to be a good toilet attendant. There was so much to do: a lot of tidying up, but foremost a lot of policing.
Why? Were people stealing your installations?
If I didn't watch them, yes. Once I didn't pay attention and my glue gun was stolen. And I had to watch out for loitering. It was fun to watch how the traffic petered out as the alcohol gave out. And all the things I wasn't prepared for. I had flipped the carpet colours: I had a pink carpet for the men's and I put a blue carpet for the ladies'. And although the women had a boobs sign, and the men had a penis sign, it caused major confusion. I couldn't believe people were so led by stereotypical gender color. My favourite part was to watch people's manners. Observing how people behave in that situation, using public conveniences.
Your work has a political dimension. Very often it is rooted in feminism and class equality. How do you translate your belief system when collaborating with the fashion industry?
With Marc Jacobs I tried not to be too polite with the graphics, sneaking in some phalluses and domestic appliances that sort of have no reason to be there.
What is exciting about treating clothes like paper?
It's more satisfying because clothes move. That's why now, with my drawings, I'm sort of frustrated and disappointed because I want them to move and I want them to speak and I want them to dance and jump.
I read you describe your style as "budget pantomime." What does that mean? And is that referring to your personal style? Or your artistic style?
Both, really. I don't have the budget to spend a lot of money on clothes or art-supplies. I find it quite attractive to buy things that are a bit wrong, melodramatic, sort of pantomime. I like when it's all a bit off and less digestible. My existence is sort of an experiment. Sometimes when I put my face on in the morning I make myself laugh. I think, "I can't do that." But then I encourage myself: "Go on!"
It's an eight minute walk.
How many odd looks do you get on your way, per day?
On this street here I'm comfortable. Everybody here is a bit freakish and has got issues. But it all depends what mood I'm in. If I'm not feeling good I won't look at anyone because I don't want to risk their response. But if I'm in a good mood, I'm happy to look at everybody. However they respond, it doesn't matter.
If you could only choose one colour, what would it be?
I'm embarrassed to say but it has to be pink.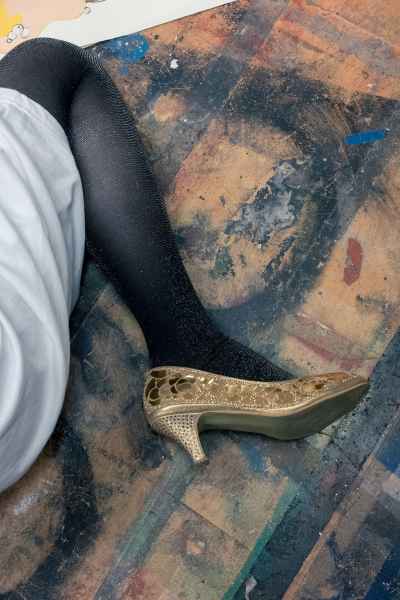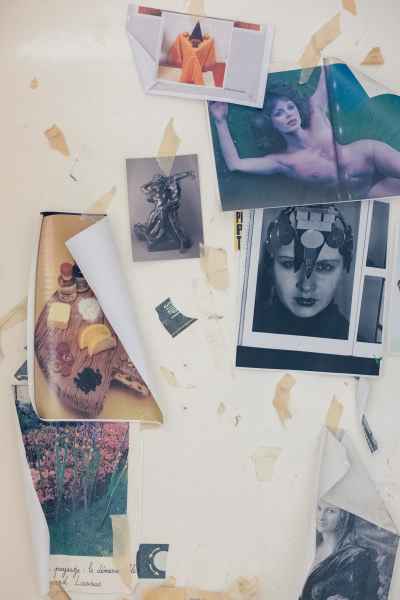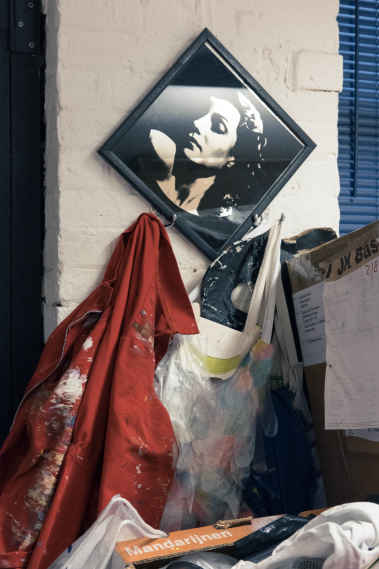 Interview:

Jina Khayyer

Photography:

Ellie Tsatsou