Artist and Off-White collaborator Georgia Bayliss Illustrates the Feed
Interview:

Rebecca Storm

Photography:

Rebecca Storm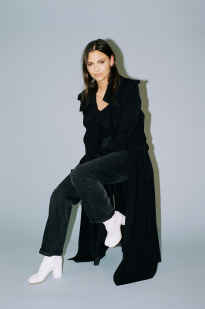 Commissioned by Off-White's Virgil Abloh to draw portraits of the individuals who played muse for his recent collection, Georgia Bayliss is a modern-day Holbein the Younger, her detailed graphite works a throw-back to a time when technique was the true measure of talent. So much of contemporary visual art relies on concept to distinguish the innovative from the unimaginative. But when confronted by such an artwork, to avoid looking like an idiot, the viewer may agree to like it even when no one really knows what's going on. If a work of art is densely conceptual, it is easier to become confused, and therefore hesitant to critique. Maybe a meticulous dedication to craft is exactly what our overburdened minds long for in an increasingly image-saturated and abstract environment. Working almost wholly without concept, the simplicity of Bayliss' obsessively technical work is refreshing.
Rebecca Storm
Georgia Bayliss
Has drawing always been a big part of your life? When did you start?
I only really started drawing about two years ago, but I went to school for graphic design and that's where I learned that it was something I'm capable of. There were a couple of projects about recreating images in pencil so that you could use them legally in your own design work. That was the first time I realized I could recreate an image pretty well. I wasn't taking any art classes until my final years, when I started to feel a little bit more comfortable.
So for the most part you are self-taught?
I would say I'm self-taught, I went through school without really pushing [drawing] until more recently. I don't know if you want to get into my upbringing, but I think it really had an effect on why I was nervous to take those classes, and ultimately why I opted to take design.
My mom was an actress when I was growing up, so I watched her struggle as a freelance artist. The insecurities and financial difficulties she was dealing with obviously affected me. I have always had somewhat of an artist's sensibility because of her, she was always encouraging in that way, but I was also determined not to follow a creative freelance career path just because of her experience. That's why I ended up going into design, it seemed like the most stable work I could pursue.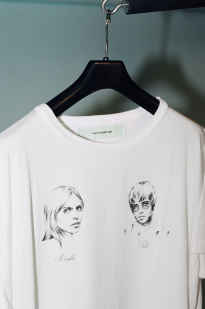 In the current digital image/photo-saturated environment, what's interesting to you about drawing photo-realistically? At a time when it is so easy to create digital images, and curate a digital body of work, how important or relevant is the hand-drawn line to you? Are you attached to that more organic way of creating?
I have never been concerned with contributing to an already image-saturated world, I think that's an environment we've created for ourselves because we're visual. For me, practicing photorealism is purely personal, there's a huge reward for me in succeeding at it. I retouch as well, and it's a similar process for me. It's tedious, it's building an image in a meticulous way, but I really enjoy that, I don't find it boring. I'm not a patient person, but I have all the patience in the world for drawing. It's instinct for me, making this type of art. Working in the fashion industry, I was invested in and surrounded by fashion imagery, so I think my work results from a combination of being inspired by fashion images, and having an interest in visual art at the same time.
So it's more about the process of creating in itself than spending time heavily conceptualizing the work?
Yeah, I would say that for sure. That was something I was always frustrated with in school. I always felt I was less-than for focusing on the process or the technique, as opposed to having a big statement behind the work I was doing. I was kind of pushing that away, I think I had to focus on technique at that time and now that I'm starting to look at the things I'm doing and think more conceptually about what I'm producing.
When you draw, do you have to set time aside to draw, do you have any sort of routine?
That's what I mean in terms of it being this kind of escapist process. I can't really just sit down. I've tried to do that, in terms of getting things done to meet deadlines, but for me it's more difficult to do it on the go or spend an hour here or there. My favorite type of day is having the day to myself, waking up when I wake up naturally, then just getting started and spending hours and hours drawing that one day. It is kind of meditative in a way and I feel like I can't have things that break up that flow. It is my favorite kind of day to be drawing.
Do you work from self-portraiture at all?
I've mainly been using found images for references that I either pull from social media or Tumblr. I'm getting more into creating my own references now, and that can be more meaningful to me, but I think online imagery is interesting in itself. That's ultimately how the Off-White collaboration started too.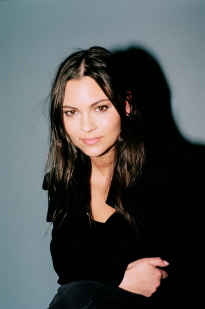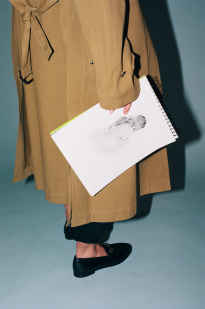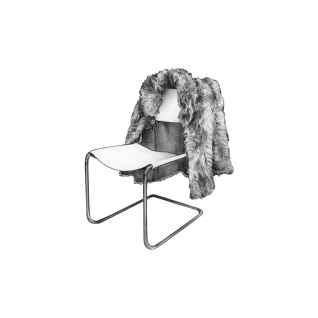 I always felt I was less-than for focusing on the process or the technique.
Yeah, how did that collaboration come about?
I met Virgil last year through my friends Zach and Alix, they introduced me to him before a set he was playing at École Privée. We talked about his inspiration for his collection, and he explained that it was represented by a young Liam Gallagher and his girlfriend at the time, Patsy Kensit. He saw my drawings on Instagram the next day and reached out about illustrating their portraits for the collection, and that was that.
Was it just the portraits you did for them?
Yeah, I did the portraits. I think he saw that I was drawing faces mainly, so he connected to it since his inspiration was people for that collection. We're working on another collaboration that's all object-based, but I don't know how much I can talk about that. I appreciated how Virgil was so open to collaborating with me. In general, I think he has a connection with the youth and emerging artists, and I think that's part of what makes his brand so appealing, you can see that he understands the culture of today, it shows in his design.
Off-White is a self-described bridge between high fashion and streetwear, do you feel like your illustrations cater more toward the high fashion world, or the streetwear world, or that they meet somewhere in between?
I think it's very similar, there's a strong parallel between his brand and my drawings. Off-White challenges what's street and what's high end, the gray zone between black and white, and I think my drawings are similar. It's a good fit.
It makes sense with your design background, to have moved into illustration and then to come back full circle to clothing design. When you're drawing something, say something you found on Instagram, do you feel like you're changing its meaning by doing so?
There is something interesting about hand-drawing an insanely detailed illustration of someone's Instagram photo. I take an image from a sea of images on Tumblr and give it a new kind of importance. I think it pushes it a bit, by specifically drawing a selfie that has an obvious iPhone, the drawing represents a culture.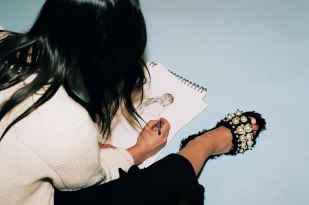 I have never been concerned with contributing to an already image-saturated world, I think that's an environment we've created for ourselves because we're visual.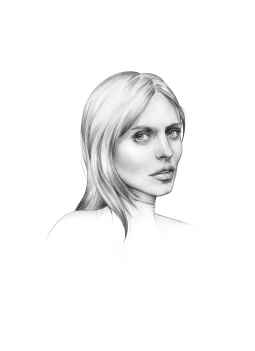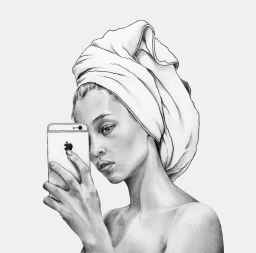 Interview:

Rebecca Storm

Photography:

Rebecca Storm

Styling:

Sasha Wells

Hair and Makeup:

Andrew Ly / Teamm Management