Hélio Oiticia Takes You Inside the Kaleidoscope
A Look At the Sire of Tropicália's Vibrant Legacy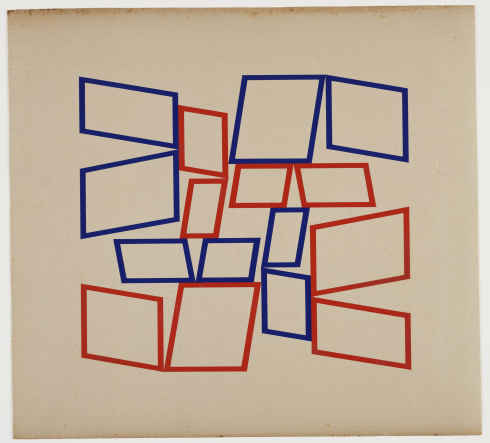 In 1928, the poet Oswald de Andrade wrote the "Cannibalist Manifesto," in which he suggested that Brazil, with its profusion of European, African, Indigenous, and Asian influences, thrived on a kind of cultural cannibalism. In his theory of "anthropophagia," colonized nations could assert their independence by cannibalizing their overlord's ideas, reclaiming them through perversion. This is exactly what artist Hélio Oiticica did, and almost half a century later, his work still feels revolutionary.
Cultivated in the robust world of Brazilian modernism, Oiticica became one of the most important cultural figures to emerge from the country's post-war art scene. He was a key figure in the Tropicália movement, which spanned music, theatre, poetry, literature, and visual art. A coup d'état in 1964 marked the beginning of a repressive military dictatorship, and a political gravity permeated Oiticica's already radical work. He pushed for capaciousness in the art space, and created environments more than pieces. In a fundamentally Brazilian approach to art, he embraced the cultural chaos endemic to the country. Gradually, he developed a romantic insistence on the experience of the viewer, becoming fixated on the concept of audience participation. A retrospective of his work is on view at the Whitney, where installations pulse with lively, immersive energy and a subversive politics pervades.

Often mistaken for a musical genre, Tropicália was an avant-garde multi-disciplinary art movement that emerged in the late 1960s. Its musical wing, including artists like Caetano Veloso, Gilberto Gil, and the band Os Mutantes, has become one of Brazil's most renowned cultural exports. This music was popularized by a compilation released in 1968 that took its name, so the story goes, from this installation by Oiticica. The Tropicálistas blended traditionally Brazilian genres, like samba and bossa nova — themselves composites of multifarious Portuguese, African, and Indigenous sonic influences — with popular genres of funk, rock, and psych that emanated from Europe and the United States. The result was not so much a genre as an approach to music that took the traditional Brazilian sound, with its essential impulse towards fusion, and concentrated it.
Oiticica's influence on this movement becomes clear when approaching the installation: banks of sand peppered with dark green elephant ears, ferns, and palms; live parrots squawking from a large cage. It's an immersive conflation of clichés associated with the sunny confines of Oiticica's home city, Rio de Janeiro. Oiticica confronts the viewer with a collection of flat stereotypes about Brazil, the same cheery image that those in power tend to project: bright colors, beautiful beaches, lush flora, exotic fauna. But after you take off your shoes, as you are encouraged to do, and walk through the sand, Oiticica undermines this perception with a dark subtext of poverty, hypocrisy, and corruption. As one of the wall texts reads, from a poem by Roberta Camila Salgado, "the blue of the sky was unable to illuminate the day."

Oiticica injects his abstractions with life, nature, and movement, engaging Modernism's radical stance toward representation in visual art. Instead of references to trees, real trees. Instead of fleeting images that recall birds, real birds. In the case of the playful and movingly intimate Rijanviera, you stroll barefoot through a current of cool running water, making your way tentatively through an enclosed passageway lined with chicken wire. On the other side, you emerge onto a floor of sand. It's an abstraction that is inviting, not demanding. It's layered and complex, but accessible. It's the Sgt. Pepper's of installation art.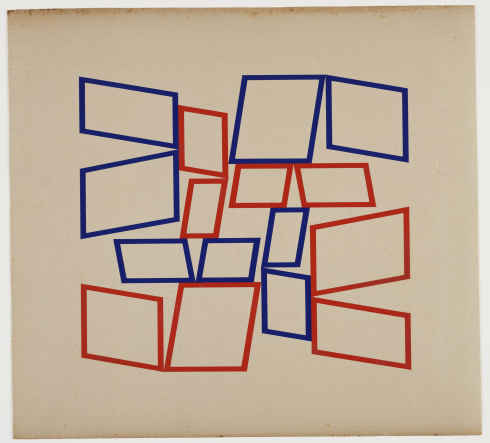 In Metaesquema, Oiticica develops some of the techniques from his early practice in abstract painting. The influence of artists like Malevich and Mondrian is clear, but even in these early works you get the sense that Oiticica is responding to the shape and color of the geometry in a unique way. There's more subtlety in the composition, more movement, an elegance to the lines.

Oiticica began to render shapes in three dimensional form, cutting them from wood, and painting them. Then he suspended them from the ceiling, in this case with a set of mirrors underneath. By bringing the abstract geometry of his paintings to life, Oiticica invites exploration. In elevating them, he allows the viewer to appreciate their depth with freedom of movement. These works mark the beginning of what would become one of Oiticica's primary preoccupations—to make works that build a relationship with the viewer by demanding active participation. In the context of Brazil, under an increasingly repressive military dictatorship, it wasn't enough to tell people "free your mind." Participation in radical, abstract art was not simply a theoretical exercise, it had real stakes.
The military government had promulgated a sophisticated propaganda campaign that promoted an optimistic vision of development, modernization, and mobility, while glorifying the horrific campaign of violence and torture enacted against the leftist opposition. The junta was selling a dream of modernity, adorned as it was with the trappings of fascism, and Tropicalistas called their bluff with an irreverent politics that, as always, drove the autocrats crazy. Many Tropicalistas ended up being jailed, tortured, and exiled. Evidently, the need for engaging, consciousness-expanding art was politically urgent.
The Parangolés were Oiticica's most radical works, by far. They took concepts that he had been developing for years and distilled them into a potent essence. These objects functioned as garments, that were not "activated" until they were worn and animated by the human body. Not satisfied with viewers entering and freely exploring his work, as in Penetrables, Oiticica wanted people literally enrobed in his art. Participants were meant to don the works and dance, and as they did colors, textures, and texts that were hidden in the folds of material would be revealed. Oiticica achieves pure interactivity. At the Whitney, a mirror on one wall allows for just that: to be a part of the dynamic movement of form that Oiticica has strived toward. The line between viewer and object is not just blurred, it vanishes.