« Je ne suis pas un expert de ma personne »
L'artiste vidéo Ed Atkins parle de l'identité post-Internet
Entrevue:

Timo Feldhaus

Photographie:

Christian Werner

Images gracieusement fournies par:

the artist, Galerie Isabella Bortolozzi (Berlin), Cabinet Gallery (London), Gavin Brown's Enterprise (New York, Rome) and dépendance (Brussels).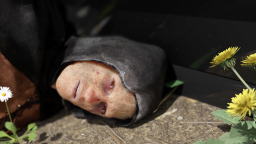 "I map the movements of my own face that I apply to computer generated image models. These are my contortions, my mimicry behind this immaterial mask, related to my traumas, my mourning, whatever they are, "says Ed Atkins. An expert in melancholy, boredom and death, Atkins is known for his computer-generated hyper-realistic digital videos and characters floating in space through various episodes of anxiety.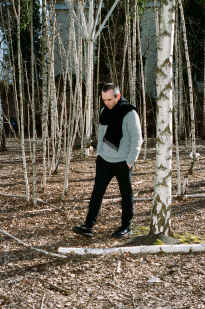 The video artist who enters Cafe Einstein, one of the oldest restaurants in Berlin, seems in great shape. Atkins returns from Italy - his first vacation for years, and his first attempt to stay disconnected. Born in 1982 in the United Kingdom, he now lives and works in the German capital. This is where he became "one of the great artists of our time," says Hans-Ulrich Obrist. During the four-hour interview with Timo Feldhaus, over a few glasses of white wine, Atkins talks about his brand new experience of fatherhood, the progression of artificial agency, and tells us he hates the nostalgia.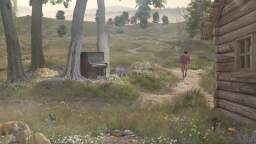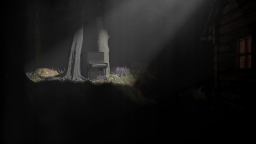 What is your main interest in your projects?
I hope to create works without necessarily knowing what they are. For some time now, I have wanted less and less meaning - but rather a kind of uncertainty. I've always been more interested in what one thing makes us feel, than what it means.
You do almost everything yourself. I imagine that video artist's life is really unique on this planet, right?
It's very loose. I think about it constantly. Why am I doing this? I like to upset people. Really. I absolutely want them to be fascinated. I believe in the importance of style, I suppose. Elegance, rather than an inimitable kind. Manners, eloquence. I like words, pictures - I believe in them as a kind of fact. I guess working alone makes my job strange and unjustifiable. It's true that I feel isolated, but I work closely - albeit at a distance - with a facilitator, Adam Sinclair, who handles a lot of the technical aspects. I "discover" the animation in this way. All the same, in practice, it is a very solitary exercise.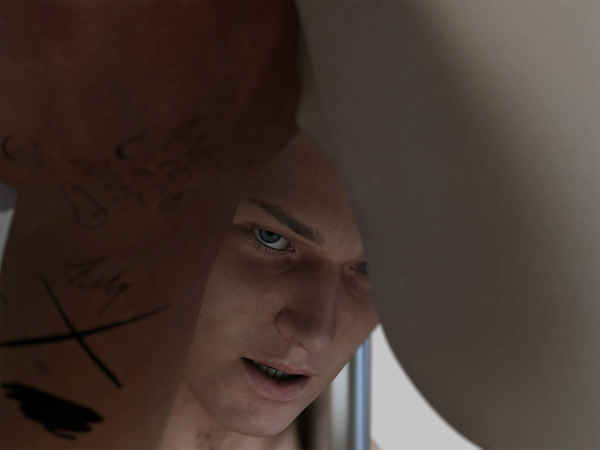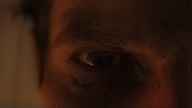 Is there anyone you admire?
The animation genius and director Jan Švankmajer made me very early impression. But, in general, I tend to admire people who have, in one way or another, made a lot of different things. Polymaths. I love and admire people like David Bowie or Jim O'Rourke, for example.
It's amazing. By viewing all your videos, we notice that you have found your style remarkably early, which is rather rare.
But that's not what I want! What I want is to be impossible to recognize, if it is absolutely necessary to describe me.
You said that your art is essentially motivated by the existence of emptiness - why is it so important to you?
The absence. An unknown thing that is, at least temporarily, impossible to recover. Thinking art as being ideally insoluble, endless, in the production of knowledge. The absence of this enigmatic object, which is still foreign to me, is perhaps the foundation of all the art that is created.
In your "Old Food" exhibition at the Martin-Gropius-Bau in Berlin in 2017, Frankenstein's idea was as subtle as it was important. The Frankenstein monster would be the first reference to artificial intelligence.
Artificial intelligence is to me the most threatening by its deep banality. If we consider the decisions taken in the movement of capital and the movement of power and agency slowly transferred to computers ... It is not Terminator, but a slow process, without purpose, without effort. The fact that we have more to memorize information, we do not have to know the time because the thing knows it, my phone knows it. It may be less artificial intelligence than artificial agency. I really wish I did not have to be online constantly, but it's a ridiculous idea is not it? Why create an artificial intelligence? Why make life, when it already exists? This is the heart of this desire.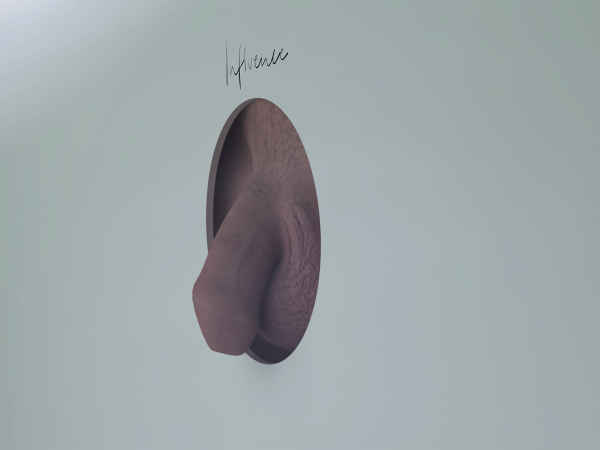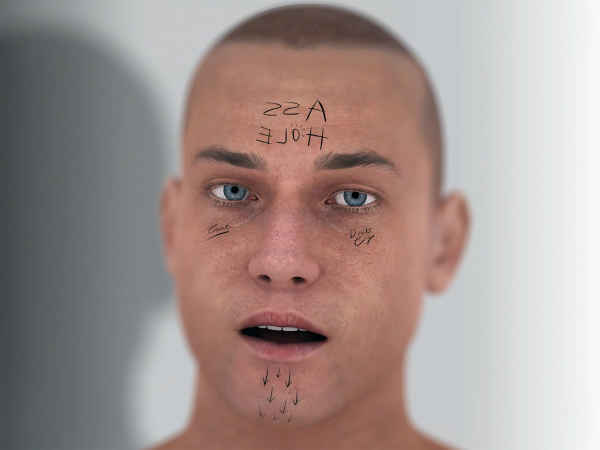 We do it because we can, do not we? This may be the only reason.
There is also a desire for self-destruction, a sort of death drive. Elon Musk does not address the issue with sincere concern; hyper excited, lying in bed, he must say "Yeah, the robots arrive and it's my fault! It's like speculating on the death of Mary Shelley's children and writing the story of a monster made up of corpses. We never know where the source comes from, it has no rational reason, commercial or economic. I can say that technology has served me a lot in my work, but in a completely literal way, I have no confidence in it.
Because technology has allowed you to become a successful and successful artist?
Rich, not particularly, but to be successful, yes.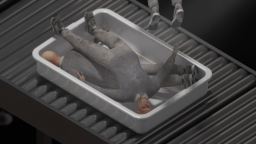 On the other hand, you doubt, you are worried about seeing things happen now - when we were 15, none of us could have predicted what was coming. Would a world without an algorithm be better?
No. I hate nostalgia more than I hate the idea of ​​technology. I am completely ambivalent about what Internet, digital or computers really are. But I'm sure it's the people, actually. They use them badly, or something like that. I mean, I marvel at my movies too, because I do not really know what's going on, in a practical way. I think it's probably important to find them slightly miraculous. For animations, I buy digital "models", I customize them a little, then I apply them. And it works. Maybe they look like me, moving. It's more a discovery than a creation; more a modification than a production.
The protagonists of your video works are elderly men, young men, monkeys, babies, poets, pianists - always men, never women. Why?
Because I am a man, white, middle-class, western. The category we do not have to name. I am privileged. But I also want to be able to speak, I suppose. But, as I belong to all these categories, I want to speak negatively - to deconstruct the speech, in particular. An action that annihilates - although of course it is impossible. I do not want to speak for others. My works should carry as many autobiographical emotional feelings as I can put without, in any way, being explicitly about me. But it's complicated. I remember that first meeting I had with a museum director. She looked at my videos, we talked and she said, "Maybe you should shut up for 2000 years," and I was like, "Yeah, maybe, yeah," I mean,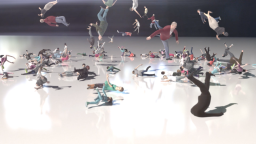 I hope there is a way to speak without reaffirming these categorical, hegemonic absolutes. I try to create works that have a relationship with these constructions of identity and which, afterwards, are uncomfortable. For me, at least. Even being in a position where speech is a matter of place of authority is already enormous. It's not about protecting someone, being careful, being right - it's exactly the opposite. What is the correct configuration of speech, of productivity, which is sufficiently reflexive to deconstruct itself? I do not want to stop. His question was good. What's the use of my fucking voice?
You have already said that you do not like looking in the mirror.
Yes. I do not like to look at myself. Because I am fat and ugly. I do not like my body or my appearance. The idea in making these videos and animations is to control everything; it's a form of megalomania, a way to correct.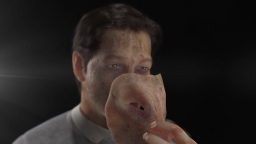 Is there a way out? Your narrative processes are always fractured; your protagonists are disturbed, nervous, not always able to tell their story.
I like the idea of ​​allowing others to be inconsistent. Not to be understood. It's a right, so to speak. Because in a certain way and so often, understanding is a kind of violence inflicted by the person who imposes his vision on you. What does it mean to allow yourself not to understand? This is often an element of frustration that triggers a violent response. But frustration can also be a beautiful state, a great gift. For me, it's a bit like the ultimate way of thinking about otherness, especially to allow others not to join the group. People ask me questions about my work, which is great, but in the end I do not have more answers than they do. I am not an authority on the reasons that push me to create nor expert on my person. I am sincerely as inconsistent with myself.
Are happy people painful?
No! Naïve people are. Happy people, it's wonderful. If it becomes painful, it's because I do not have my share in a certain way. You can be happy while sitting with your child, but the idea of ​​being positive in the world is ridiculous. I guess I think life is really difficult. Harder for some. Relatively easy for others - but still difficult. I think it's a challenge to have fun. But it's ok, it has to be like that.
_Timo Feldhaus is a writer and editor of Volksbühne Berlin.
Entrevue:

Timo Feldhaus

Photographie:

Christian Werner

Images gracieusement fournies par:

the artist, Galerie Isabella Bortolozzi (Berlin), Cabinet Gallery (London), Gavin Brown's Enterprise (New York, Rome) and dépendance (Brussels).