Enter The Paisley Universe
The All-Over Print You Are Seeing Everywhere from Pashminas to Palm Angels, and A$AP Rocky to Drake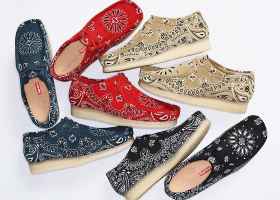 In his new streetwear-adjacent memoir, This Is Not a T-Shirt, designer Bobby Kim recalls how his brand The Hundreds found itself with an accidental hit back in the early 2000s. "Our first contribution to the all-over print craze was the 'Paisley,' offered on a black zip-up hooded sweatshirt, incorporating repeating buta droplets, inspired by a classic bandana print," writes Kim. The Hundreds, then a small-time label, would go on to sell over $100,000 worth of hoodies in a single night—all because sneakerheads and streetwear fanatics loved the garment's engrossing paisley print.
Fast forward to FW19, and the paisley pattern has found a new surge of energy within the world of capital-F fashion. From famous rappers to basketball players to well-dressed editors, today, the print is hard to miss. In April, Drake donned an expensive Visvim jacket while sitting courtside, and NBA star James Harden wore a head-to-toe paisley ensemble from Loewe. In more esoteric circles, the cult-loved Japanese brand Needles gave the pattern its spin via a matching shirt-shorts set and L.A.-based brand Rhude, beloved by the likes of Justin Bieber and Lil Yachty, offered the design in a camp-collar shirt and a puffer-jacket. For Supreme's annual collaboration with Clarks Originals, a paisley-covered version of the British brand's iconic Wallabee boot hit shelves just this spring. In both menswear and womenswear, paisley has sprouted up in collections from Gucci, Palm Angels, and Saint Laurent.
The modern appeal of paisley is tricky to pinpoint. At first glance, the graphic pattern looks chaotic. The teardrop shapes, ornate squiggly lines, and curved ends all coalesce into a set of repeating amoeba-esque swirls. However, once your eyes adjust, the beautiful chaos settles, and the pattern's delicate side emerges. Paisley was created over a millennia ago, originating in proximity to present-day Iran and the Kashmiri region near the Indian-Pakistani border. It was initially called buta or boteh, meaning "flower." Many historians believe the initial design combined that of a stylized floral spray and a cypress tree. (The western name originates from the town of Paisley in West Scotland.) Over many centuries, the pattern has traveled from East to West: the original 11th-century Pashmina shawls, made of fine Changthangi sheep's wool; the ceremonious "robes of honor" associated with the 15th century, garbs that were used as a mark of distinction; and the printed luxury silks of Europe, an item that skyrocketed in popularity during the late 18th century.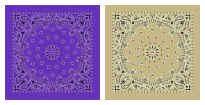 By the 19th century, there was an explosion of inexpensive printed cotton garments, including the bandana, often with paisley printed on red or blue fabric. The cheap bandanas showed up on American cowboys, farmers, and virtually anyone whose livelihoods involved working up a sweat. In the 1960s, the print was embraced by hippies for its psychedelic-looking details; in the 1970s, gay men adopted a color-coded handkerchief code to symbolize sexual desires; in the 1980s, paisley bandanas were used by gangs to denote affiliation. Now, the recognizable print has woven itself into mainstream fashion's shorthand like plaid or herringbone.
Paisley is ripe for high fashion because it has long signified stature and class. Yes, $3 cotton bandanas may have democratized the pattern, but this current moment in fashion feels like a return to the print's original form. This time around, paisley has moved on from shawls and stately robes to more modern symbols of status like expensive track pants and puffer jackets. It looks right at home on a pair of Saint Laurent high heels or a Hawaiian silk shirt and athletic shorts from Alexander Wang. The same could be said about this bowling shirt made by Palm Angels and trousers from Dries Van Noten. It's a rare pattern that connects art history, streetwear, and high fashion in a fever dream of droplets and swirls. Contemporary paisley-adorned clothing is a story of a venerable print refitted for today's luxury consumer.
RTH, a feverishly loved West Hollywood boutique known for stocking eccentric wares like hand-thrown ceramics and intricate vintage denim, has been producing a bandana-inspired, paisley-adorned tote bag since 2009. The totes are not one-offs but rather an in-house signature product of sorts, so when Saint Laurent released a wildly similar-looking bag this season, RTH took notice. While the design faux pas never landed on Diet Prada's Instagram, the shop made its thoughts very clear in a flurry of posts last month: "Shame on you, Saint Laurent." When it comes to a print as historically rich as paisley, the question of ownership is less than straightforward. Regardless, the rise of any fashion trend isn't complete without a dose of requisite drama.
Tyler Watamanuk is a New York-based writer and producer. He has written for The New York Times, The Wall Street Journal, GQ, and more.
Text:

Tyler Watamanuk

Date:

August 26, 2019