Designer Is Served:
Luxury Cooking with Michael the III
The Enchanting Culinarian Shares His Guide to High-Class Home Cooking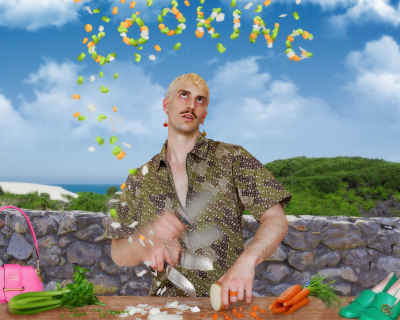 The sun is ready to set on another beautiful day in the orchard and I am on my way home. My cats are closing in on the kitchen, resisting the urge to meow, saving that performance for when it really counts. They needn't wait much longer, for Daddy has just turned down the lane and onto the lemon tree-lined driveway.
I'm wearing an ensemble of robin's egg blue with a pink chapeau by Gucci. My arms are occupied—can I get a little help here?—so I open the front door with the spur of one Prada boot. In my left hand, I am carrying a loaf of bread and all the vegetables and legumes required for tonight's conceptual meal: tomatoes, endives, peas, peppers, radishes, cucumbers, cabbage and a piece of Calvin Klein. In my right: peaches, cherries, raspberries, and a small melon, which will become an enticing desert. All of them organic. Fresh and locally sourced. Stolen from my neighbour's garden—but that's our secret.
Oh, didn't you know I was a professional chef with a semi-professional attitude? Hadn't I mentioned that I studied at the Sorbonne in gay ol' Paris, Texas? Weren't you invited to one of my sensuous summer suppers? Well, that can only be excused with the assurance that I've had a lot on my plate. Don't we all? I know, but it's no small task to single-handedly transform the art of home cooking.
You see, cookbooks of the past are out. Consider it declared! Today's home chefs need bountiful dollops of self-expression atop their farm-fresh, fashionable ingredients. After all, we're approaching the second decade of the second millennium and social media has no intention of slowing down. No longer should meals merely taste good, they must appear to have good taste, too. Nutrients be damned!
The following tips and recipes are for those wise enough to know that a luxurious dish is greater than the sum of its parts: a single bean reclining on a vast plate; "nuanced" broths; appetizers that are 70% garnish, 10% utensil; ingredients deemed incomplete without something to spread them on; a bite-sized protein to which you've paired a $90 bottle of wine; entrées that arrive in the form of purées, powders, or tablets; and any menu item "served upon its soil." To those born lucky with that type of pretense, that desire for substance and style, this is for you!
If your home kitchen lacks the certain je-ne-sais-quoi of fashionable French kitchens, I know just what it requires: the Rick Owens toaster, great for making black, black toast. You'll need the Limited Edition "Demna Gvasalia Standing Mixer," which sits neatly upon the counter-top, creating ironic, fluffy concoctions at ease. Keep an eye out for the Stella McCartney vegetable peeler, Molly Goddard's corrugated muffin tins, Maison Margiela translucent storage containers with matching ice-trays, and bundt pans by Thom Browne that leave your cakes looking firm and delicious. And for the chef who has everything, don't miss Jacquemus' range of miniature saucepans, large enough to steam one carrot or your car keys, with complimentary linen dishcloths, dry-clean-only. Note: You may have now noticed the scuff on the counter-top of my island in the photo. That is, in fact, a mark by Marc Jacobs.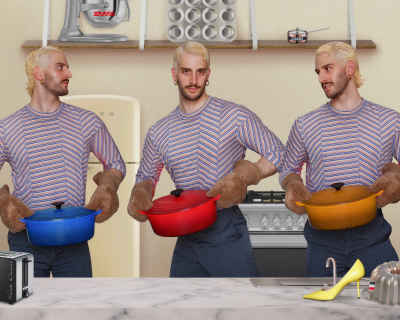 Once settled into your space, you may begin making modern meals that feed the mind, body, and soul. One of my most popular plates amongst dinner guests is the elegant "Marinated Thoughts and Processed Feelings, served with a side of Clarified Excuses." The recipe mirrors my respect for traditional, classic ingredients, my habit of never really letting things go, and talent for incorporating issues into every of life's interactions. It's perfect for: dinner with a former-friend, apologetic celebrations, your ex's birthday party and—especially—candle-lit evenings spent alone. The cats enjoy it, too.
While some recipes, as with the above, can take days (even years) of preparation, your pantry should always have all of the ingredients required for "Fresh, Minced Words with Wild Judgment Drizzle." Easy recipes like this are crucial for times when guests drop in uninvited. Take your seat and begin the conversation with a heaping mouthful of, "Wow. That's a lovely sweater. Did you make it yourself?" Working quickly, fold in the dry ingredients: "Such a unique color," and, "It's supposed to look unfinished, right?" Finally, to complete the meal, pour "On you, I like it," over the top and once you've reached boiling point, remove from the heat and don't forget to lock the door behind them.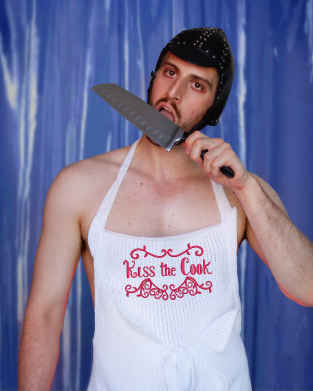 Quick, Conceptual Recipes for the Whole Family
Flakey, Unreliable Buttermilk Biscuits: These could take a minute, or an hour; great for those days when it doesn't matter when the food is on the table; best paired with a bowl of warm gazpacho.
Roasted Fennel Heads à la Podcast Served on a Bed of Casper Mattresses: Cut back on food costs by incorporating ads into your meals.
Superfruits-And-Only-Superfruits Ambrosia Salad: Antioxidants wrapped in mayonnaise; divine.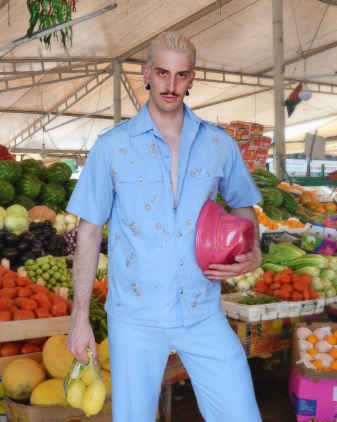 Party-Sized, Fish-Tank Ceviche: Fun for everyone but the fish.
Michael the III's Humble Pie: This is one of the best recipes ever created, if I do say so myself!
Parsley-Infused Goat Milk: Feed parsley to a goat; let rest for 24 hours; milk.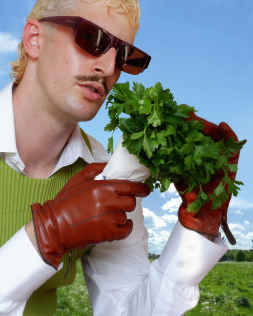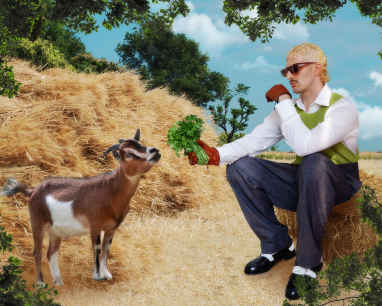 Bean There, Done That, Left-Over Refried Bean Enchiladas: The ideal meal for a night in with your déjà vu.
MET Gala Meatloaf: An haute-cuisine, versatile, theme-based dish, designed for parties. For "Heavenly Bodies," sprinkle bread-crumbs, ladling a red-wine sauce over the top; For "Camp," bake marshmallows into the meat-mixture, drizzle with melted Hershey's chocolate, garnish with graham cracker crumbs; and so on and so forth. Meatloaf can be prepared ahead of time on the first Sunday in May.
Michael the III' Spicy Sauce: Tomatoes, onions, garlic, an anchovy fillet and 3 cups of hot red-chilli flakes; stir carefully, for it is prone to agitation.
Controversial Salad: Do not dress salad, serve nude.
Is That an Aubergine in Your Terrine Or Are You Just Happy to See Me?: An eggplant in a dish, cooked.
Red-berry, Blueberry Pies: Guest's choice; use berries found in the forest; one pie reveals harsh realities, the other lulls you into warm complacency; a runny dollop of vanilla ice cream is served on both...
Though your boeuf bourguignon boasts the richness of a Michelangelo painting—it sizzles with the sweet fervor of Eartha Kitt; perched on the stove it is as monumental as a Mies Van der Rohe—if plated without concern for the artistic expectations of your family, it'll all be for nought. "Great flavours mama!" I once heard a child whisper, "but where is the passion? I don't see it on this plate. DO IT AGAIN." That child, of course, grew up to be Gordon Ramsey. Below are a few plating techniques to try in your kitchen:
One elderberry soaked in pork drippings overnight, positioned left-of-centre on a dinner plate that matches the purple of the berry, garnished with a single fleck of kosher salt.
Anything served on a thin slab of concrete, arranged with plenty of right angles.
A meal served in cubes (avoid the temptation of employing toothpicks).
Sauces splashed over otherwise tidy plates, entire sprigs of thyme placed in the most inconvenient places.
Deconstruct your food, separating it into mush and pigments and then re-assembling its parts to appear as it did prior, bringing forward the question: "Why did you bother doing it this way?"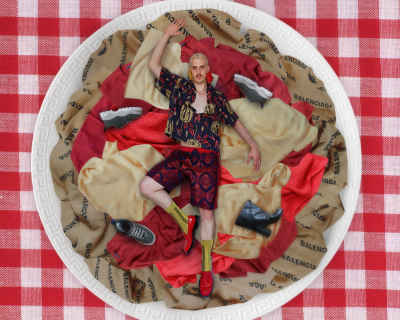 With pen in hand, it's finally time to begin the written invitations you'll be photographing and sending via Instagram DM. Despite all of technology's attempts, you're still quite classy. You glance upwards aimlessly, then out the window— so many possibilities, but so little friends. So who do you invite?
Selecting guests is as crucial as selecting your wine. Personally, I prefer guests that are humble-bodied, fruity, with good mouthfeel. Make sure each guest knows at least one person, and never invite exes, no matter how much they insist they're cool (it always ruins the mood).
Is Designer Food Good For Me?
It may not be healthy to eat designer every day of the week, so when you do, make it count. Use only the freshest in-season ingredients and purchase locally. If running errands is beneath you, simply shop online. There are endless imitations on the market—or rather, substitutions, but remember that ground coriander (try as you might) never will be cumin. And it looks cheap.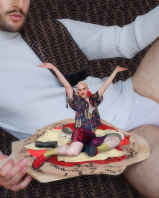 On the Language of a Gastronomer
Once you've mastered the basics of fashionable cooking, the last step is familiarizing yourself with the enticing words in which food should be described. (Who, in their right mind, has never pretended to be a cooking show host?) In fashion, it's not "goat hair," it's "mohair," and similarly in the culinary world, it's not a "yolk sauce," it's béarnaise.
"Bonjour Guests. Bob. Caroline. Anna Wintour. Mom. Today on the menu you'll find an exquisite herbal-reduction prepared in the style of foam and made from hand-foraged chanterelles twice infused with our in-house curation of spices, sitting atop a happy marriage of artichoke and garlic. The ceremony was held aboard an open skillet over medium-high heat sometime before dinner. The artichoke arrived in muted green, shortly followed by Garlic, who nervously mentioned that if Artichoke didn't show up, they'd be crushed, but thankfully appeared whole and dressed in a traditional white veil. Lemon and Olive Oil served as witnesses and later champagne was served and set on fire before the happy couple exited the skillet in a toss of salt and pepper confetti."
If you enjoyed none, or any of these recipes and tips and want to find out more about the fashionable cooking revolution, feel free (though it is not) to purchase my upcoming book, Cooking for Three by Michael the III, out now and available in all stores cookbooks are sold (except for all the places you'd think to look), which critics have described as both "unreal" and "pure fantasy."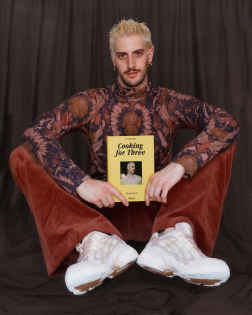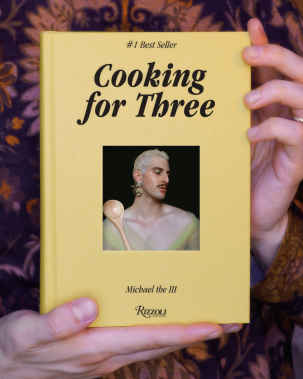 Michael the III is a writer, photographer, model, and chef. His works have appeared in THEFINEPRINT, Document Journal, and SSENSE. In 2018 he graduated from the Sorbonne in Paris, Texas.
Photography:

Michael the III

Text:

Michael the III

Model:

Michael the III

Styling:

Michael the III

Hair and Makeup:

Michael the III

Food Styling:

Michael the III

Date:

August 23, 2019