Back to Basic: 6 Ways to 90s Minimalism
SS20 Does Sartorial Solitude Ft. The Row, Kwaidan Editions, and Bottega Veneta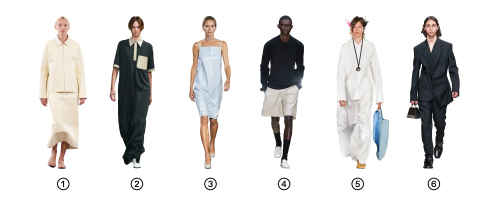 Following several seasons packed with outrageous fashion trends, SS20 is cutting out the noise. Call it a nostalgic lust for the Gucci of Tom Ford amidst peak-Alessandro Michele extravagance. This is a callback to 90s minimalism—to the heydey of Margiela, Helmut Lang, Jil Sander, Calvin Klein—mirroring the post-80s desire for sartorial silence. Fatigued on eccentric pattern-clashing, Balenciaga-brand irony, and punchline design, we're taking it back to the basics: simple pieces and pared-down accessories. Say goodbye to runway shows pre-programmed for virality, to Viktor & Rolf-style meme gowns—SS20 is too mature for antics. Off-White is for kids, tie-dye is hard on the eyes, and logomania is gauche. As minimalist architect Mies van der Rohe very famously said: less is more.

The Row, since its inception, has been known for its ultra-luxe yet incredibly simple design approach—and its sustained indifference to "anything goes" maximalism. For their SS20 show, the Olsen sisters presented at their New York studio, an expansive, white rectangular space, as minimal as the collection itself. Waiters came around to guests with hot coffee in earthy ceramic mugs, a simple but sensual gesture. The collection was all white, black, cream, and pale pastel. Crisp dress shirts, tailored pants, skirt sets, barely-there footwear—a true minimalist's uniform.

2. Lacoste's Contemporary Nostalgia
It makes sense that Lacoste, a brand with its roots in tennis—a sport known for neatness, crisp whites, and obsession with sartorial detail—would try its hand at updating minimalism for SS20. "I wanted to try and address the nostalgia people feel toward Lacoste, with a contemporary lens," creative director Louise Trotter said backstage. Trotter took the brand's signature codes and pulled the focus, abstracting sport references into a very restrained and sophisticated collection. The audience was treated to eye-appeasing solids in soothing colors, unfussy stripes, and monochromatic matching sets. The clean lines were mirrored by Trotter's choice of location, the Simonne Mathieu court at Stade Roland Garros, home of the French Open.

The Kwaidan Editions SS20 show opened with a classic beige trenchcoat, adorned with a neat, industrial chain belt. Simplicity shirked boredom by way of unexpected accents, unique cuts and colors. Suiting was played straight (relatively, for the brand known for eccentric print and fetishistic texture)—an electric green suit was given a minimalist spin, the model's hair swept back, clean skin, a single zipper the only thing close to an embellishment. Blazers were worn with nothing underneath. A dove grey leather sheath was accompanied by a thick chain choker. The intentional homage to 90s simplicity was confirmed when Georgina Grenville took the runway, a top model made famous by her appearance in Tom Ford-era Gucci campaigns.

For SS20, creative director Daniel Lee had models walk on a Perspex intrecciato-style woven floor, taking brand history and redirecting it towards the future. What Lee offered for SS20 was a very clean and upscale sporty—strappy, slinky dresses, sleek leather coats, nylon, toggled waists, leather basketball shorts. It would surprise no one that his resume includes stints at Donna Karan and Celine. Lee has taken Bottega and turned it into one of the most coveted brands of the moment, and at this rate, the brand's intrecciato is likely to persevere for another half-century.

Jonathan Anderson's minimalism is as much symbolic as it is literal. His SS20 Loewe show opened with five monochromatic, cotton, tunic-style looks. This was a minimalist innuendo—austere both spiritually and aesthetically, a complete rejection of excess. Each look was accessorized simply with sunglasses, a bag, or a statement amulet, Anderson conjuring the stark but off-beat aesthetic of a need-not vibrating on a higher frequency. The neo-hippie references proved that this was a collection for the luxury-clad ascetic, who we know now as the Loewe minimalist.

Y/Project isn't known to be minimal—just the opposite. Designer Glenn Martens' speciality is to take a classic and Frankenstein it into something totally original through idiosyncratic layering and tailoring. For his SS20 menswear show, Martens worked with soft neutrals—creams, caramels, and dusty grays—applying his unique approach to overcoats and suiting instead of the usual sports-referential garments. While Martens' take on minimal isn't the most restrained we've seen, the fact that he gave it a go at all is telling: this is a full on pared-down backlash.