Saks Potts' Age of Aquarium
An Aquatic New Capsule for SSENSE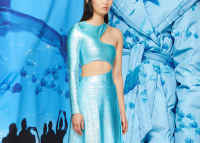 Danish design duo Saks Potts claim a diverse array of inspirations for their luxuriously playful collections: Lady Diana, the Olympics, Danish architecture, vintage furniture. And for their SS20 capsule with SSENSE: underwater marine life. Invented in the Victorian age by Philip Henry Gosse, it has been said that an aquarium can ease stress and improve mood by allowing people to observe aquatic life. Glittering, watery pieces, comprise a modular collection, as Saks Potts conjures the serenity and vibrancy of a glass-enclosed aquarium in their new capsule for SSENSE.

Maybe the most amazing thing about going to an aquarium is the ability to be an immersed voyeur. From your safe spot behind the glass, witness the unmatched grace of a barracuda gliding past, the stoicism of a black-tipped shark. The Asymmetric dress may depict spectators in a state of tranquility, but it is just as likely to be a spectacle itself.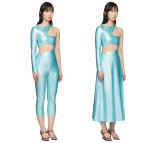 Scaley, iridescent, and form-fitted, this ¾-leg bodysuit feels both acrobatic and aquatic. Shimmer through the day like a human minnow, or glow at night like ethereal phosphorescence. The mid-calf skirt can be thrown over the capsule's bodysuit, in a modular approach to dressing as giving as the nylon itself.

Fish don't sweat, but they do have strategies for regulating their temperature. Many fish are poikilothermic, meaning they adapt to the temperature of the water they are in. Some fish have a protein in their blood that stops it from freezing. Until we de-evolve back into aquatic apes, we'll need clothes to keep us warm. Raise your temperature and sweat it out in the Sauna Puffer.

Ever feel like trying on swimsuits leaves you floundering? Fear not, this suit will have you feeling like a fish out of water in the best possible way.