The No Wave Legend Talks About Her New Book, New Phase, and Why She Hates Your T-Shirt
Interview:

Thora Siemsen

Photography:

Heather Sten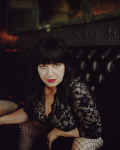 Imagine meeting Lydia Lunch on a plane. Oliver Stone didn't have to, Lunch tells me. She once approached the director on a flight from New York to Los Angeles because, she explains, "I think Natural Born Killers is the distillation of every underground film that came before it, including the ones I was in, and a beautiful fucking job indeed." She continues her list… Hitchcock's Rope and Psycho ("I love Anthony Perkins, he's one of my sex heroes"). Ida Lupino's noir efforts. Bette Davis in What Ever Happened to Baby Jane? Jodorowsky's Santa Sangre. Polanski's Repulsion, Cul-de-Sac, Death and the Maiden.
It's late summer. We're at Greenpoint's Le Gamin sharing a side of french fries. Lydia Lunch is having a glass of white wine and listing a few of her filmic inspirations in response to mention of her late friend Anthony Bourdain's introduction to her new book, So Real It Hurts. Bourdain referenced a scene from Orson Welles's Touch Of Evil, having always found Mercedes McCambridge's lone female gang-member character reminiscent of Lunch. Particularly the moment when the gang horrifically descends on Susie (Janet Leigh) in her motel room and it's McCambridge's character, Bourdain wrote, who "steps forward, sneeringly, even proudly, says, 'I want to watch.'"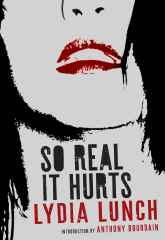 Lydia Lunch has seen a lot. A teenage runaway from Rochester, she arrived on New York City's Lower East Side in the 70s. Lunch first made her mark on the no wave scene, which she describes as "a short-lived phase of mainly temper tantruming people that were just trying to blow away whatever more traditional music had inspired them," as the frontwoman of Teenage Jesus and the Jerks. She lifted food to feed members of CBGB's house bands, hence her surname. Last year, in her voiceover for what would be the final episode of Bourdain's CNN show "Parts Unknown," she recollected that "no wave was the waste product of Taxi Driver, Times Square, the Son of Sam, the blackout of '77, the desperate need to violently rebel against the complacency of a zombie nation dumbed down by sitcoms and disco." During a slightly altered version of this monologue in So Real It Hurts, she further bemoans her generation's reckoning with what they saw as the failed promises of the 60s giving way to no wave's "avant-noise" music and "no-budget" filmmaking movements.
These days, Lunch has found herself somewhat of a self-help guru and cookbook author. Mindful of the amounts of nostalgia she allows, it seems like an indulgence when Lunch participates in no wave hagiography. She has embraced podcasts, opening the inaugural episode of her latest venture with an interview heavy on gossipy sexual history worth of her own––to quote D.J. Jim (The Hound) Marshall, from a 2013 profile of Lunch in The New York Times: "She was famous as the first person everybody slept with when they got to New York." A documentary scene-stealer, she's getting her own (Lydia Lunch: The War is Never Over) created by filmmaker Beth B, her collaborator since the 70s. Lunch crops up as an influence for a range of musicians working today, including New York's experimental jazz group Onyx Collective and the Chilean-American composer Nicolás Jaar, a longtime fan whose Other People imprint reissued her 90's spoken word album Conspiracy of Women and released original recordings of Teenage Jesus and the Jerks' sets from the late 70s. Itinerant as ever, Lunch still tours as a musician and spoken word performer, describing her current gig to me as "different every night, which is great. The point of my entire music career is that I don't want to keep doing the same thing."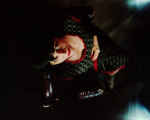 Where are you living the majority of the time?
Right now in my body, honey.
What do you miss about New York when you're away?
Nothing. I was in New York '76-'80, '84-'90. I left in '90 for years. I'm in and out. I don't miss things.
What was your first apartment here like?
The first apartment I actually got, it was on 12th between A and B. There was six feet of garbage between the front and the back, two burnt out buildings on either side. The landlord didn't want to give it to me because it smelled of death, but I told him I would get rid of the smell. I went to the botanica around the corner. Two drops: smell of death gone.
Different people every few months. I was a couch tramp.
Do you still feel close to certain people you knew when you first moved here?
Yes, most of the people from that period. Richard Kern. Beth B, who I worked with in '79, is making a documentary about me. My friends from Mars, the first and ultimate no wave band. I'm still close to Thurston Moore, that's the next generation. I maintain friends, of course.
When is the last time you went back to Rochester?
Last year, and nobody in my family is there, so it's great. It was a great place to grow up. I was going to rock concerts and I was hanging out with the Hells Angels. What's not to love? So much music came there. I don't know why it was a hot spot for all kinds of glam-rock, which I was really into at that point.
Your early refuge was the radio?
In the 60s, the radio was fucking amazing. The Doors. Jefferson Airplane. The Temptations. James Brown. All music of rebellion, sexual or political. In the 70s , it got really ugly and bad, the uprise of people like The Eagles and Steely Dan. Then, you know what happened: no-wave. Punk. None of that shit was going to be on the radio. We didn't care.
Which songs from your catalogue do you like playing best during a live set?
I can't say I have my own favorite fucking jukebox. What's your favorite of mine?
Thank you very much. I was younger than you when I did that.
You write a bit about fashion––the packagings of punk––in your latest book, So Real It Hurts. Which style choices feel most personal to you?
Yeah, my hatred of fucking t-shirts. I don't even like to sell t-shirts with my picture on it. Nobody should wear a t-shirt unless it's for going to the gym. This isn't about fashion for me. I have my style, it hasn't really changed that much. I just need my basic costume, black, a bit of red. Witchy, shows cleavage.
"My hatred of fucking t-shirts. I don't even like to sell t-shirts with my picture on it. Nobody should wear a t-shirt unless it's for going to the gym."
How has your approach to makeup changed over the years?
I don't let anyone touch my face. Red lips, dark eyes. I don't do the Kardashian contour shit.
In what ways has your vanity protected you?
I don't really know if it's vanity, which is the word I've used in the past, as much as it is just an amazing sense of self-worth. We are all we have. How could you not be your biggest fan? Other people may come in and out. I don't know why at such an early age, maybe nine, I decided I am not the fucking problem. The American condition of shame and humiliation and insecurity and jealousy, I don't know these emotions. I wish nobody did.
When I first came to New York, every fucking mouth on the street was saying something about you. I had to deal with it with humor. It gives the people bothering you a little attention and it diffuses it immediately. It's not that easy when you get constantly harassed. I just felt, for me, humor was easier. You give them attention, you walk away. New York in '76, every step you took was a harassment. That's why I boxed for many years. I advise it for everybody.
When did you take up boxing?
Probably when I moved to New Orleans, when I left New York in '90. I think I might have been boxing even before that. As a teenager, I was a cheerleader and a gymnast. Shadow-boxing is good but so is punching a heavyweight bag. Most of the places I've lived, I've had a heavyweight bag. Not in New York City, there's no place to have one.
I think that women need to know psychic self-defense, verbal self-defense. That isn't always about how to out-heckle someone. It might be about how to diffuse. If it comes down to it, physical self-defense. Even better than that, get a screech alarm. It's so fucking loud, I used to open my shows with that.
How are you honoring your desire for risk these days?
I can't say that I've really mellowed, but I've sophisticated. I'm so picky. It's not like I want to write the script that I want somebody else to perform. They better be able to come to me with a different script or I'm not interested. This is kind of an interesting phase, because I won't settle for what I once did. What do I want? It better be pretty elegant, pretty twisted, pretty liberated within itself. I don't want to have to train people.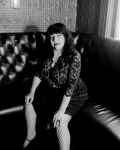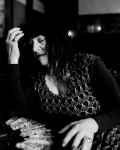 You wrote a cookbook called The Need to Feed which references your habit of home cooking. Around when did you decide to hone that skill set?
I've always been feeding the hungry. I like to cook for my bands. You go on tour a lot, you get sick of people touching your food. Food is one of the things you can try to control. You have to know who your dealer is with food, just like with drugs. I think moving to Barcelona for eight years really improved my health after living in New York, New Orleans, Pittsburgh, Los Angeles, San Francisco, London.
Do you have music on during a dinner party?
I like instrumental music. I like Sketches of Spain by Miles Davis. I like something that's not interruptive.
In 1982, you co-authored Adulterers Anonymous with Exene Cervenka of the band X, and you've been writing books ever since. When did you start writing your latest book?
It's a compilation of things I've written over the years, some that I wrote recently. It begins and ends with the Trump administration. One thing about writing Adulterers Anonymous, which is a book of poetry with Exene Cervenka... I couldn't believe that at the time my hero, Barney Rosset, who defended Hubert Selby Jr. and Henry Miller against censorship in America, published my first book. Grove Press published a lot of great translations and editions in the 60s and 70s. It was such an honor. That was one of my, I'm going to say... highlights. The same way working with Hubert Selby Jr., who was one of my heroes, was so unexpected.
What type of writing do you find yourself doing most?
I don't have unpublished manuscripts under my bed, I write when it's mandatory. When I wrote Paradoxia, it was 6 to 9 AM. When I wrote my cookbook, 3 to 6 PM. To get in the mood: pacing around a lot, smoking some cigarettes, cogitating.
You write about having insomnia; the nighttime as a place where one can dodge expectations. What type of creative work do you get done when you can't sleep?
I'm not awake because my brain is going into overdrive. I've done enough and I do enough. My body wakes me up. I'm not artistically tortured. I walk around the block looking for trouble, watch some forensics.
What are you reading lately?
One of my favorite writers is Virginie Despentes. Vernon Subutex is fantastic, I'm reading the second volume. I just stayed with her in Paris for a few days. She lived in Barcelona when I lived there, we were very good friends. I first met her when she was reviewing Paradoxia, which was quite in conjunction with her film Baise-moi.
"None of that shit was going to be on the radio. We didn't care."
You appeared on the final episode of Anthony Bourdain: Parts Unknown and he wrote the introduction to So Real It Hurts. Did you two make friends on the Lower East Side?
I didn't know him back then. We probably traveled in very different circles. I came to know him through his essays years later. He read something I wrote for Asia Argento and he contacted me about the Lower East Side episode. We met and he was fantastic. We shared a lot of the same musical heroes. After meeting him, he asked me to be on the show and I thought he could write the introduction. Because he gets me. He did. It was the last thing he wrote.
How was working on Asia Argento's film The Heart is Deceitful Above All Things?
There was a lot of tragedy surrounding that film. It was a great experience, though. I did the still photography for it. That was the most valuable thing for me. Asia is a very special person. I wish she could end the cycle of abuse she was born into, which is something I've been striving to my whole life: to not be a victim of circumstances beyond your control that you were born into. To try and find a way to survive and strive beyond it.
Which images from your film career come to mind that still feel urgent?
I think The Right Side Of My Brain and Fingered are important films. The Richard Kern films. We didn't think they would do anything other than document a certain period in time dealing with a certain sexual hysteria that I wanted to express, knowing I wasn't alone in feeling it. The Right Side Of My Brain was an homage to Repulsion by Polanski. Fingered really divided people, you either bought it or you didn't. First of all, it's a drive-in exploitation film. What I love is that John Waters used to show it to his friends to scare them.
If you curated a film festival, what would the theme be? Which films would you program?
I would program films that have yet to be made, all on obsessive sexual compulsion, from outside the pornographic mainstream. Get working kids.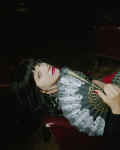 Thora Siemsen is an interviewer and writer living in New York City.
Interview:

Thora Siemsen

Photography:

Heather Sten

Hair:

Justine Sweetman

Makeup:

Kristian Kanika

Date:

September 6, 2019