Feat. Thom Browne, Comme des Garcons, Marni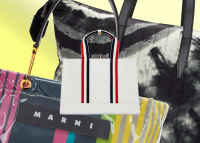 What was once disposable has become indispensable—totes are the new statement bags. From working remote, to spur of the moment grocery shopping, to storing your day-to-night looks—totes are the everyday essential.

Talk about precious cargo. An added layer of polyethylene bubble wrap keeps this tote protective and protected.

PVC-coated textile hasn't been this covetable since TV dinners perpetuated the need for vinyl sofa coats. Stay vibrant, dry, and squeaky clean with this striped shopper tote from Marni. The leather handles steer this away from uber-retro, anchoring it as an archetypal 2019 must-have.

Heading out for an afternoon sky-dive or parachute? Not sure if all of your essentials will fit into your pockets? Look no further (and definitely don't look down!) the SSENSE exclusive JUMP tote from Heron Preston keeps you agile while your things stay stowed. Bonus: it's made from up-cycled materials, peace of mind while you're down-cycling through the air toward Earth.

A blank canvas connotes a fresh start. Maybe the main appeal about something so bare is how much of yourself can be transferred onto it. The same goes for this tote: simple, full of possibilities.

You know tie dye isn't going anywhere fast if Dries is doing it. This particular iteration features muted tones of white and gray, dialling down summer psychedelia without losing its aesthetic charm. With Autumn just around the corner, it's time to get spooky.