Rapper Rico Nasty Loves The Mosh Pit
The Maryland Rapper on Shapeshifting, Her Hardcore Fans, and Battling Stage Fright
Interview:

Khalila Douze

Photography:

Zhamak Fullad

Styling:

Haylee Ahumada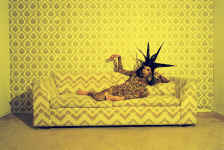 "Five days straight, no rest, oh well!" cries Rico Nasty in the opening verse of her recent single, "Time Flies." Three days after she released the song, the rapper born Maria Kelly is plopped in a chair in the kitchen of a musty, abandoned apartment in Alhambra, California, prepping for her fifth photoshoot of the weekend and demonstrating to a room full of people how closely her lyrics mirror her reality. It's heatwave-hot outside, and on set, there's no AC...oh well!
At just 22 years old, Rico has already lived several lives. Since breaking out in 2016 with bubblegum rap earworms "Hey Arnold" and "iCarly" (though some fans have been with her since 2014's Summer's Eve), the Maryland rapper, who is also a mother to Cameron, her 3-year-old son, has landed magazine covers and critical reviews, toured overseas, and ingeniously reinvented herself along the way. In 2017, she introduced fans to Tacobella, the vulnerable, sensitive persona she channeled on Tales of Tacobella, and Trap Lavigne, the hardcore alter ego through which she pushed the boundaries of her signature "sugar trap" style.
By 2018, she'd inked a deal with Atlantic Records and released Nasty, an impenetrably brazen and polished sixth mixtape that revealed a budding collaborative relationship with producer Kenny Beats and crystallized the character of Rico Nasty. This year, the two paired up for Anger Management, a cathartic project that they've called the sonic equivalent of a temper tantrum. In showcasing the range of Rico's unapologetic emotional expression, her projects capture the complexity that makes her stand out as a rapper and an artist. She's just as quick to rap about stabbing someone with a pencil as she is to tear up at the thought of missing a show and letting down her fans.
The local delicacy in Maryland is crabs. Ten minutes into our interview, Rico's Uber Eats order arrives. From a brown paper bag she pulls out a large plastic bag of crab legs and laughs. "Who wouldn't like to eat crabs when you eat them like this?" she says, as her boyfriend Malik feeds her a leg. She showed up in a fitted mini black dress and synthetic grass-fitted Dolce & Gabbana slides that created the illusion of a flower bed at her feet, though wasn't long before hair and makeup got to work and her chameleonic looks reflected the artist's natural inclination towards constant transformation..
In the past, we've heard from Tacobella and Trap Lavigne. Do you feel like Rico Nasty as a persona is for good, or do you feel like she's a phase?
No, Rico Nasty's definitely for good. That's why it's the main character. I started realizing that Tacobella is a genre. It's like sugar trap. But I think Rico Nasty is who I am. Both of them are my sounds. I don't give a fuck what anybody's talking about, like Sugar Trap, Sugar Trap Two, all the singles in between... Go listen to them. It's what people sound like now. It's what female rappers sound like now. I'm not sitting here like, "Oh, everybody's copying me." Because then my feelings get hurt. But I do hear the influence that I have on people, and I'm proud of it. I'm not just those flows and those cadences. So you can have that. Go ahead and eat it up, but you guys can't do "Rage." You bitches can't do that. Or niggas. It's undeniably me. Rico Nasty is just more unapologetic.
The lyrics in the chorus of your newest song, "Time Flies," are "I live every day like I'll die by the nighttime," and then, "It took me so long getting back to my right mind." What are the experiences behind those words?
"Back to my right mind" is just getting back to my happy, confident self. For a little while I was confined to being the rager, the goth. People would just be like, she's so dark, she's so dark, she's so dark, so I kind of lived in that.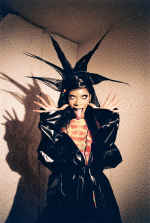 "Just do it. Stop being so fucking scared."

Your relationship with Kenny [Beats] is such an instrumental piece to where you are now.
It's because you come in the industry, and you're a black woman, so you're automatically kind of reserved. You don't want nobody to take you, like, anxiously. You already firm in what you want. And working with men is also [like], "Oh, it's a man." And where I come from is like, "Oh, the white man." So, meeting Kenny—him being two of the things that people will tell you stay away from (white, and a man), and him just being so fucking cool? That shit changed my perspective on life. I never would have thought my best friend musically would be a man that's fucking 30 years old. He taught me a lot about myself. A lot about letting my guard down, a lot about music.
Being able to express a range of emotions unapologetically is probably really cathartic for you, and for your audience too. How were you raised to express yourself emotionally?
A lot of it comes from my mom—from watching her, even with me, stand firm in what she believed in. If my mom was having a bad day, everybody knew she was having a bad day. Even when I used to do bad shit and my mom would punish me, [if] my mom said a month, bitch I'm punished for a month. Like 31 days, punished. If you tell somebody something, fucking do it. [If you] have an idea, execute it. If you ain't going to do it, and you want to complain about everybody else doing it, then shut the fuck up. Just do it. Stop being so fucking scared. That's why I love the mosh pit so much.
People are like, "How you get all this courage to get on stage?" That's the same thing I want to ask people that get in those mosh pits. That's why I like when they do it, because we're fighting the same battle. I'm scared to get on stage, [and] stand in front of thousands of people. You see people who aren't Rico Nasty fans, and you see people who don't really give a fuck about what you're talking about. You just have to keep going. You see people looking at you like, "Bruh, this bitch crazy." Y'all see this stuff I be wearing when I'm on stage. People be looking at me crazy as fuck. And I be seeing them. You're there, I'm here. It's just like a mosh pit.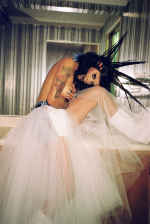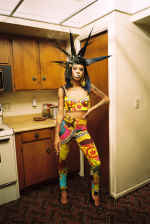 What does it feel like to be on stage and yield that energy to a crowd? You empower them to mirror that.
My fans know that they empower me. When I was on tour, every time I meet them? Genuine connections. I find strength in them because they tell me the shit that they be going through in their own lives and they still make it to the show, still look beautiful, still did their hair. They literally got up, got fucking dressed, despite all the shit they're going through, just to come to my fucking show. Just to stand around, get pushed and thrown around. I love that. That's why I've never missed a show.
Kenny [Beats] told me in another interview that Earl Sweatshirt invited you to open for him, not because of your music necessarily but because he wanted the fans—
To meet. Because they're fucking weird. I mean, why would we make music if it wasn't for the fans? What would we make music for? For the money? For the clout? They're all we have. We have our friends, we have our family, we have the money that we make, we have all the cool shit that comes with it, but some of these people have known me for five years. And they're probably never going to get to meet me personally, so why wouldn't I want them to come to the show? I've seen so many people come to my shows and become best friends. Dead ass, I was in Toronto, it was a fucking floor full of girls. Everyone's laughing, having a great time. And these two girls was together all night. I'm like, "Do you all know each other?" They was like, "No, we just met." But it's not just me. Megan [Thee Stallion]'s fans are like that. Very family oriented vibes.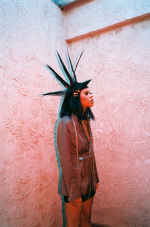 As your son gets older, what kind of mother do you envision being for him?
Right now, I'm doing a great job, and I'm just excited for him to be an older kid. I'm ready for him to be five and six and seven and I'm ready [for] the advice part of being a mother. I'm really ready for that. And I'm ready for him to go to school and see what kind of friends he has, but I just know that we're the same person.
He probably doesn't have a sense of awareness of who you are yet.
No, he knows I'm Rico Nasty. It's fucking hilarious. He's like, Rico Nasty! Rico Nasty! Kenny! Kenny! Rico! Rico! He's [also] saying "booty butt." That's his favorite word—"booty butt".
Khalila Douze is a freelance writer and tarot enthusiast based in Los Angeles. Her work has appeared in The FADER, i-D, Cultured, Dazed, and more.
Interview:

Khalila Douze

Photography:

Zhamak Fullad

Photography Assistant:

Stephane Wafer

Styling:

Haylee Ahumada

Hair:

Hachoo Johnson

Makeup:

Scott Osbourne

Production:

Emily Hillgren

Date:

August 27, 2019